*Assuming you like Feta cheese.
I found a pin on Pinterest that was titled, "Feta Dip" with "Everyone begs for the recipe" in the descriptor section. Everyone has different tastes, and Feta (like cilantro) is polarizing. I, personally, really like it and am always looking for a super easy something to whip up to take to knitting night, or any gathering. It doesn't get much easier than this, folks… especially if you have a food processor. The pin took me to a site called 
Sweet Paul Blog
. You literally just dump all the ingredients into a blender or food processor and adjust to taste.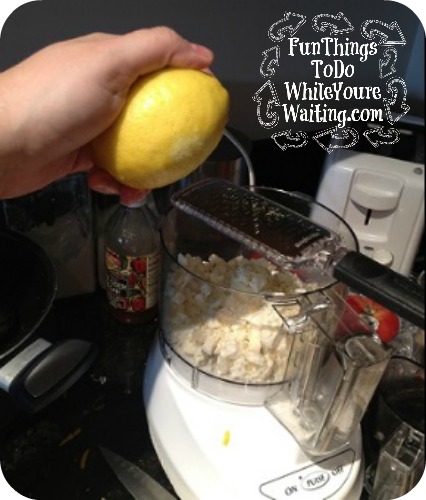 From Sweet Paul Blog:
Lemon and feta dip
Serves 4
8oz feta cheese, crumbled
1 tablespoon grated lemon zest
2 tablespoons lemon juice
1 clove garlic, chopped
6 tablespoons olive oil+ extra for serving
fresh thyme

Place feta, lemon zest and juice, garlic and olive oil in a blender and blend until smooth.
Spoon into a bowl and drizzle with a little olive oil and sprinkle with thyme.
Serve with grilled tomatoes and grilled pita bread drizzled with olive oil, salt and thyme.
We have a policy in our house to pretty much double the garlic in any recipe and I used a little bit extra olive oil than the recipe calls for… so, again… this can be modified to suit YOUR tastes. I also didn't have any fresh thyme, though I bet that would be wonderful. I also didn't serve with grilled tomatoes… but I did serve it with pita chips. It was a super hit. And, yes… people asked for my recipe.
Just a note, squeeze the lemon through your (clean) fingers or a fork to avoid getting seeds into your dip.
If you have even a passing fondness for Feta, you should definitely check this out!