If you are on Pinterest, then you've probably seen the pin about using shower/binder rings on a hanger to organize your scarves. As a big scarf wearer, I am always on the lookout for better ways to organize the collection.  As I already had a hanger and binder rings from a long ago office project, trying this project was a no brainer. It took three minutes to clip the rings on the hanger and thread my scarves. As I hung the hanger on a hook behind my bedroom door, I loved how organized and beautiful my collection looked. What a success! And it was… until… well, …anything happened. If the weight altered too strongly to one end or the other, or you took a larger scarf off,  all of the scarves swooshed to one side. Then, I would have to right it and evenly distribute my scarves again… or just leave it tilted with all the scarves lumped together. Which is what happened for about a month.
That is, until I read ultimatediy.tumblr.com's post about applying hot glue to your hangers to create your own non-slip shoulder hangers. Again, hat tip to Pinterest. I was a little skeptical about the hot glue trick, my thinking being that the hot glue, once applied, would easily peel off, leaving hot glue pieces around the house. But, after finding that that was NOT the case, I figured I would combine both pins! Turns out hot glue is the answer to both problems!
I hot glued small horizontal lines across the hanger and on both of the shoulders. I also added a small line of glue along the length of the hanger.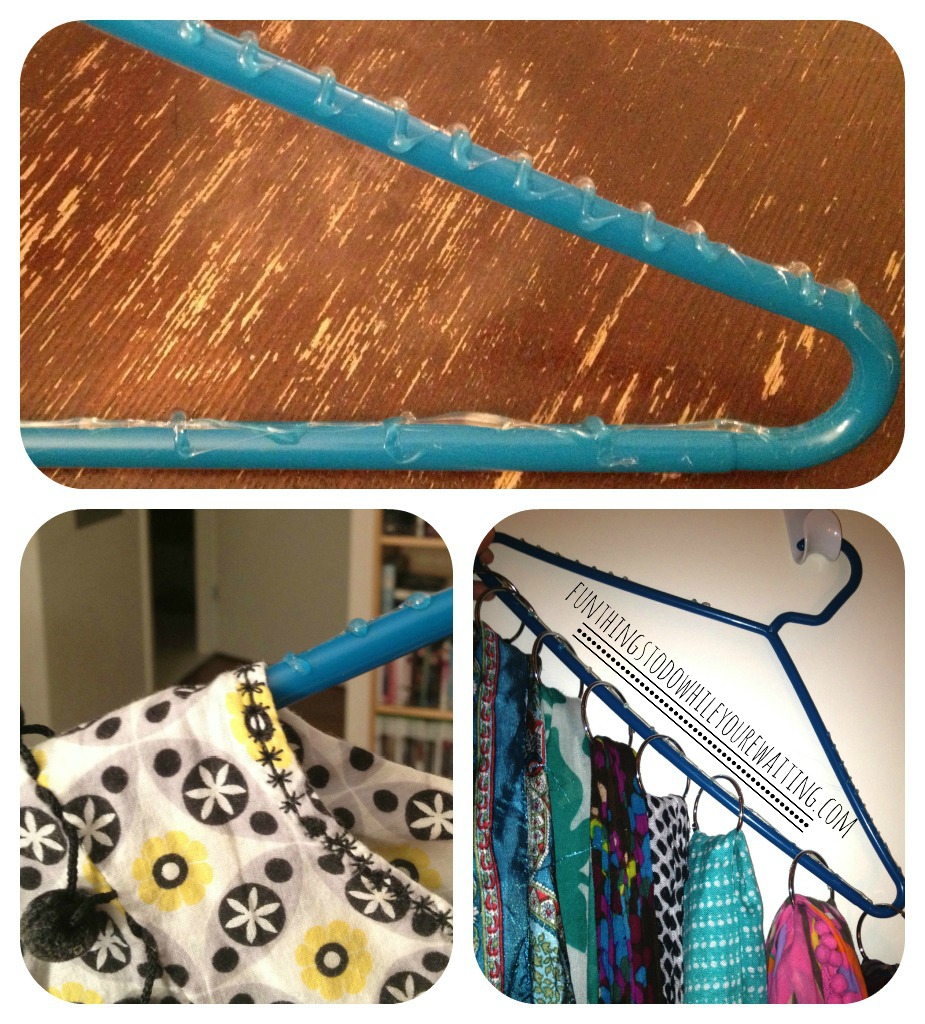 Not only did it easily hold on to a slip-slide-y shirt, but even after extreme tilting, the rings still stay in place. While I had the whole glue gun operation going, I glued bars on the shoulders for 10 of my hangers. As always, practice glue gun safety… does that fall under the NRA?
Let us know if you have any thoughts or suggestions!