There are certain things for which I am a staunch traditionalist and holidays away from home always make me a little sad. In the course of my life, a majority of my Easter Sundays have been spent in Lavonia, sitting around my Grandmother's table, surrounded by my amazing family. When you don't live near home, you make your own family. You celebrate these events with friends who ALSO don't live near their families. And although I missed my family something terrible this past weekend, Easter with friends also has it's benefits.
This Easter, Jojo and I invited our friends Ken and Sheila over to our place. I wanted to do something special to show my appreciation for all of Sheila's help with the blog so I chose a menu that I hoped would be perfect.
Having coordinated with Ken and Sheila earlier, I knew they were bringing homemade broccoli soup and baking a blueberry clafoutis (which was technically a flaugnarde).
My family has lamb as their primary protein every Easter. I don't know if it is supposed to be ironic, but I do know that it is delicious. Jojo's family is a ham family, but I have converted him. He normally makes Martha Stewarts Roasted Leg of Lamb but wanted to try a different recipe with a Panko/Herb crust which, unfortunately, isn't available online. I knew I wanted Sweet Potato Souffle, but I also wanted something green, so I went with one of my favorite green bean recipes- it is the only way Jojo will eat green beans. I had also just seen Giada's de Laurentiis's Lemon Show and wanted to try smashing potatoes.
I also wanted a sweet, but lethal cocktail that could be made in pitcher-sized quantities and also in advance. After searching the interwebs, I stumbled upon the Bobby Flay recipe. It wound up being perfect. I made Jojo squeeze fresh lime juice, and we added a little less grenadine and more dark rum, but we just modified the recipe to taste. It's a great party cocktail and has earned it's place in my recipe binder.
I'm a sucker for a carrot cake and ever since seeing my cousin Mary Carol post about making one on her blog Thousand Story Kitchen, I knew one was in my Easter future. She was trying out a cake recipe that turned out great, but what really intrigued me was the idea of Creamy Browned Butter Frosting. I mean, SHUT UP. How amazing does that sound? I had seen a pin on Pinterest about a more pine-apple-y carrot cake and thought I might try that out for the cake and the brown butter frosting to finish it. Sounded like a completely yummy plan.
I wanted to prep as much stuff the night before so that I could actually enjoy my Sunday and not spend it completely in the kitchen, so I got to work Saturday afternoon. I had carefully mapped out what ingredients I needed and had Peapod (the most amazing grocery delivery service) deliver them. Jojo accepted the groceries while I was folding napkins in the bedroom. This detail is important later.
I started with things that I knew I could keep in the fridge overnight, so I made my Sweet Potato Soufflé while Jojo made the Rum Punch. Sweet Potato Casseroles have been featured on FTTDWYW before, but that is the beauty of regional cuisine- there are so many variations on a theme depending on where you are getting the recipe. On my calendar, there are really only three BIG HOLIDAY meals: Christmas, Thanksgiving, and Easter. I try and eat well everyday, so on big holiday meal days, I don't feel bad for enjoying something that only comes around 3 times a year. But there are just certain dishes that I ONLY eat on holidays. If I ate them on the reg, I feel like they would lose their specialness. Sweet Potato Souffle is one of those dishes for me. I love sweet potatoes, and eat them regularly, but Sweet Potato Souffle is special; a HOLIDAY dish. I'm not going to go into the mechanics of making it because the assembly is almost identical to Coralie's Mom's recipe… except for a few differences in ingredients and proportions. Basically, because this is a holiday dish, I just double everything that I love about this dish- mainly, the pecans and the butter. I had never heard of Coralie's variation of only using brown sugar, but MAN I love pecans… and I think the pecans add the only mildly-healthy, redeeming ingredient to this dish. This dish is really special to me in several ways. As previously mentioned, I would always get this dish at my Grandmother's on special occasions. It is an old Russell Family recipe (my Grandmother's side) that was published in the Winder Woman's Club Cookbook in the 1940's as "Senator Russell's Favorite Sweet Potato Souffle." At some point, maybe ten years ago, I asked my grandmother for the recipe and offered to make it for a holiday gathering. Since then, it has kind of become a signature dish of mine. Next to the Crunchy Coleslaw Recipe, the Sweet Potato Souffle is my most requested recipe. I love that I am now the official Sweet Potato Souffle maker in my family, and it is my privilege to make it for them.  I'll include the recipe at the bottom. But, back to this weekend, it was made and put into the fridge.
But here we come to what this post is REALLY about: the carrot cake with brown butter frosting.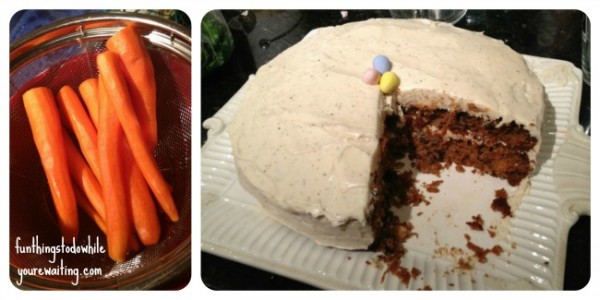 I followed the cake recipe from Jamhands.net and peeled my carrots (look at those happy guys!). The thing that appealed to me about this recipe was that not only did it have more of a pineapple-y component, but it also used olive oil in the wet ingredients. Olive Oil cake is my latest obsession, so this recipe already had a bonus feature. The recipe additionally suggested using pine nuts and almonds which sounded neat, but I was on the traditionalist train and wanted to use up a big bag of walnuts I had in my pantry.
Since I hate getting lots of dishes dirty, I thought I would charmingly shred my carrots by hand instead of getting the food processor dirty. About a quarter of the way through my first carrot, I got out the food processor. With the hand shredding, I was just making carrot confetti that was peppering my kitchen floor. So, I got both the food processor AND grater dirty for my efforts. I toasted my walnuts and compiled my wet and dry ingredients separately. Notice the green tint of the olive oil in the wet ingredients below.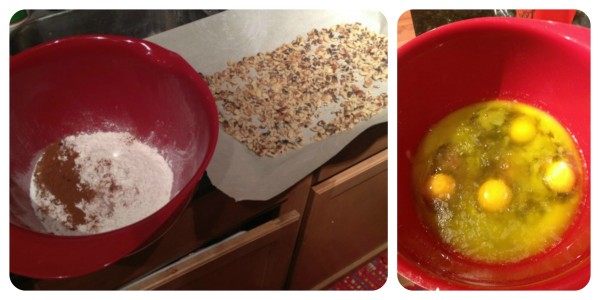 I threw my shredded carrots into the wet ingredient bowl and went to get the crushed pineapple. At this point it is 11:30 at night and I searched my pantry twice over for the cans of crushed pineapple that I knew that I had ordered from Peapod. Jojo is an early go-to-bedder and had been asleep for over an hour, at that point. Since he had put away the groceries, I didn't know if he had hidden the crushed pineapple or if Peapod hadn't delivered it. I found out the next morning that Peapod hadn't delivered it. They had told Josh, but he forgot to tell me.
If you dabble in the baking arts, you know that cake assembly is a thing. It's not something you stop and start… there is a certain momentum when it comes to baking. I had come all this way in making the cake only to realize I was missing the KEY ingredient. So, I had some choices to make- either omit the pineapple (which had been my whole reason for trying that cake), substitute two super-ripe bananas, or put everything on hold until the morning when I could rush to the store.
Hilariously, Coralie texted me about this time. Needing someone to bounce my options off of, I called Coralie and was in SUPER LUCK, because not only was Coralie up, but her Mama was visiting! I explained my situation and inquired as to WHEN a cake becomes a cake. Was it even possible to just store the wet and dry mixtures separately and wait till the morning? As mentioned often on this blog, Coralie's Mama is an AMAZING cook, so, after a great pow-wow with her I better understood my options and discovered that the active ingredients in cake don't activate until the wet mixture hits the dry. Since I hadn't combined the two yet, I just stacked the bowls, one inside the other, and stuck it into the fridge. I had caught a minute of chef Melissa D'Arabian show and she was talking about using Cling Wrap… and she mentioned that the one thing that you KNOW Cling Wrap loves to stick to is ITSELF, so the best way to store food is to wrap the Cling Wrap all the way around your storage dish. It uses more, but it works.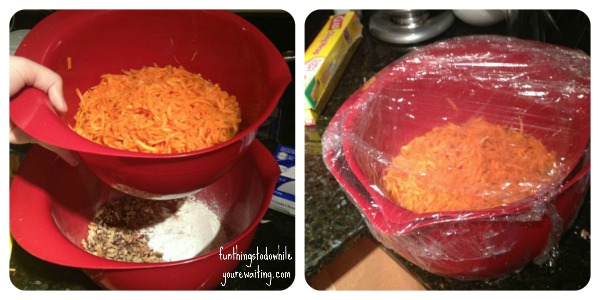 Wanting to get as much done in advance, I went ahead and make the browned butter icing. I had never made browned butter, but I just followed the instructions and it was pretty simple. I just got a non-stick sauce pan and melted a stick of butter. The butter melts, bubbles, and then starts to brown. It takes 4-5 minutes and you don't want it to burn, so you need to monitor the butter and constantly stir. I threw the cream cheese in the mixer along with the butter and vanilla and after mixing, gradually added the powdered sugar. As you do. Not only does the browned butter add a unique, yummy taste element to the frosting, but, visually, you also have browned specks of fond (bits of flavor at the bottom of the pan that remain after something has been browned or cooked) floating through the frosting- which, to me, is a total bonus. Though if it bothers you, you can strain it out.
I finished the frosting, stuck in in the fridge, got out the silver, china, placemats, and napkins for the next day and went to bed. Cut to the next morning, Jojo was the best and went out and got my crushed pineapple and breakfast/coffee from Starbucks all while I was snoozing. After waking, I added the pineapple, mixed, baked, and frosted the cake. I then made Giada's potatos (which were good, but the lemon made it too bright… maybe better as a summer dish), and prepped the green beans.
Ken and Sheila came over and we had a lovely day. We drank Rum Punch, ate an amazing meal (their broccoli soup was super… but the blueberry clafoutis was transcendent!) and watched a movie.
The carrot cake turned out amazing; super moist, though not as pineapple-y as I wanted… but the browned butter frosting was the real standout.  It gets two super thumbs up! And, like the punch, will be added to the repertoire.
And, as per usual, the Sweet Potato Souffle was a winner. One of the things I do differently with my soufflé is, after it has cooked, I stick it under a high-broiler for 4 minutes, or until the brown-sugar/pecan mixture basically brulees itself creating a crisp crust on the top, which I love. You really need to watch the sugar during this step because it can burn quickly. I was distracted tossing the dressing for the potatoes, and let it broil for 20 seconds too long.  Don't fret if it gets a little burny. A little burny is actually tasty- like when you intentionally burn a marshmallow- burnt sugar is a great thing in small portions. Mine only got burny in spots, but it didn't matter- as you can see below. Because I'm a bad blogger, I only got a picture after it was almost gone… but that is an indicator of the awesomeness of the Sweet Potato Souffle.
Senator Russell's Favorite Sweet Potato Souffle
3 cups sweet potatoes (mashed)- you can use canned, baked, or boiled sweet potatoes and I always wind up with about 4 cups of sweet potatoes.
1 cup sugar- I use a little less
1/2 teaspoon salt
2 eggs
1/3 stick of butter (melted) – I usually use half a stick.
1/2 cup of milk
1 teaspoon vanilla
Topping
1 cup light brown sugar
1/3 cup flour
1/3 stick melted butter – again… I use half a stick.
1 cup chopped pecans, or more- to taste
Mix soufflé ingredients, pour into greased baking dish. Mix topping ingredients well. Sprinkle over soufflé. Bake 45 minutes at 350 degrees.
I hope you guys also had a great weekend. Whether you celebrate Easter, Passover, Spring Solstice, or whatever… gatherings of friends and family are where it's at. Thanks for reading! Phew! That was a long one!