Okay, I explained in the clean banana bread post that Bub and I are embracing eating clean. And I have to be honest, it wasn't until we started down this path that I put much thought into finding alternatives to white flour. I have become a regular over at The Gracious Pantry and Tiffany was whipping up something with almond flour and so, there was a ping on my radar. But, as I found out, it can be pricey.
So, I was at a mixer last night and we were talking about food and eating clean. The subject of almond flour came up and my friend said she just grinds up raw almonds in her food processor and BAM! it's almond flour. All the sudden, almond flour became very affordable.
This is what I have to say- I do not know if there are any other ingredients in the high-dollar versions of almond flour but, this version served my purpose well. My friend was telling me that almond flour is great for many reasons but logistically the oil in it kind of serves as a means of frying food. I needed no further explanation.
It took several batches in my 3.5 cup food processor. You need to be careful when chopping up almonds this way- if you turn your food processor on and let it go unattended, you will start to get almond butter- not at all what you are looking for. And no, it won't all have the consistency of sifted white flour.
I decided to "batter" 2 chicken breasts with the almond flour and the oregano and basil variety of Mrs. Dash. I have some advice on cooking chicken. Let it come to room temperature before you cook it. Just let it sit out for a little while. It will make all the difference. But anyway, I let my 2 chicken breasts come to room temperature and then I sprinkled them with Mrs. Dash and then then kind of rolled them around in the almond flour and put them a sheet pan lined with tin foil and greased with olive oil spray. In my oven, 40 minutes on 350 is perfect. But, you absolutely want to make sure you cook your chicken completely.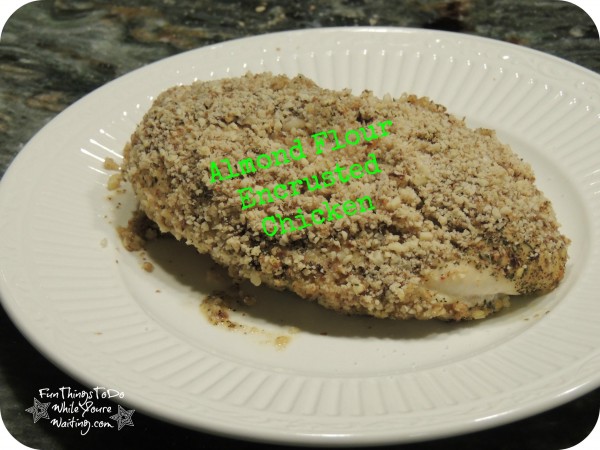 I have to say it was very very easy and very very tasty! I cannot wait to try it with vegetables- broccoli, cauliflower, squash, okra to name a few!