As I have mentioned, I love holidays! I love them all! And do y'all know what holiday is this weekend?!? It's Leigh's Birthday holiday weekend! Yeah, that's right. Our very own Leigh has successfully made it another year on this earth! The first birthday I spent with Leigh was her sweet sixteen.
We were at boarding school (North of Atlanta) and you had to get all kinds of permission to go any where with anybody and you were supposed to be real specific about all the details. Leigh's parents wanted to surprise her so they just didn't tell her where we were going. Leigh and I were convinced we were going to Atlanta. Her parents (and little bro) arrived and they were like, um- get in the car, you'll know where we're going when we get there. We were like okaaaaay. So, we got to I-75 and went North rather than South. They took us to Chattanooga!
Although it was not Atlanta- it was awesome. We went to the aquarium and stayed at the Chattanooga Choo-Choo hotel. We ate this place where in the middle of dinner service all the servers stopped and sang songs… "In the Jungle the Lion sleeps toniiiiiight." Side note: now that I have served tables, I cannot imagine stopping in the middle to break out in show tunes!
But anyway, Leigh's birthday is this weekend. I am very pleased that she was born and that she is my friend. This world is a better place because she is in it! I am glad we have combined our forces and this blog is it's manifestation. I hope you have a fabulous weekend! Love you Leighdawg.
Leigh's birthday is the day before another of my favorite holidays: Cinco de Drinko, no-no Cinco de Mayo! I have a couple awesome side dishes for your Cinco de Mayo celebrations this weekend.
Guacamole

Spanish Brown Rice
Blackbeans
Taco Seasoning
Pineapple Salsa
The first on the list is guacamole. You will never be able to convince me that buying pre-made guac is a good idea. That just cannot be true! There are a million recipes for it out there but essentially it boils down to this: an avocado, a scoop of salsa, a bit of grated onion, decent pinch of cilantro and a dash of salt.
I like chunky guacamole but some people like it smooth- just put it in the food processor, blender or whatever to puree it. Some people like a little lime juice in theirs, just add it. Some people like it spicy hot- either use hot salsa or add a diced jalapeno. And really, all the measurements can be to taste. My Moma does not like cilantro- if she is around, I leave it out.
Speaking of cilantro, Leigh totally opened my eyes on how to keep cilantro fresh for weeks on end. I'm a changed woman! And here is some photographic proof that her suggested technique totally works:
Next on my Mexican Fiesta menu is Spanish Brown Rice. This idea of making Spanish Brown Rice was born of me wanting to make the dish as clean as possible. It was a success and it is tasty! I found a recipe that looked good and just substituted long grain brown rice for long grain white rice.
You chop or grate an onion and mince a garlic glove. Heat 2 tablespoons of olive oil and dump your rice in there and stir then add your onion and garlic and stir constantly for 7-8 minutes. In a separate pot get a the correct amount of liquid boiling and add the tomato paste and you're going to need a dash of oregano too. Once you have cooked the brown rice in the skillet you add it to the the boiling liquid. I used turkey stock (it's all I had on hand) and it turned out great! And then you just cook according to the directions on the package.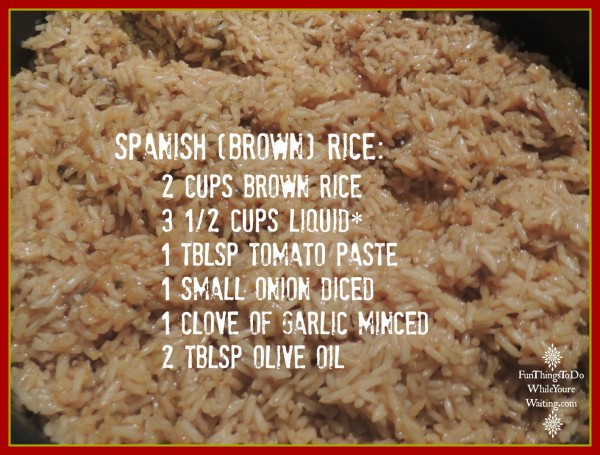 Okay, next on the menu are black beans. You start with a can of black beans and a can of Rotel tomatoes. Then you add 2 tablespoons of BBQ sauce, 2 tablespoons of grated red onion, 1/4 cup diced green bell peppers and 1.3- 1/4 cup of cilantro  stir it all together and let it simmer for 20-30 minutes. These are my favorite red beans ever!
And then you might want to prepare some beef or chicken for tacos, so you're gonna want this recipe for homemade taco seasoning. Why make your own? Because the store-bought ones have silica in them… yeah, you know the stuff in the little packets found with new shoes in shoe boxes. Plus, homemade taco seasoning is simple to make: 1 tablespoon each of onion powder, garlic powder, cumin and chili powder and 1/4 tablespoon red pepper flakes. I don't have the red pepper flakes, so I used a dash of cayenne pepper. I normally at least quadruple the recipe so I can keep some on hand.
And the final item on the Mexican Fiesta menu is pineapple salsa. Again, this is another simple recipe with simple ingredients.
Mix together in no particular order, 1 pineapple cored and chopped or pureed, 1/4- 1/3 cup of red onion, 1 jalapeno diced and 1/3 cup of cilantro. This is a tasty alternative to traditional salsa made with a tomato base.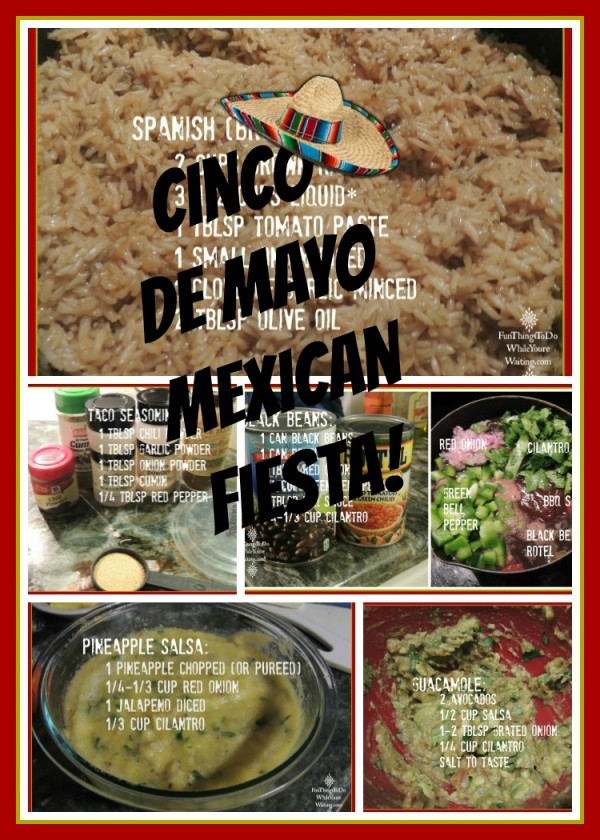 I hope you have your own Mexican Fiesta this weekend celebrating Cinco de Mayo and Leigh's birthday!