Going to see live music is one of the funnest things to do period. Bub and I are big music fans. Our music taste is fairly encompassing. We like a wide spectrum of music and we love to see music live. While I was pregnant with Baby Bub we saw Yonder Mountain String Band, Snoop Dogg, Derek Trucks & Susan Tedeschi and Phish so he also has a few shows under his belt- even if he was in utero.
The Hangout Festival is practically in our back yard. And there are some great bands that come down to play. 30,000 or so unadulterated music fans on the beach is a sight to see! Bub and I usually don't get to go the Hangout Festival because we generally have to work. However, this year one of Bub's favorite bands, Umphrey's McGee, played Thursday night. We are always off on Thursdays- so, we decided to get tickets for just Thursday night.
We didn't think twice when our babysitter canceled- Baby Bub is a seasoned concert-goer… kinda. So, we just packed him up and took him with us! Baby Bub's Aunt Sawyer came along with us to enjoy the Thursday night shows.
As you can see, Baby Bub was ready! He is such a trooper! We walked around, checking everything out and finally settled in a little slice of grass (about 150 yards away from the stage) and enjoyed a band I was excited to see, Railroad Earth.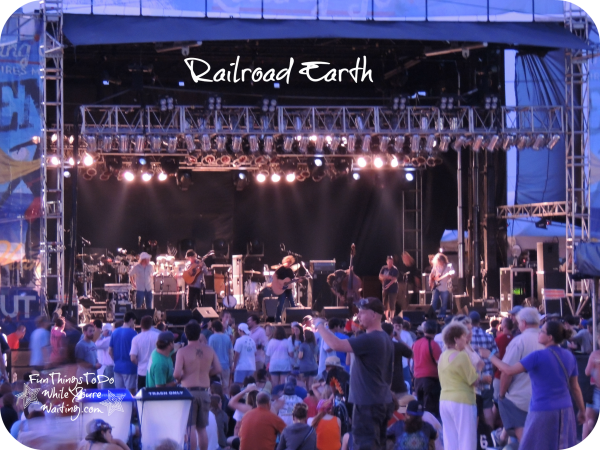 Turns out, Baby Bub loves live music too! He bounced and bounced and bounced and bounced through the entire Railroad Earth show. Bub and I were initially concerned about the Festival being too loud, but we were far enough back that it was not much louder than the concerts we host in our living room.
After Railroad Earth finished but before Umphrey's McGee played Baby Bub started to settle down, after all this was a very special occasion for him- he was out waaaaaay past his bedtime.
It wasn't long after this bottle that Baby Bub agreed to watch the remainder of the show from his buggy and Bub and I were able to break it down Umphrey's style.
For the large part, most people just smiled real big when they saw us coming through with Baby Bub and his buggy although there were a couple people that gave us some grief but don't you fret, this Moma Bear quickly let them know what's up (after all, hippies are supposed to be loving, caring, understanding and accepting…)
So. Live music with an almost 7 month old is totally doable, quite enjoyable and most certainly fun!