As you know, I'm in the process of moving from Chicago to Los Angeles. Matter of fact, this time next week will be the actual day we're moving. But, for now, I'm pack-a-lacking and am surrounded by boxes and empty shelves. Which is kind of sad/exhausting but also exciting.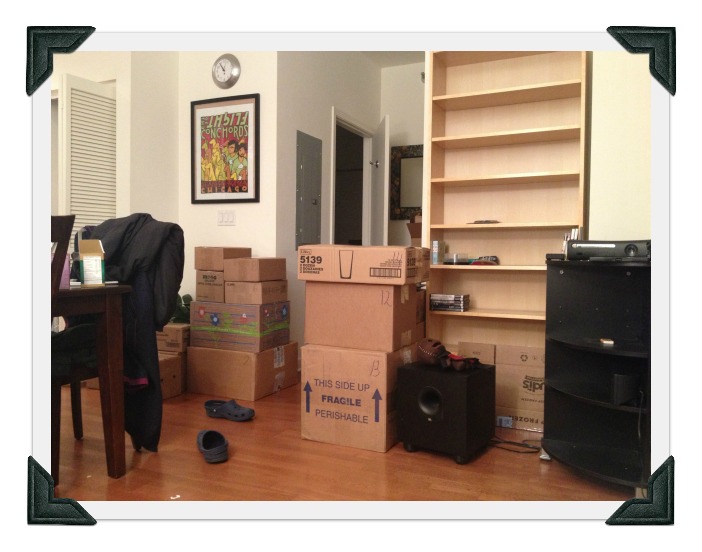 There is an obvious difference between moving across town and across the country. Were we just moving to another neighborhood, I would just throw our bar and pantry into bags and tote it with us… but since our stuff is going to be in storage for a month, keeping an opened bag of pretzel thins and a quarter full bottle of peach liquor seems a little silly. So, this Memorial Day Weekend, Jojo and I  threw a small get-together to empty our pantry, freezer, fridge, bar, and library. Normally, when planning a party menu, I take into account the season, the occasion, and what is on my radar. For this party, however, the menu was dictated by what we had in the fridge and pantry. For example, I made "Cowboy Caviar" to utilize the cans of black-eyed peas I had. And although the menu was eclectic, it was delicious. Other things on the groaning board included: sausage balls (to use the Bisquick mix we had), a ham (to be eaten with the Sister Schubert rolls we had in the freezer), bread and butter pickles (which have lived in the fridge for months), a pumpkin olive oil cake (to utilize a Trader Joes pumpkin bread mix I'd had since the Fall), and watermelon Starbursts (which is the flavor that Jojo won't eat). You get the idea.
One of the items in our spread I wanted to share with you guys. It is a recipe I found on Pinterest and had made way before FTTDWYW even existed. It's for Blueberry Cheesecake Cookies. Yeah… you read that right. This is one of those recipes that as soon as you make it, you want to share it with everyone because a) it's so delicious, and b) you have got to get it out of your house ASAP or you will eat all of it by yourself.  This recipe was so good and different that I knew that I wanted to re-create it for the blog (at some point) so I had all the ingredients in my pantry. As "at some point" hadn't happened up until now, I figured the party was a perfect time to make this treat.
Because I have quite a few things on my brain, remembering to take pictures of the process of making these cookies was kind of the last thing on my mind. I managed to get one picture of the ONE cookie that was left after the party was over… so, that's something. And, if anything, it is indicative of how good this recipe is. The thing that makes this recipe unique is the texture. It's a cookie, yes… but, because you make it with Jiffy Blueberry Muffin mix, it has a cakey quality to it that is both surprising and delicious. Here's the recipe:
Blueberry Cheesecake Cookies
Author:
Ingredients
2 boxes Jiffy Blueberry Muffin mix
4 oz. cream cheese
1 stick "I Can't Believe It's Not Butter"
½ C. light brown sugar, firmly packed
2 eggs
1 ½ C. white chocolate chips
Instructions
Preheat oven to 325 degrees.
Cream together butter, cream cheese, and brown sugar. Add eggs one at a time until blended. Combine muffin mix with the butter mixture and mix well. Fold in white chocolate chips. Chill for at least one hour. Drop by tablespoonfuls onto greased cookie sheet, 2 inches apart. Bake for 14-15 minutes or until just turning brown around the edges. Cool on cookie sheet for 1-2 minutes. Transfer to wire rack until completely cooled.
Some things to note: I always use butter, and is totally substitutable. Additionally, both times that I've made these, they've taken 6-8 minutes longer to cook in the oven… so, after 15 minutes, I always keep an eye on them and take them out when the center is done and the edges are brown.
So, add this your recipe file. It's something I've seen re-pinned on Pinterest a ton… so, if you are one of those people who have been waiting to try this recipe, I saved you the trouble of uncertainty. This recipe is a total winner… and I'm so glad there are none left from the party.