I have to just go ahead and put this out there: my mom makes the best, and I mean the best, twice baked potatoes. Seriously, she does. I am not sure when the twice baked potato craze started but it must have been 20-25 years ago that it sticks out in my mind that my mom mastered them.
She used to, and occasionally still does, bake potatoes, scoop out the middle, mash them up with some goodness, return them to the potato skin, top with cheese and bake again. Somewhere along the line, she changed it up a bit and her twice baked potatoes became a casserole. It was just as good, just no potato skins.
It was years later that I decided to make that casserole. There was a light switch that came on and me leaving the dark and stepping into the light. I never realized that Moma was using Hungry Jack's instant potatoes! It didn't matter one bit! That casserole was good.
Moma's casserole recipe will have to be for another day but, I will say part of the above mentioned goodness that she added was cream cheese and sour cream. Now, since Bub and I jumped aboard the clean eating wagon, I have really tried to limit and restrict as much as possible our processed food intake and with that instant potatoes. However, cauliflower is totally on the menu and an excellent substitution for potatoes!
So, this is how I made twice baked cauliflower. The first thing I did was chop an entire head of cauliflower into florets and then send it all through a food processor.
If you do not have a food processor, you can use your cheese grater- it will just take a little longer to complete the task. After you get the cauliflower all nice pureed, put it in a microwavable bowl and microwave it for 5 minutes. Take it out, stir it and microwave it for 5 more minutes.
My head of cauliflower cooked waaaaaaay down, so if you are wanting/needing more than 3-4 small to medium sized portions, you might want to double the recipe. After the second round in the microwave, I added 1/3 of an 8oz bar of cream cheese (actually it was Neufachatel cheese) and 1/4 cup of sour cream and stirred it all together. I also added a dash of salt.
I transferred the mixture into a pyrex and covered it 2 pinches of cheese and then placed it in the oven until the cheese was nice and melted.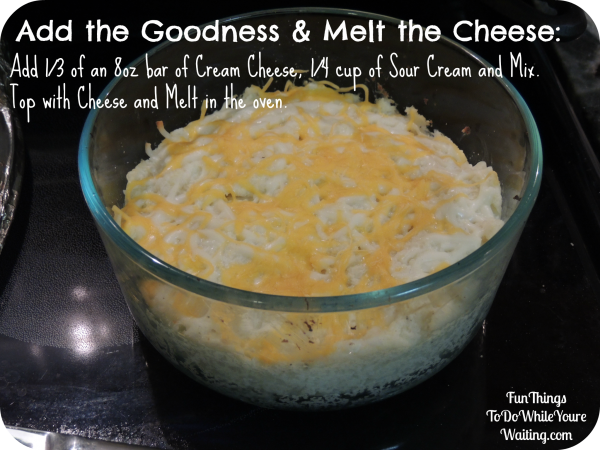 This was mighty delicious. We had it with baked chicken rubbed in homemade taco seasoning and cabbage baked with bacon. Half way through his plate Bub turned to me and said "We are getting better." I asked him what he meant and he said, that here lately each part of the meals we have been cooking have been rock stars rather than just one component standing out as the rock star of the meal. So, this has Bub's seal of rock star approval!
Twice Baked Cauliflower- Delicious Treat!
Recipe Type
:
Healthy Side Dish
Subbing cauliflower for potatoes recreating Twice Baked Potatoes
Ingredients
1 Head of Cauliflower
1/3 of and 8oz bar of Cream Cheese
1/4 cup of Sour Cream
1/4 cup (or so) of Grated Cheese
pinch of salt
Instructions
Chop up and put through a food processor one head of cauliflower.
Place in a microwave safe bowl and microwave for 5 minutes, stir and microwave for 5 more minutes
Stir in cream cheese and sour cream and salt to taste.
Transfer to oven safe dish and top with grated cheese and place in oven until cheese is melted.
Remove from oven and serve being mindful not to burn your mouth.