Although pesto is traditionally a sauce made of basil, garlic, olive oil, pine nuts, and parmesan cheese, pesto has many many variations. The word "pesto" comes from the Italian word, "pestare," which means, "to pound or crush" which refers to its original preparation style. These days, mortars and pestles aren't necessary- especially if you have a food processor! But, any fresh herb, mixed with garlic, olive oil, and cheese can technically be called a pesto sauce.
Roast chicken, like pesto, is one of those dishes that are easy and delicious and ALSO has many variations. Roast chicken shows up on our menu weekly, so we are always looking for different, delicious ways to jazz it up. Last year, I found a great recipe in Martha Stewart Magazine which seemed promising, and after fine tuning it, it has made it has definitely made it into the rotation.
Here is the original recipe from the magazine:
Lemon, Parsley, and Parmesan with Chicken and Potatoes
Author:
Ingredients
For the Chicken and Potatoes:
1 whole organic chicken (about 3 1/2 pounds)
1/4 cup extra-virgin olive oil
Coarse salt and freshly ground pepper
1/2 cup finely chopped flat-leaf parsley
1 lemon, halved
1 pound fingerling potatoes, halved or cut into thirds if large
For the Sauce:
2 cloves garlic, minced
1/2 cup finely chopped flat-leaf parsley
1/2 cup extra-virgin olive oil
1 lemon, zested (2 teaspoons) and juiced (1 1/2 tablespoons)
1/2 cup grated Parmesan cheese
1/2 teaspoon coarse salt
Pinch of red-pepper flakes
Instructions
Preheat oven to 425 degrees. Place chicken, breast side up, on a baking sheet. Rub with 2 tablespoons oil; season generously with salt and pepper. Place parsley and 1 lemon half in cavity. Tie legs together with kitchen twine.
Toss potatoes and 2 tablespoons oil. Drizzle with juice from remaining lemon half. Season with salt and pepper. Scatter potatoes along chicken.
Roast for 15 minutes. Reduce temperature to 375 degrees; cook for 25 minutes. Rotate pan, toss potatoes, and cook until potatoes and chicken are golden brown and a thermometer inserted into the thickest part of the chicken's thigh reaches 165 degrees, about 25 minutes more. Let chicken and potatoes stand for 10 minutes.
Meanwhile, make the sauce: Combine ingredients. After 10 minutes, brush sauce on chicken and drizzle on potatoes.
The whole recipe is super easy… and even if you end up not making the pesto, this recipe is a great primer for those looking to perfect the art of roasting a chicken.
We always start by mixing the potatoes. We add onion wedges, because… well… roast onions go with roast potatoes like… well, things that go together. The recipe calls for fingerling potatoes (which are my new favorite as they are earthier and vary in size, flavor, and color) but you could also use new or red potatoes if fingerling potatoes aren't available. You just place the onions and potatoes in a large mixing bowl and toss with 2 tablespoons +/- to coat. Thanks for the assisting hands, Jojo!
Once you have your potatoes and onions ready, its time to prep your chicken so that you can place the chicken, potatoes, and onions on a parchment paper covered baking sheet and roast it all together! I like my roast chicken skin crispy, so we dry the bird with paper towels before we paint it with olive oil. As always, exercise food safety when dealing with raw chicken. Once your chicken is oiled and seasoned, place it on your baking sheet and surround it by the potato/onion mixture.
Yummers! Right? As a roast chicken, this looks great as is. But wait!!! There's MORE! It's pesto time! Since we love this bright pesto so much, we always make extra sauce so that it can use in eggs or cooking other vegetables. Additionally, instead of mincing and finely chopping the parsley and garlic, we use our food processor, though either way is super! Place all ingredients into food processor and mix until creamy. We've tweaked the original recipe and added more garlic, red pepper, and cheese. Try it by the recipe first, then taste it… then alter to taste. Look how yummy and creamy that last picture is below! This recipe gave me a new appreciation for parsley, which until we made this sauce was relegated to "garnish" status in my book.

This recipe gave me a new appreciation for parsley, which until we made this sauce was relegated to "garnish" status in my book. We've been exploring it's nuances ever since. Maybe one day, I'll post our new favorite Chimichurri sauce! Like I mentioned above, I add some of the left-over pesto to my eggs since it already has olive oil, garlic, and cheese. It makes them green… which would be a fun alternative to food coloring if you were making a Dr. Seuss breakfast. But, I digress. Once your pesto is made, brush it over your chicken and potato/onion mix and enjoy! Since the pesto is so delicious, I always put a small dollop of it on my plate to individually dip pieces of chicken and potatoes which I feel needed more pestofication… which is, like, all of them!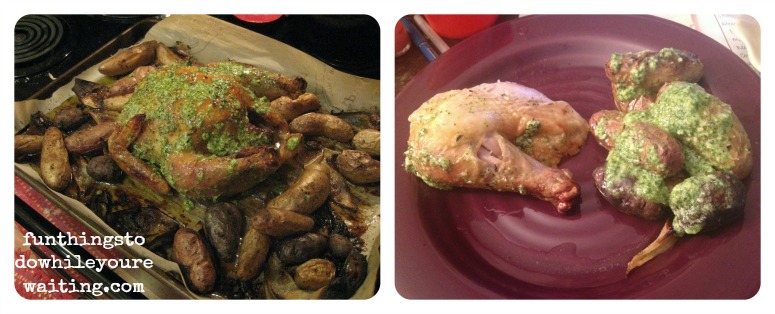 As always, let me know if you end up trying this recipe!! Good luck!