I love a pretty package! I love wrapping a pretty package. I personally think that part of giving a gift, is giving a pretty gift. This train of thought makes me question, what is the point of giving gifts? For me, it means that I am demonstrating my love and affection by giving whoever a tangible something. So, as such, I want the entire gift receiving experience to just be bright, happy and shinny (like my love and affection).
I must confess, I just got my Moma's and Bub's Moma's Mother's Day gifts wrapped and delivered. When gift-giving I do not like to give someone a gift just for the sake of giving them a gift. I do not really like to just give people junk. I really like to think about what I am giving them in regards to how much they will enjoy it. I start thinking about Christmas in September so, I'm not stuck Christmas Eve trying to think of the perfect gift for anyone. My mother-in-law is a wonderful gift-giver in that she is great at picking out stuff that the receiver of her gift will love. And she is also great at giving hints as to what she might like to have herself. My mother is good at picking out gifts but, buying her gifts is not easy. She does not really give hints and if she wants something bad enough, she will buy it. So, I really have to think and/or be inspired when it comes to buying her gifts.
So, back to pretty packages. I think it is worth the effort to wrap gifts as pretty as you can. Don't get me wrong, a gift recipient should be thrilled that you are giving but, I think you should take it up a notch and wrap your gift nice and pretty. I want to let you in on how I wrapped this year's Mother's Day gifts.
I was shopping the other day and came across these pretty blue Tervis Tumbler mugs. I have to tell you, that if you are not familiar with Tervis Tumblers, please take a minutes and follow the above link to check them out- they are wonderful glasses. They keep your cold drinks cold and your hot drinks hot. I think they are wonderful gifts. Plus, they come in tons of shapes, sizes and colors. Bub and I have a small army of them- needless to say, we love them. And I know my mom really likes them too.
My mom like to drink coffee and she like the flavors and such. So, when I found the mugs I thought she would enjoy them especially with a couple bottles of coffee flavoring.
To wrap this gift, I first wrapped the bottles of flavoring in tissue paper and secured it with a twist tie. The twist tie helps everything stay in place. I then tied a ribbon around the twist tie. There are lots of different ways to tie a bow. I pinch the end of the ribbon and then create the loops pinching the center of each loop until I have created the amount of loops I want. And once again, I secure it with a twist tie and use the ribbon I initially tied around the tissue paper to attach my bow to the flavor bottle. I went with Orange and Blue for Moma's gift because those are the colors of our Alma Mater. (War Eagle.)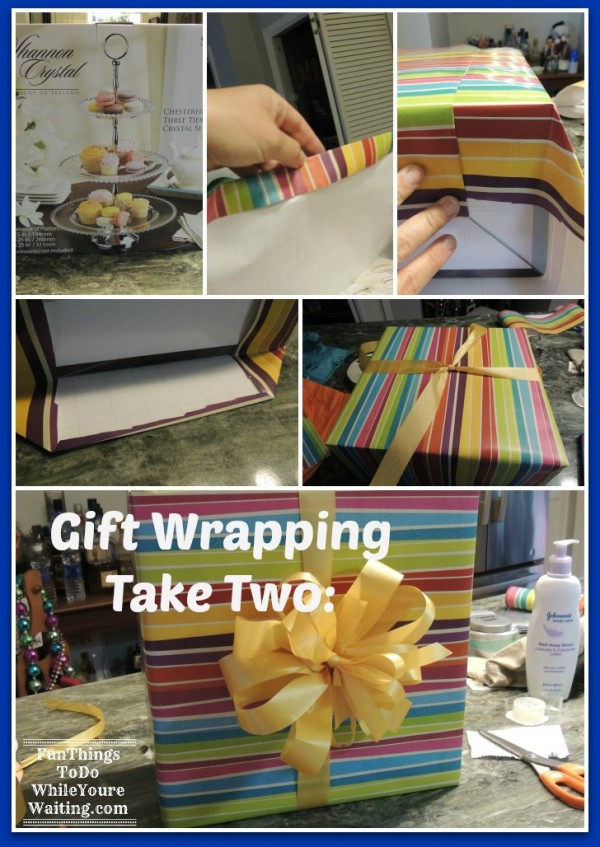 My Mother-in-Law's gift was a little less complicated in that it was in a box. I have had her gift since February or March. I got her a tiered serving dish for entertaining. I have one and love it. It allows you to use less counter space and still serve the same variety of foods without having stuff strewn out all over the place. She and I talked about it and she agreed she would like one- so,  when I found it, I got it.
I have to advice you to buy higher quality gift wrapping paper. It will make all the difference in your wrapping experience because it is less likely to rip than the cheap stuff in the dollar bin. Again, there are several ways to fold your paper when actually wrapping your gift. I always fold the the cut edge under, it creates a more clean and neat look. I also fold the edge of the flap on the ends under for the same reason. This was a decent size box so it needed a decent size bow. I created one just the same way as for the mugs. And then I took a strip of ribbon and cut it in half and make two little bows to add depth to the bow. Overall, I think it turned out pretty nice.
One last thought. I keep all my gift wrapping stuff including scissors, tape, ribbon, paper, tissue and anything else I might need in my grandmother's secretary. She was a great gift wrapper, her packages were always pretty- so, I think it is fitting to keep everything there. It is nice to have everything in one place. If I know I am going to have to wrap a gift, I know everything I need is right there. And also, I have a gift box. I keep things in it that have a wide range of appeal. This way, in a pinch, I most likely have something appropriate.
I hope this inspires you to wrap your next gift with extra love.