You remember as a kid how much fun spend-the-night company was? And especially how much fun spend the night parties were? Weeeelllll, I am here to tell you they are just as much fun, if not more fun as adults! Seriously! A couple of Bub's high school BFFs as well as his sister and grandmothers live in Mobile (Alabama) which is about an hour and fifteen or so minutes from Gulf Shores, where we live. This is certainly a distance that can be done in a day and we definitely have done so. Buuuuuuuut, every now and then it's nice to not have to worry about driving home.
Mike and Bub have been friends since high school (ahem, over 20 years of unending friendship lurv) and his wife Jeanie and I hit if off the first time we met. (She was also kind enough to share  her black bean brownies with us yesterday.) So, they will come spend the night with us and we just recently went and spent the night with them. We started this little tradition when they moved back to the Gulf Coast a couple years ago. Here is a picture of us from December of 2010.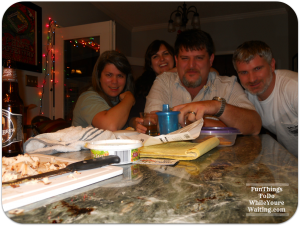 There are some tale-telling signs in this picture that are very indicative of our good times. In the foreground, a cutting board with cut meat on it. I know that it came from the grill. And a beer bottle, I know it's empty (wink, wink). All of us with big smiles and me giving the strong arm- and least I forget, the Christmas lights in the background. It's safe to say, we were having a large time!
Fast forward a couple years, through a pregnancy, a camping trip and Mike and Jeanie buying a house to last week when went to spend the night with them in their new house. Their house came complete with a pool! which did provide an evening of entertainment to Mr. Big (Mike and Jeanie's precious 3 year old son) and Baby Bub not to mention the big kids.
Also, it is safe to say, we eat well on these overnight stays. I took Black Bean and Corn Salsa and Jeanie and Mike whipped up a meal worthy of a king!
Mike grilled country style spare ribs and Conecuh sausage– both of which were just delicious.  As a matter of fact, the ribs were gobbled up before I could get a picture of them post grilling. And if you have never experienced Conecuh sausage, please do yourself a favor and get some. It is just the best! It is made in Conecuh County Alabama, one county over from my home county and as such, I grew up eating Conecuh sausage. It is an absolute crowd-pleaser!
Jeanie made corn on the cob (which was fresh and wonderful) and roasted veggies. I have roasted many a veggie but have never done it her way. She cut up green tomatoes, bell pepper, new potatoes, onion, zucchini and squash- tossed them in a little olive oil with salt and pepper and then made a dome with open sides  over them. She baked them like this on 350 for an hour or so and what came out of the oven was what dreams are made of! They were so, so tasty!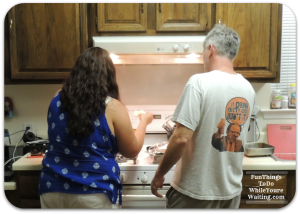 You can see, Bub was quick to do some quality control as soon as she pulled them from the oven.
She also made her black bean brownies which were also very tasty and will be making an appearance on our weekly menu soon.
So, spend the night parties are not just for kids. They are just as much fun as you remember. Try it!