It is a weird realization when you figure out that not all families are like yours; that the weird things your family does aren't what all families do. Every year, on the third weekend of June, my extended family on my father's mother's side gathers for an epic 4-day reunion. It wasn't until I was older that it dawned on me how special and unique an occasion that is; that there are a lot of people who have never met a lot of their extended relatives, let alone spent quality time proactively learning about their shared heritage.
Last night started the annual Russell Reunion in Winder, Georgia and although I am not there, I can still feel the love all the way over on the left coast. Within the Russell Family are some of my most favorite people and I am so honored to share even a modicum of DNA with such a storied group. As I mentioned, the gathering takes place on the weekend nearest the wedding anniversary of Ina Dillard Russell and Richard Brevard Russell, Sr. The couple had 13 children and as the brood began to grow, it was decided during WWII that a concerted effort should be made to gather and celebrate the family. Below is the family circa 1938, 1956, and 1994. Imagine how the below family has grown exponentially- the genetic traits passed down, the cycles of life in a family documented.  Now we number in the several hundreds.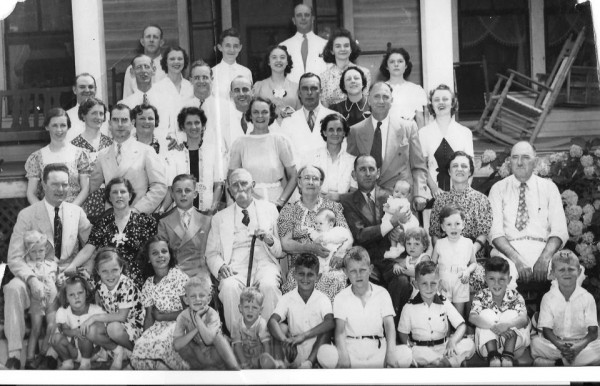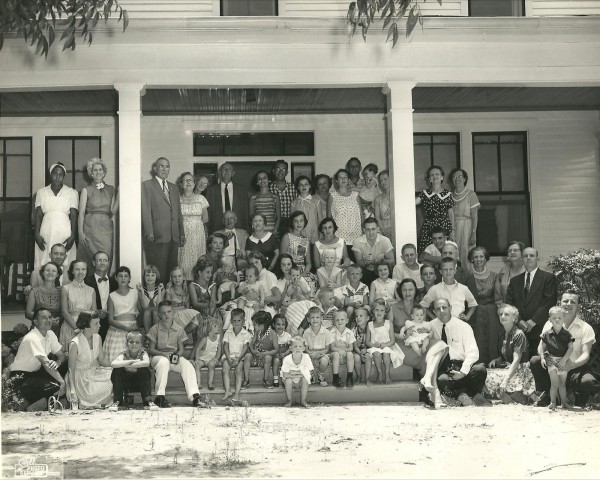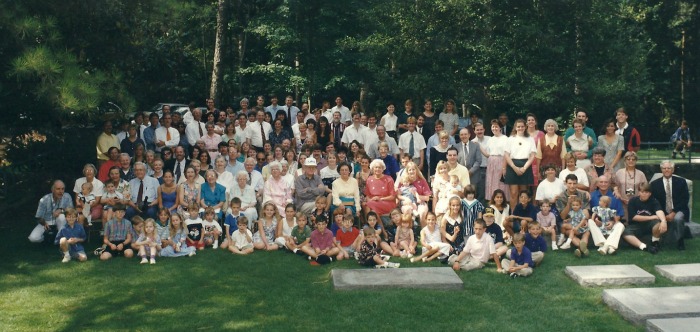 The reunion begins on Thursday evening. Up until last year, the weekend was kicked off by having a lasagna supper hosted by my grandmother and her sister-in-law Betty Ann/"Aunt Bett or B.A." (all in-laws in the family are called out-laws). My whole life, my grandmother has started making lasagnas starting in April in preparation for this evening and I suspect she had phantom lasagna making pangs leading up to Thursday night this year. A new tradition is being started for Thursday nights with a low-country boil at "The Big House."
The Big House was the original homestead of this Russell clan and is where a majority of the reunion festivities take place.The Big House was built in 1912 and has seen some things, let me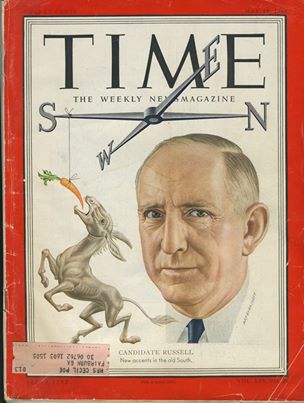 tell you. The Russell family is a storied bunch that is steeped in Georgia political history and you will find many a building named in their honor across the state and in Washington D.C. for that matter. My grandmother was raised in the house next door and every member of the Russell family has a memory about that house. It hosts the hot dog/hamburger dinner on Friday night where the adults catch up and the children play 'Capture The Flag'. On Saturday, the whole family gathers at the top of the hill to the south of the home where the family cemetery sits nestled amongst the Georgia pines. Both sites are on the historic registry. Saturday is the focus of the reunion and a ceremony is held amongst the headstones of family members past and each branch of the family takes turns annually in putting together a program celebrating a certain aspect of the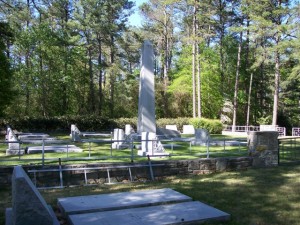 family. Songs are sung. Letters are read. Memories are both made and shared. After the formal portion of the ceremony comes my favorite part: the announcements. Babies who have been born since the reunion are lovingly toted to the front podium and proud parents and grandparents share the specifics. Graduates come forward and tell of their accolades and future plans. Newlyweds come forward (or those who haven't fled yet- this is quite an intimidating group) and share their happy news. Anyone who has brought a guest also comes forward and introduces them to the group. Afterwards, group photos are taken for posterity and everyone heads back down to the lawn of The Big House (carrying chairs from the cemetery ceremony) and enjoys a barbeque on long rows of tables. Sunday morning, The Big House hosts a pancake breakfast and everyone eats before heading home. In addition to the festivities, every year a Russell Herald is published that is compiled by some generous soul- this year it was our own Mary Carol Phillips of FTTDWYW Breakfast couscous fame- who volunteered for the honor! All members of each branch report to her of their families goings-on and it is organized into a book and printed so that each family can take home copies. A herculean task, to say the least.
This is all the formal portion of the reunion… but, to me… the reunion is also all about the informal portion. Some of my all-time favorite memories have occurred at my Aunt Bett's house. If you are lucky enough, you can stay there for the weekend. If you aren't lucky enough, then you are camping out at The Hampton Inn. I'm sure every branch of the family will say the same thing, but my branch of the Russell family has the reputation of being the MOST fun. My Aunt Bett's beautiful home is situated atop a gentle, picturesque slope with hay-bales dotting the pasture. To say everything is perfect is an understatement. I strive to do many things in my life like my Aunt Bett. One of the best features of her home is a large breezeway that divides the house and a lot of the downtime spent during the reunion takes place either here or in the kitchen. At this very moment, I can put myself in her hunter green leather-lounger late at night, surrounded by my family, listening to stories and the crickets grateful for the cooling of the temperature at the end of a June day. Or at my Uncle Richard and Aunt Pat's pond on Sunday after church eating fried chicken and swimming in the brackish waters surrounded by my cousins and heavy-duty inflatable inner tubes.
Within this family are some of my heroes, my mentors, and confidants- some of the most charismatic, intelligent, and funny individuals I know. I can't imagine my life without this gathering. If you ever miss the reunion, you are in hot water (only sort of) with my grandmother as she proclaims that, "you know when it's going to be every year… so, it's not like you couldn't make plans…" I have been in "hot water" several times… this year included. And as much as they've told me that they are going to miss me this year, I will reciprocally miss them. My mom, dad, and brother are leaving the reunion early this year and flying out to California. In fact, on Saturday night, Josh and I will be staying with some of my Russell cousin's in Carlsbad, California. So, even though I won't be there this year per se, it's nice to know that we're having a little reunion of our own. Fingers crossed for next year!