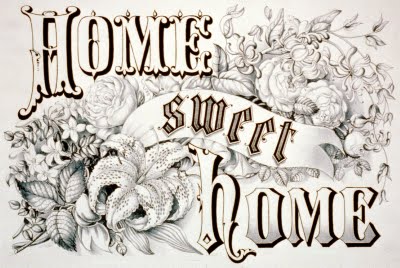 Josh and I have been in California for a few days under a month now; it feels both like forever and no time at all. Since we have been here, we have been so fortunate to be able to stay with some dear family friends while we have been looking for a place of our own.  Never in a million years did I think it would take a month to find an apartment and I was starting to feel as if there was indeed NO PLACE like home here for us.
California is a whole different world in so many ways. Finding an apartment is definitely one of those ways. In Chicago, Craigslist was kind of the go-to apartment finding service and I just assumed that it was like that all over the country. Not in Los Angeles, my friend. Although there are indeed listings up on Craigslist, it isn't the primary source that everyone uses. I've been scouring all available websites (CL, padmapper.com, Zillow.com, apartments.com, rent.com, etc.) and we even had an amazing agent working with us… but we had been flummoxed up until this point. I had always been under the impression that if there was an apartment available, and someone wanted it and their credit scores checked out, then you gave it to them. Josh and I have applied for and then been denied two separate places because we didn't "sweeten the pot" enough. Not only were Josh and I not the only people applying for an apartment, we were part of a pool of applicants for one unit. Apparently, there is a competitive bidding element in a lot of apartment dealings here… this is something we did not know. I assumed that if someone is willing to pay the price that is advertised then that is it. We lost out on the first apartment for which we applied because another couple offered the owners six months rent upfront in cash. The second unit we lost was because the another couple offered to pay more rent than was requested. Had we known these things, we might have played it a little differently… but that just wasn't something I was expecting.
After living in a big city for 8 years, I thought I would have a better handle on the cost of living. I assumed it would be mildly comparable. Although it is not as ridiculous as New York, apartment rents are definitely more expensive than they are in Chicago. In all cities, rent prices depend on the quality of the neighborhood and the amenities in the unit. Something that surprised me during our recent rent search was that not all units come with, what I had assumed up until this point, standard amenities. We had been warned earlier that refrigerators didn't always come standard in units… but it took seeing a few apartments to believe it. Additionally, unlike Chicago, water is a HUGE factor here… as is trash. So, factor in those things (plus the added costs of being car owners) and you find yourself poorer by the minute.
Since Josh's job is in Glendale (a town bordering Los Angeles) we were looking for something that would be close enough so that commutes wouldn't be awful but still close enough to the heart of the city. In the end, it was an apartments.com listing that Josh found after he threw his hat into the search ring after seeing my frustration with the whole apartment situation. So, as of today, we are now officially California residents. We will be residing in Burbank in the Toluca Lakes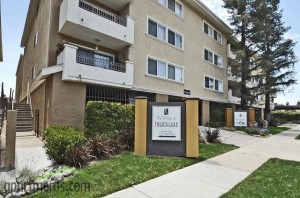 neighborhood. I am in love with our neighborhood- there is a Trader Joe's within two blocks and there are so many cute stores and restaurants. It is safe, charming, has a vintage aesthetic, and is only a 8 minute drive to work for Josh.  Our unit (although nothing super special) is spacious and has all the amenities for which I was hoping (minus the in-unit washer/dryer). The complex is a standard job built in the 70's that sits a little too close to the expressway for my liking, but, you know what? We didn't have to deal under the table and it is immediately available.
Is it my dream Spanish-style, vintage-accents, character bungalow? No. But, it is a great starter apartment as we explore what it means to live in California.