With the delivery of the CSA box every week we have really be inundated with summer veggies. I am determined to not let them waste, but also, eating the same ole same ole is not option. So, I turned to Pinterest for inspiration. (What did we do before Pinterest? I mean, we made it, but Pinterest sure does make finding instantaneous inspiration easy!)
So, I was searching for yellow squash recipes and came across this squash muffin recipe… Everybody in this house likes muffins (even Baby Bub- turns out, he loved these). And it was certainly something different- so, why not?! I cleaned up the recipe in that I made it with whole wheat flour and I fudged it a bit too in that I used Splenda rather than sugar. We could debate for days about Splenda but, I'd rather not. I am sure that honey or agave would do the trick just add it to the wet ingredients instead of the dry ones.
Anyway, these were very easy to make and very tasty! Bub, Baby Bub and I all loved them!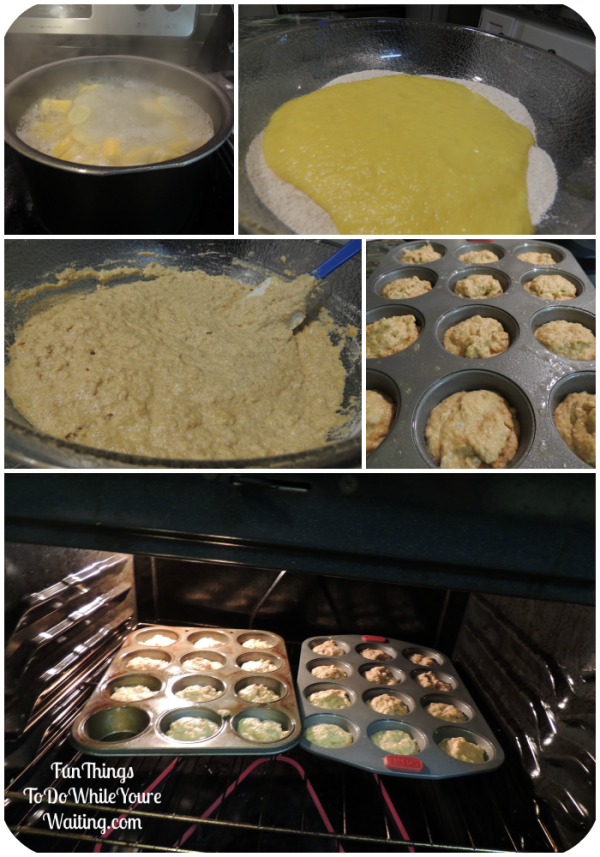 These are your basic instructions: boil the squash until tender and then puree them. Combine all the dry ingredients and then combine the wet ingredients, then mix them together. Spoon mixture into greased muffin tin and cook for 20 minutes and what comes out is tasty! I wasn't thinking it would make TWO muffin tins of muffins but it did- so, this recipe makes plenty.
Squash Muffins… it's a YES!
Prep time:
Cook time:
Total time:
Ingredients
2 cups pureed Squash (approx. 8 squash)
2 eggs
1 cup Sugar * I used Splenda, honey or agave would work too
3/4 cup butter
3 cups AP flour * I used whole wheat flour
2 Tbs + 2 tsp baking powder
1 tsp salt
Instructions
Slice squash into 1/2 inch rounds and boil until til tender (15-20 min.) and mash (I put them in the food processor and pureed them.)
Combine 2 cups of squash, eggs, and butter & mix well.
Combine dry ingredients and create a hole in them.
Pour quash mixture into dry ingredients & mix until well combined.
Spoon into greased muffin tin.
Cook for 20 minutes on 375 F.
I filled the tins 3/4 full and these muffins DID NOT rise, not even a little bit. They are very dense, slightly sweet. I will certainly make these again in the future.