Hooray!!! We're moving into our apartment today!! One of the only advantages of us getting an apartment and not having furniture in it for a month is that I can paint! Painting is such a cheap and effective way to make an impact in a room. I haven't been in an apartment that allowed painting for 9-years now, so I am super excited.
We love Pinterest at Fun Things To Do While You're Waiting and we, like tons of other people, use it for many different reasons. I love it to find recipes, get inspiration, and organize my projects. Another awesome thing that Pinterest does for me is helps me get an overview of what I like without getting bogged down in the specifics. Currently, I am searching for paint colors for the new apartment and I started a file for colors I liked. After pinning 40+ pictures that I liked, I reviewed the folder the next day and realized that almost of the pins fell into three color schemes, really; which is cool to see the patterns my brain is creating without my conscious knowledge.
I know that I want to do some cool accent walls, but am kind of over the whole chevron trend that is everywhere. So, here are some stencils and techniques that I am digging:
I also like that all of these stencils are easy and not something that are soooo intricate and time consuming…
Other techniques that I am drawn to are this cool bubble-wrap technique and then this dragging technique that produces a linen effect:
another concept that I totally think I'm going to do in a room is only painting a portion of the wall- utilizing the horrible standard white that is already there. Again… big impact with less work: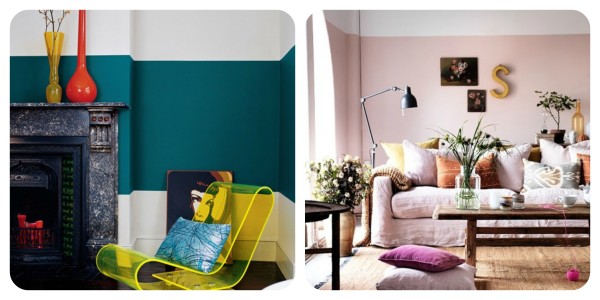 As far as colors go, here is what I'm digging:
I'm kind of obsessed with this deep blue-green that I'm calling peacock. I think it is so dramatic. Unfortunately, it doesn't go with any of our current living room furniture, so it is a contender for the bedroom as I was looking to change our bedroom scheme anyways. Either that, or it will go in the guest bedroom/craft room/office. Maybe to cut the impact, I do the half-wall technique?!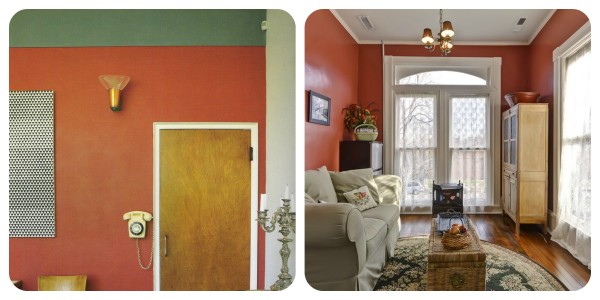 On the other end of the spectrum, I am also loving this orange-y, peachy, pink color. It would totally match our current bedroom linens and stuff… and I find it really warm.
But, then there is also this great lighter blue-green color scheme which I think could be totally soothing in the bedroom:
So, what are we going to do in the living room/main area? I'm planning on doing a lot of repainting of some of our IKEA furniture so I'm not worried about the colors of most of our current furniture… but our couch is something that I can't really change. It is a dark sage-y green… so I am looking for things that would compliment that… I'm totally digging this gray-ish brown palette: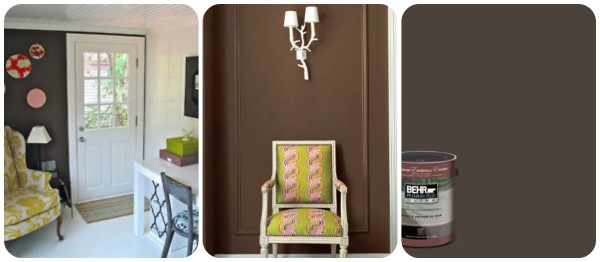 And although I know I couldn't get away with a green on green (or could I) I have ALWAYS loved green:
And finally, for an accent color somewhere, my favorite color so far is this rockin' citron color. What I love about it is that it totally compliments the dark peacock (as does the peachy color):
What do YOU think? Do any of these inspire you? Do any of these turn you off?
[poll id="6″]
[poll id="7″]
[poll id="8″]
What would you do? Is there something I'm missing?? Any input will be seriously considered. Lemme know, Universe!