I have made references to my stepmom's signature breakfast… well, one of her signature breakfasts. She's really a great cook- and this is a simple dish, but Farmer's Breakfast is truly delish and very easy to make!
It is made from 3 ingredients found in most refrigerators- bacon, potatoes and eggs. We have gotten a 5 pound bag of potatoes in the last five or six veggie boxes so, I have been really trying to use them every chance I get. In all reality, Bub, Baby Bub and I do not eat this many potatoes and there are 3 bags in the bottom of the pantry untouched! And I gave one away! But, I have tried to incorporate these potatoes as often as I can- so, this presented a perfect time to do farmer's breakfast. (It is a crowd pleaser!)
I have to tell you, that although farmer's breakfast is simple- it is not necessarily quick… so, I took some liberty in creating a shortcut that did not really affect the outcome. I will explain it to you when I get there.
But, first things first- you need to fry your bacon until it's nice and brown and then set it aside. While your bacon is frying, you need to slice your potatoes thin but not paper thin. You are going to fry your potatoes in the bacon grease- yes, yum.
Here is where I took a short cut. I cooked the potatoes about 75% done in the microwave before I sliced them. This was purely to reduce the time it takes to cook them in the skillet- because it can take 30 or more minutes to get them then nice and cooked if you start off raw in the skillet. They still got nice and crispy and tempered with bacon grease but, I cut the total cook time of the is dish in half by cooking them in the microwave first.
The final step of this process is to crack how ever many eggs you want, I suggest 2 per person, over the potatoes and add your bacon back into the mix. Let the eggs cook- stirring after about a minute or two of cooking. And viola! Farmer's Breakfast!!!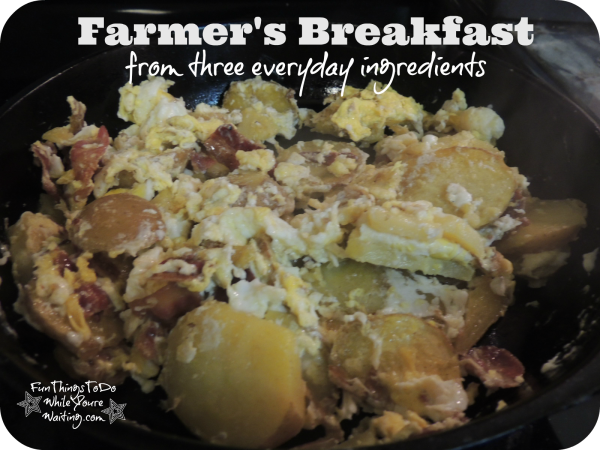 Farmer's Breakfast
for 2-3 servings
Ingredients
4 pieces of bacon, fried
2 medium potatoes, sliced in circles-short length wise
4 eggs, scrambled
Salt and Pepper, to taste
Instructions
Fry bacon and set aside.
Slice potatoes in bacon grease until tender.
Add eggs to potatoes and add bacon back in, scramble eggs-
Serve when ready!
So, here you are- I hope you try and enjoy a breakfast that I have loved all my life!