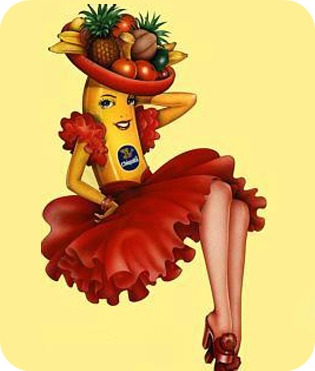 I'm Chiquita Banana and I'm here to say…
Bananas have to ripen in a certain way.
When they are flecked with brown
And have a golden hue
Bananas are the best and are the best for you.
You can put them in a salad.
You can put them in a pie-yi.
Any way you want to eat them
It's impossible to beat them.
But… like the tropic of the equator…
Don't put bananas in a refrigerator.
For a banana, she's pretty sexy, huh? The above was the official Chiquita Banana song that I knew… it's pretty catchy but I learned that there are even MORE lines here! But the complete version of the Chiquita Banana Song is not the banana life hack that I have for you today. I bet you are thinking to yourself, "but LEIGH! I already know all there is to know bananas." Well, you would be wrong. Did you know that you are probably peeling bananas wrong? Well, maybe not wrong. I'm not claiming that there is a montage of people peeling bananas unsuccessfully ending with, "there has GOT to be a better way?!" But, I am saying that those of us in the know peel their bananas more efficiently– like the monkeys do!
For one thing, you are probably peeling your banana from the wrong end! (1) Flip that thing over, yo! (2) Pinch the tip until it splits. (3-4) Peel it like a pro! See, wasn't that easy? That will save you at least 3 seconds! 🙂 If you eat a lot of bananas though, throughout your life, that may add up!
My second banana lifehack is more of a quick/easy low-stat version of Bananas Foster. I am a HUGE fan of the New Orleans dessert staple of bananas, dark rum, vanilla ice cream, banana liquor, cinnamon, brown sugar, and butter. Oh yeah… and fire. I am such a huge fan that I have even travelled to the mecca of Bananas Foster at Brennan's. Which, I'm glad I did (both as a child and as an adult) as I see now that it sadly closed this past summer. All that being said, the dessert is decadent and sooo delicious. However, just read over the list of ingredients and you will acknowledge why it is a special occasion type of dessert only. Despite having always wanted to learn how to make it, Jojo has instituted a firm no-fire policy to our cooking endeavors. I had pretty much given up on getting that taste (without going to a restaurant) until I saw a pin on Pinterest titled, ""Fried" Honey Bananas." The picture looked intriguing and took me to a super cute website: http://rachelschultz.com . As it turns out, the flavor that I loved the most out of the Bananas Foster was NOT the butter, brown sugar, two types of booze, and ice cream (though I also love those things) but warm bananas. Yeah. Warm bananas are my jam! This recipe is such a simple dessert swap but the payoff is huge… plus, it counts as a serving of fruit. A majority of the fat and sugar used to cook it are left in the pan making the stats only a little higher than just eating a banana.
Here is the scoop. (1) Drizzle a pan with a little olive oil and turn heat to a little over medium. Slice a banana and place slices in pan. Allow them to cook until the natural sugar in the banana has caramelized giving you a pretty, crunchy brown crust– 3-4 minutes, depending on your stovetop. Flip one over to gage them all. (2) When they are the right color, flip them all over. While they are cooking on the other side, get a ramekin (or small bowl) and mix one tablespoon of water with one tablespoon of honey. (3) Once the bananas are done cooking on the second side, remove the pan from the heat and pour honey/water mixture and allow to sit for a minute becoming a syrup, of sorts. (4) Sprinkle with cinnamon and voila; you're done! Since the stats are already low, I add four tablespoons of Reddi-Whip (which is also lower cal- only 30 calories for 4 tablespoons!) to give it the creamy taste like the Bananas Foster without all the calories of ice cream.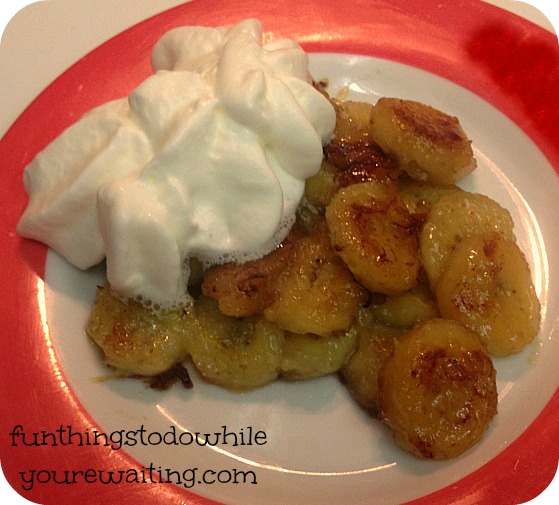 Nomnomnom. Not too shabby, huh? Definitely worth a shot if you are a fan of bananas, Bananas Foster, or of decadent desserts. I love things that give you all the taste without all the extras. Uh… you're welcome.
"Fried" Honey Bananas
Author:
This recipe came to me from RachelSchultz.com via Pinterest. All personal additions are notated with an asterisk.
Ingredients
1 slightly under-ripe banana* The riper ones don't hold up as well.
Olive Oil
1 tablespoon of Honey
1 tablespoon of Water
Cinnamon to taste
*Whipped Cream to taste
Instructions
Lightly drizzle olive oil in a skillet over medium heat.
Arrange banana slices in pan and cook for 1-2 (*3-4) minutes on each side.
Meanwhile, whisk together honey and 1 tablespoon of water.
Remove pan from heat and pour honey mixture over banana.
Allow to cool and sprinkle with cinnamon
*Add Reddi-Whip to taste.