Gentle Reader, the routine of this blog just marches on. Leigh and I have kinda got our groove going. I've explained before that she does MWF and I do TTh one week and the next we flip-flop. I do MWF and she does TTh. If you follow us, you may have already picked up on this theme. So, we can kinda plan what we intend to share with you- which is sometimes easier said than done.
During my weekend of projects, I sat down and loosely planned what I am going to write posts on for the next couple weeks. I had this week mapped out, I have next week mapped out and I already know that the week after next will be a week of getting ready for Baby Bub's first birthday. (I won't even begin, yet, on how unbelievable it is that that child is almost a year old. Consider my mind blown!)
I knew that it was time for me to do an update on the jean situation. But, in my planning session I was looking to see if I had shared something or another with y'all and just happened across the original post about my quest to get back in my old trustys. Leigh did a very insightful post back in the summer about numbers and stats in relation to this blog, so you may remember that we can see how many times each post has been visited. When I saw how many visits my original jean post had gotten, I almost fell off he couch. I kid you not. I just checked it again- 907 visits. Talk about mind-blowing. We have a couple posts that have over a 1000 visits (our average if far less) and even fewer that have over 2000 visits- so, to see that that jean post has almost 1000 visits logged is crazy. I also realized that I needed to do a good job with the update(s).
Sooooo, on with the previously scheduled programing. Lucky for you, dear Reader, I have been watching Oprah's lifeclass with Brene Brown preaching about vulnerability and I am willing to stand in that arena. Let's face it, when you are speaking frankly about your muffin top and your desire to get rid of said muffin top, you are pretty much putting yourself out there. If you don't think you would be, I most certainly think I am.
If you are my friend or a friend of this blog on Facebook, you got a sneak peak on the jean situation earlier this week.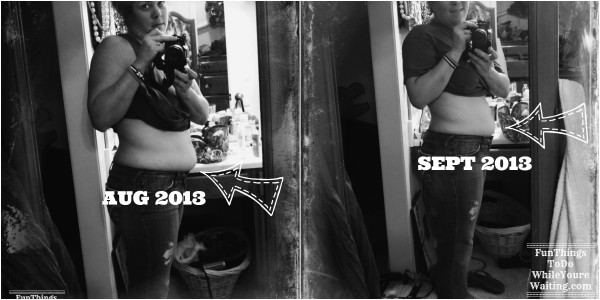 You can clearly see that I have made progress! Praise Jesus! You can also clearly see that there remains room for improvement. However, I am satisfied with the progress made thus far. I explained in a previous post how I really feel about exercise but, it seems like it's paying off.
But, I have to be honest. I have struggled. I have struggled to be consistent in my effort to exercise and I have struggled to make healthy food choices every time it comes time to eat. I just have. I look at these pictures and I think, what if I had given 110%? Where would I be? I would rate my effort at 70%. Yes, a C-.
C-.
Had I been in school, I would not have been satisfied with a C-. Nope. Not even a little bit. And then, I think eating season is right around the corner. In my mind, October is the warm-up for eating season actually. My birthday is at the end of the month and for the rest of my life, Baby Bub's birthday will be a week before mine. That means 2 birthday cakes to navigate plus Halloween candy… This is what I am not going to do- I am not going to focus on that nor am I going to feel guilty about enjoying a piece of birthday cake.
I am going to keep on keeping on- I am going to try to make the best food choices and I am going to move more than I have been most recently. And also, I am not going to step on the scale for a while. On about day 12 of my last 24 Day Challenge I saw a number on the scale that I haven't seen in years now and then the next day I was up 2 pounds and the day after that 1.3 more pounds yet my clothes were more loose than ever. So. I just decided to stay away from the scale. It serves a purpose but on days 12-14, for me, it served to make me crazy! I'll check back in, but no time soon.
Bub and I continuously take the supplement strip from the 2nd phase of the 24 Day Challenge. In an effort to continue to live a healthy lifestyle we are going to do a 24 Day Challenge together starting November 1. By doing these complete 24 Day Challenges every 90 days or so, it absolutely helps me stay on track towards my weight goal. Also, I absolutely believe that these supplements help me continue to loose weight when I am not excelling in the exercise category.
And also. I want to talk about my body prior to pregnancy and my left-overs from pregnancy. Even at my smallest, I carried a majority of my fat stores in my belly. I vividly remember looking at myself in the mirror when I was the smallest I have ever been and thinking, "Damn– this belly will always be here- sucks." I have made mention before that I had a C-Section to bring Baby Bub into the world. How does this translate? I was sliced through my abdominal wall- I have a scar to prove it and my belly has a new shape. It's not round like a pumpkin anymore, it's round like… well, I don't know. Trust me, it's still round- but, it's a different kind of round.
I intend to continue to shrink my left-overs but, I doubt I will ever get rid of them. I will always have the scar from the slice. Just to clarify, my C-Section experience was as awesome as any childbirth experience. I would totally recommend hatching a baby that way and am glad I did. Although I have never had one vaginally, I have several friends who have and I do no believe my recovery was any worse than theirs and in some ways, I think it was easier. However, it has certainly changed the shape of my belly.
Here is a different view of my results. I took this picture from this viewpoint to show my friends which pair of jeans I was talking about- but, now it gives a different vantage to some fat dismissal.
 I remember when I got these jeans. I bought them from a little shop on College Street in downtown Auburn. They are Plastics. I thought they were super cute- kinda retro- overall awesome. I remember I had to squat down in them in the fitting room to get them on… but, I was hell bent and determined to wear them. that night. to the bar. And yes. I did. I am confident that they currently fit no tighter than they did when I first bought them… I am also confident that I wouldn't wear them anywhere out of my closet today. I am no longer interested in wearing T.I.G.H.T. jeans. Could it be I am not on the prowl anymore or maybe it could be I'd rather wear mom jeans more comfortable jeans? (God, help me, if I ever wear mom-jeans!) I'd say it's a bit of both but mainly the latter.
So. Here is where I am. The old trustys fit. I could wear them in public (if I wanted to). However, I am not satisfied with how they fit yet. I need to shrink a bit more before I sport them anywhere. My body, specifically my stomach is still round but in a different way. I acknowledge that I struggle to make good decisions 100% of the time and that making better decisions needs to be my focus. Also. I'm going to put the scale away for a while. That's my update and I'm sticking with it!