[spotify track="https://play.spotify.com/track/7KL9lVJ4d7iQZVa38GphqQ"]
Goodness Gracious. This has been a very fast week! Even though my pity party post published Monday, it was written Sunday, so actually the pity party was over when I woke up Monday morning. Monday was a pretty good day- And this is going to be a post of epic length- since I skipped Wednesday, I have a bunch to share. Get comfy- sit a spell.
Baby Bub and I went to a farmer's market in the country that is out back of the farmer's house. The farmer's wife was working the market and she just ate Baby Bub up! She has a great-granddaughter that is 9 months old and weighs 4 pounds less than Baby Bub- so she snatched him up and toted him around. And then their pint sized dog started licking Baby Bub and he thought that was hilarious! So, Monday was a good day.
And then Tuesday struck. I felt like a Mac truck hit me. I actually sent Leigh a text telling her one had hit  me and she promptly texted back asking if one had literally or figuratively hit me. Well, figuratively. But, I felt horrid- had a fever- queasy- yuck. I went to sleep at 8pm, thinking it was just another nap- nope- woke up at 7:30 am Wednesday feeling like a different bird.
So, there's the explanation for the no-call/ no-show on Wednesday. I was under the weather on Tuesday and then Bub whisked me off to Mobile to see his grandmothers first thing Wednesday morning. Sometimes. Life happens. And the best you can do is just hang on. That was me this week. And Leigh didn't even bat an eye- she just rolled with it. Very gracious of her.
Oh, did I mention Baby Bub has started walking. Yeah. He has. He's still toddling- but, by next week he'll be skipping and running. Mark that down. And guess what- he's got SIX teeth working their way in- SIX! 2 on the bottom and 4 on top. Hopefully these are the last of them but it has turned my lovie-dovie into a Holy Terror!
Where was I? Oh yeah, Mobile. The grandmothers can be compared to sunrise and sunset. Both awesome, just different. And I don't mind visiting them one bit and they just fawn over Baby Bub. They ooohhh and aaahhh over him- telling him he is so smart and so cute and so athletic and just precious and wonderful and basically just tells him he's the bees knees. 🙂 I have memories of 3 of my great grandmothers- I really hope Baby Bub will remember the three of his that are living now.
But, this trip… seeing as how my birthday was just this past Sunday, I made a special request- I wanted to go to Pollman's Bakery. If you ever find yourself in Mobile, Alabama- you HAVE to go to this Bakery. It's not fancy smancy- but, the sweets you will find there will make you roll on the floor and beg for more. One of Bub's grandmother's loves the French bread and the brownies- I love the cakes. OOOOhhh-EEEEMM-GHEE! I got 2 petit fours rather than just one of the cupcakes in the picture… They were so good. I couldn't have a cake around- I would eat it until it was all gone- without sharing any!
And Halloween- y'all. First of all, Leigh's post about costumes– is hysterical! I mean H-I-larious! However, I think as far as this year is concerned, Baby Bub falls into the safe zone. He was Elvis! Yes. Elvis. We ordered a costume but to be honest I was little disappointed when it arrived… but then, it hit me- I could bedazzle it! Made a world of difference! However, it was a chilly 75 F for trick or treating… Baby Bub kept his costume on 20 minutes tops!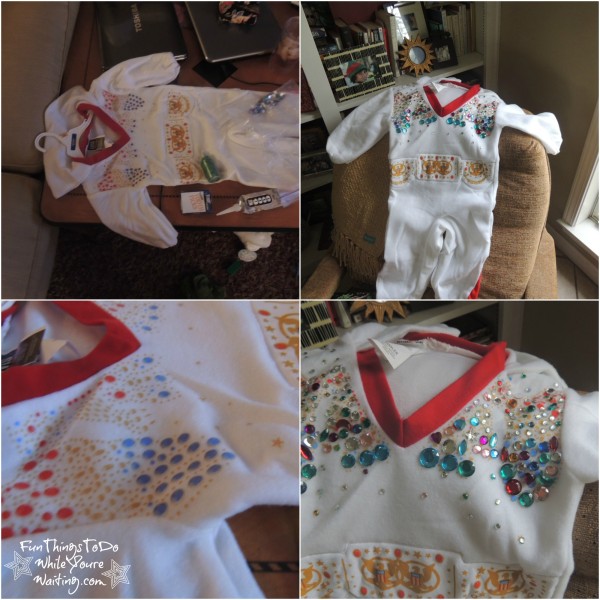 Gentle Reader, I grew up trick or treating and it was awesome. But, I have never experienced anything like what my current neighborhood does-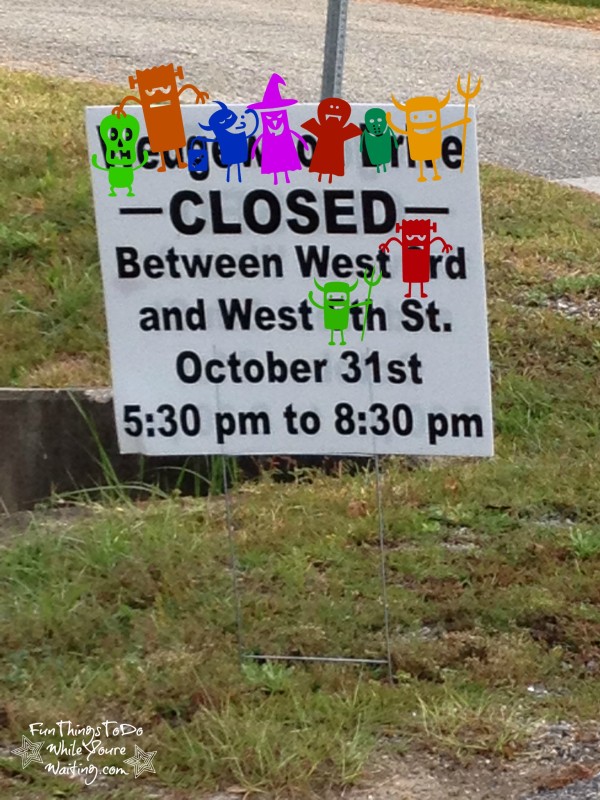 This neighborhood takes Halloween trick or treating serious! They block the street- and when I say thousands of people come to trick or treat, I mean thousands! It's awesome! So Bub and I had a few folks over to enjoy the sights and marvel at the crowd. Soooo, I couldn't have folks over without having some treats. I mean, hello.
But, I went old school. I pulled out stuff that I wore out years ago. In fact, one of the dips- Bub has never had and he kept saying how good it was and asking who made it (ha! yeah, more than once he asked me who made it!!). I wanted to do stuff that was super easy and the stuff I used to make in my early years of entertaining was easy and tasty. So- the menu was as follows: Rotel with Sausage and Velveeta (the name and recipe in one), Spinach Dip- tried and true. The recipe is on the back of the dry soup box. It's awesome served with Wheat Thins or in a Hawaiian Bread Bowl.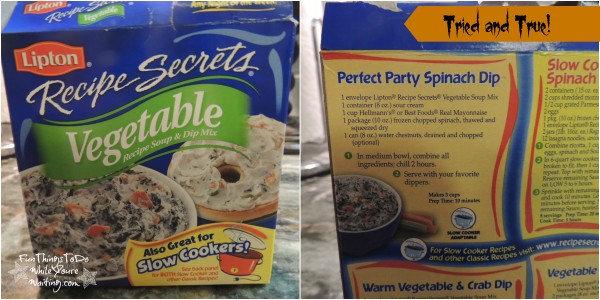 My dear friend Lori Leech introduced me to that Spinach Dip and she is also the one who taught me about this next dip that Bub kept asking about: Shrimp Dip. And this is all there is to it: shrimp, cream cheese and cocktail sauce. All you do is bring a block of 8 ounces of cream cheese to room temp and now Lori used canned tiny shrimp- and yes, it works and tastes fine but, I decided to take it up a notch and used cooked, frozen shrimp- def not fresh shrimp but not canned either. So either open and drain your can of shrimp or thaw your frozen cooked shrimp and stir them into the cream cheese. Then pat it into a ball, put it on our serving plate and them pour cocktail over the shrimp/cream cheese ball. Easy and tasty. And here's a quick guide to cocktail sauce- ketchup, lemon juice, Worcestershire and horseradish- it's so much better if you make it to taste at home.
And for the sweet treat: I came across this delicious looking monster rice crispies… they were screaming my name! So, I thought this would be the perfect time to give them a whirl! And they will be added to my holiday recipe box because they would translate to any holiday.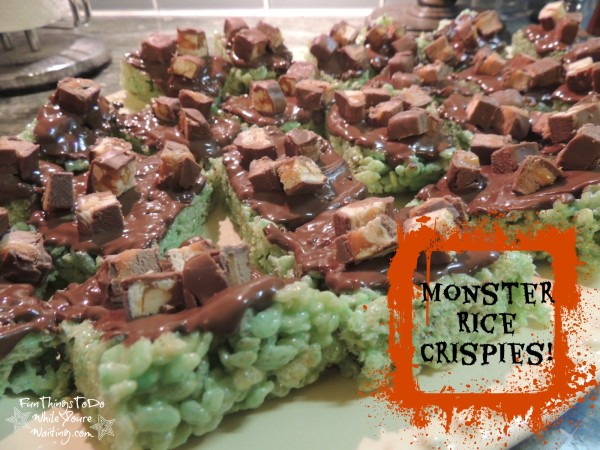 And they were super easy too! This is it: make rice crispie treats according to the directions on the package except add 10 drops of green food coloring. And let them set in a 9×13 Pyrex. After they have set, cut them in smallish squares. And you need about 2 cups of cut up candy bars- I used Snickers and Milky Ways. Then melt about half a package of quick melt chocolate candy coating and slather it on each rice crispie and then sprinkle with your chopped up candy bars. They are good y'all.
Holiday Rice Crispie Treats
This recipe can be adapted to any holiday without compromising taste.
Ingredients
5 1/2 cup miniature marshmallows
6 cups of rice crispies
3 Tbsp butter
10 +/- food coloring
1/2 package quick melt chocolate candy coating, melted
2 cups chopped candy bars
Instructions
Make rice crispies according to directions adding food coloring to the marshmallow mixture. Let set and cut in smallish squares.
Melt candy coating and slather on each rice crispie treat and sprinkle with chopped candy bars
Okay. Whew! I feel like we covered a lot of ground. Thank you for sticking it out. But. Now. Halloween is over. My eyes have been refocused. I cannot lie, my focus is Christmas. However, I am married to a man who loves each holiday equally which means, I cannot skip over Thanksgiving. (But, I can get ready for Christmas while waiting for Thanksgiving to pass- trust me, you will be right in my pocket as I am getting ready- don't you worry.)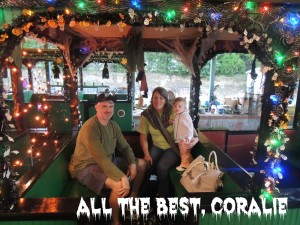 Also linked here…
http://www.simplysweethome.com/