I would say it is a safe bet that most Americans have had spaghetti at one time or another. Additionally, I would bet that even those who are the most challenged in the kitchen can pull off spaghetti. I grew up eating spaghetti pretty regularly. It's good, it's easy, it's fast, it's a crowd-pleaser- what you might call a homerun on lots of levels.
I have really stretched the boundaries of spaghetti. It's kinda forgiving that way. I have hidden squash and zucchini in it. I have added broccoli to it. I have eaten it with all sorts of pasta- that which you twist around your fork and that which you stab with your fork- any which one, I'm a fan. And I was, up until most recently, generally satisfied with my definitions. Bub however, finally did ask me to leave the random veggies out of the sauce. I guess I didn't hide them well enough and even though it is good, I agreed.
I am trying to hang in there with Leigh and her march through 88 days and although those jeans fit, I would like them to be wearable in public… so, I am trying to make good food choices and carb intake on spaghetti is a little higher than I'd like. But, I really wanted some spaghetti! A friend of mine had made meatloaf with quinoa- so, why not spaghetti with quinoa instead of pasta? I mean, why not?
We eat a bunch of quinoa around here. We have regular quinoa, heirloom quinoa and red quinoa- so, I have learned that much like rice, quinoa is better tasting cooked in stock. So I cooked the quinoa according to package directions in chicken stock. I used half regular quinoa and half heirloom quinoa.
While that was happening, I browned my hamburger meat.
I use 93/7 ground beef. There is very little grease to deal with- so, I chop and cook about 1/3 cup of both onion and green bell pepper with the meat that I am browning for spaghetti. This is what I have come to know about spaghetti sauce- if you are not going to make your own sauce and you decide to use a store-bought variety— use a nicer one with the least amount of salt and sugar- it's worth the extra dollar or two. Seriously.
About the time I got the meat browned and sauce added, my quinoa was ready. I just dumped it into the spaghetti sauce.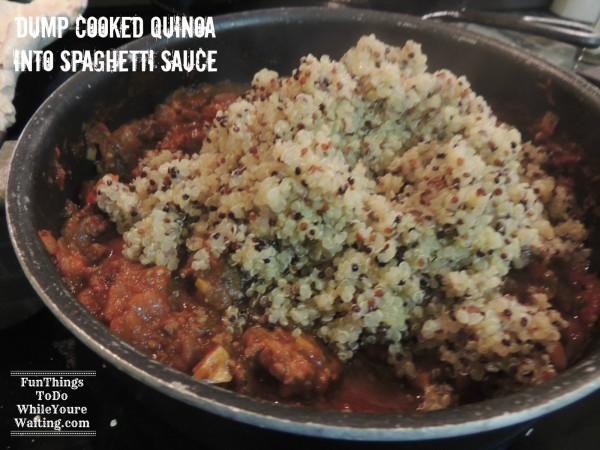 At this point, there was no turning back! My Moma was here while I was cooking. She kept asking questions like "You think it's going to be good?" and "Have you ever done this before?" I just kept assuring her that it was gonna be fine- and ohmigoodness! It was amazingly good! Healthy Spaghetti at its finest!
When we were eating it, Moma kept saying "This is sooo good!" And all day today she has been tossing out ideas of other recipes that certain components could be substituted for quinoa. I do believe I finally have a quinoa believer! Win.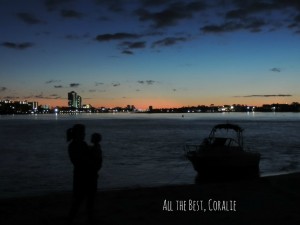 Also linked here…