I am such a creature of habit. If I do something out of routine, it totally throws me off! Generally, it doesn't upset me- it just throws me off. Today's post is a victim of me doing something out of my routine. Bub and I went on an afternoon date yesterday and then we picked Baby Bub up and went out to eat. All that was totally not in my routine and thus— I completely forgot to write this post. And get this, it was planned- I knew today was chili day!
So, on with the previously scheduled program!
It is starting to cool off here on the Gulf coast and I was overcome with the need to make chili! However, I have never made chili before. And I did not want to use a chili packet. So, I went in search of a good recipe. I think I found one on My Recipes called "All-American Chili." That sounded exactly what I was looking for.
The recipe was easy to follow and easy to make. However, I used no salt added tomatoes and tomato paste. The final product needed salt. And it needed heat. I am not talking scotch bonnet heat but the jalapeño did not provide enough spicy heat for my tastes. So, in our bowls we salted it and spiced it up with Tony Chachere's and that made it just right.
Cold Weather Chili—
Ingredients
6 ounces hot turkey Italian sausage
2 cups chopped onion
1 cup chopped green bell pepper
8 garlic cloves, minced
1 pound ground sirloin
1 jalapeño pepper, chopped
2 tablespoons chili powder
2 tablespoons brown sugar
1 tablespoon ground cumin
3 tablespoons tomato paste
1 teaspoon dried oregano
1/2 teaspoon freshly ground black pepper
1/4 teaspoon salt
2 bay leaves
1 1/4 cups Merlot or other fruity red wine
2 (28-ounce) cans no-salt-added whole tomatoes, undrained and coarsely chopped
2 (15-ounce) cans no-salt-added kidney beans, drained
1/2 cup (2 ounces) shredded reduced-fat sharp cheddar cheese
Instructions
Heat a large Dutch oven over medium-high heat. Remove casings from sausage. Add sausage, onion, and the next 4 ingredients (onion through jalapeño) to pan; cook 8 minutes or until sausage and beef are browned, stirring to crumble.
Add chili powder and the next 7 ingredients (chili powder through bay leaves), and cook for 1 minute, stirring constantly. Stir in wine, tomatoes, and kidney beans; bring to a boil. Cover, reduce heat, and simmer 1 hour, stirring occasionally.
Uncover and cook for 30 minutes, stirring occasionally. Discard the bay leaves. Sprinkle each serving with cheddar cheese.
Note: Like most chilis, this version tastes even better the next day.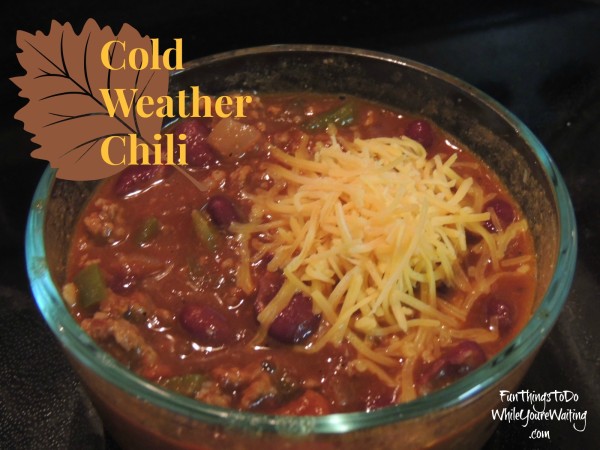 Has the weather inspired you to cook something in particular lately? Tell us about it.