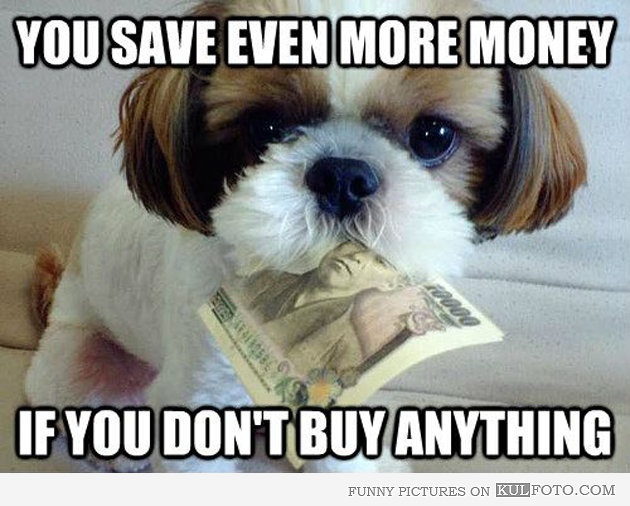 I have lived all my 33-years without participating in a single "Black Friday"…  until this year. Saving 15% on an appliance never trumped my desire to sleep in after eating Turkey the day before. In fact, just thinking about storming a store in a mob of elbows and competitive bodies (but for 30% off your total purchase!) gives me the heebie jeebies. I have many friends for whom Black Friday shopping is a family tradition– something they did with their families… and they have great fondness associated with it. In fact, a friend of mine (who I know had participated in Black Friday in the past with her mother) posted a photo this year of her and a sleepy, eight-year-old waiting to go to the mall in the dark. The caption on the photo was "___________'s First Black Friday!" It made me laugh at how differently Black Friday can be perceived by different people. Because there are also those who staunchly appose Black Friday shopping–who sit at home in a left-overs/nap cycle protesting the "commercialness of it all." So, it was with great surprise that I found myself sitting in the parking lot at a Jo-Ann Fabric and Craft Store in Glendale, CA on Black Friday…before the sun had risen. Our story begins 120-hours earlier in the same parking lot on the Sunday before Thanksgiving.
If you are a fan of the blog, you know that both Coralie and I fancy ourselves crafters. If you didn't know… well, you do now. We have crafty friends. Crafting just makes us feel good. So, it should not surprise anyone that this holiday season I decided to do a "Homemade" Christmas, in which I attempt to craft as many holiday gifts as possible, in lieu of store bought items. I've done similar things similar years and I think homemade gifts, no matter how ratchet, are always awesome.
So, that Sunday, I putzed around with a girlfriend of mine post-brunch at the Glendale Jo-Ann's after the tip-off of it's existence from another friend. We were both in search of supplies for holiday gift making. Now, this Jo-Ann's was special. This Jo-Ann's was new. A new Jo-Ann's is like an albino rhino. I knew such things surely existed but until now had never guessed I would have the opportunity to see one… to see a Jo-Ann's that hadn't been pawed over by the masses before I had gotten there. If you have never been to a Jo-Ann's, then statistics would indicate that you are male and probably single… as boyfriends/husbands being drug around Jo-Ann's are quite common fixtures in craft-related retail. We easily found what we were looking for inside the pristine kubla khan that is a new Jo-Ann's and were handed flyers on our way out the door. Later that evening, as I was unpacking my purchases, I pulled the Jo-Ann's Black Friday circular from the bag. When there, right on the front page, was a crazy deal on an OttLLight.  OttLights are floor/table/craft lamps that offer superior light to reduce eye strain and fatigue. They are also expensive. But, the right lighting can be clutch in so many situations… and crafting is certainly one of them. An OttLight has sat on my Amazon Wish List for three years now being too expensive for anyone to buy… and rightly so. As I have gotten older, things like "good lighting" have become a necessity… so when I saw that I could get one of these supa-lamps for a crazy deal, the first seeds of Black Friday had been planted in my brain.
On Tuesday, I saw a huge line of people queued up outside a Honey Baked Ham, Co. store… obtaining their Thankgiving main-protein, I'm assuming. But, it blew me away… that there could be so many people willing to spend their time (which is valuable) in duress, just to get their turkey/ham at a discount. Though, times being what they are and the price of meat being so expensive, I get it. It was just something I have never really seen outside of Harry Potter/LOTR Thursday night movie releases. The things I knew of Black Friday were the clichés that had been assimilated through bad news reports and late-night show jokes. The mad crush, huddled outside the door. Waiting, like the countdown on New Years Eve, to burst through the doors in a human-sluice as you hurdle over fallen shoppers who "couldn't hack it." Short of the stand-off I once had in which I reached a Hot Wheels Volcano Blow-Out set (THE hot toy of the 2000) seconds before another lady, I really hadn't encountered too much of the competitive retail behavior.  As I spun an elaborate tale to this lady about how the Today Show had done a report just that morning saying that the toy set was painted with lead-based paint I watched her walk away as I snatched it up. If I hadn't seen her mutter something mean underneath her breath when we both wound up at the check-out counter, me with the Hot Wheels set, it would have been a coup! I have never worked retail on Black Friday, and other than above mentioned foray into cut-throat shopping I was a total noob.
With these things running through the back of my mind, I went BACK to Jo-Ann's on Wednesday to do some reconnaissance. Yes. I did that thing. I walked the store, eyeing critical/direct pathways between the door and the light mentioned in the flyer. I mapped out a strategy in preparation for the madhouse that I knew Jo-Ann's on Black Friday would be. Feeling confident that I had a firm grasp on the lay-out and a plan, I went home and proceeded to have an awesome Thanksgiving holiday.
Finally, Black Friday arrived. I had set two separate alarms to make sure I wouldn't sleep through it. But as is always the case when you have angst about sleeping through your alarm, you sleep in anticipation of it… which is the pits. I watched as my clock slowly crawled closer to my alarm and finally just got up. I dressed stealthily in the dark, trying to not wake Jojo and snuck out of the apartment with my coupon cut and ready for deployment in my jeans pocket. Southern California is a beautiful, magical place in so many lights… but pre-dawn is stunning. It was one of those lights where you have to wonder if you still need your headlights, or not… and then you err on the side of yes. I followed the optimum route on the 134 as set out by my GoogleMaps the night before to the Jo-Ann's and rolled into the parking lot at 6:40. The flyer had advertised an opening time of 7 a.m. and I was ready. I was ready to go toe-to-toe with whatever pit of despair I knew I was going to roll into. I was the ninth car in the parking lot. They had actually already opened the store at 6:30 in anticipation of the great crush… except there was no one there. After laughing in the parking lot for a minute about the hilariousness of it all, I walked into Jo-Ann's directly to my pre-chosen light, picked it out, paid for it and was back in bed in Burbank by 7. No doors were busted. No elbows were thrown. I allowed the mania of a cultural phenomena to deny me the sweetest, post-turkeyday sleepings-in.
But, I will say that I've chuckled every time I turn on my new lamp as I'm crafting holiday gifts. Let there be light!