I promised last week that I would do a recap of our Thanksgiving Eve. It's going to have to be in two parts. Today, I am going to do the savory items and then on Monday I will do the sweets. Before I say another word about it, I want to say that the whole night just warmed my soul. I genuinely hope that this Thanksgiving Eve gathering becomes a tradition rooted in cement.
This was our menu:
Boiled Shrimp
Grilled Oysters
Fried Whole Chickens
Cold Rice Salad
Green Bean Casserole
Homemade Mac n' Cheese
Spinach/Broccoli/Mandarin Orange Salad
Moma's Best Cheese Cake
Pecan Pie
Chocolate Chip Pound Cake
Blondies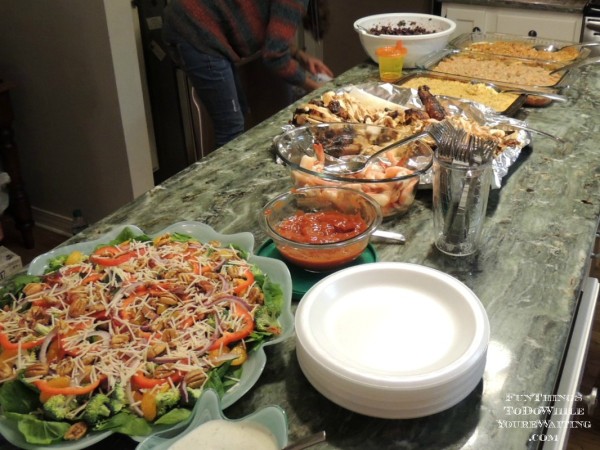 It was so much food! Oh my! And it was all pretty tasty! So, down to business!
We used 16/20 shrimp and we just boiled them in shrimp boil until they were pink. 16/20 means there are 16-20 shrimp in a pound or basically about the size of a finger. Shrimp are generally easy and wonderful!
Before I was pregnant I ate most seafood except oysters. I just did not like them. But, then when I was pregnant I stopped eating all seafood and started eating grilled oysters specifically. This gathering was a perfect opportunity for grilling some oysters!
I made compound butter in the afternoon before the guests arrived. You can put anything you would find tasty in your compound butter. In this this batch, I used red bell pepper, red onion, garlic and bacon. Yessum- that is a winning combination! Soften the butter and then combine all ingredients in your food processor and blend.
After Bub would diligently shuck a pan of oysters (about 6 dozen total) I would put a little butter on each oyster and a pinch of both shredded and powder parmesan cheese.
To cook these, set the entire shell on the grill and cook until the butter bubbles and the cheese melts. Unfortunately, our grill picked that night to malfunction and we ended up baking these. We made do, but they are vastly better cooked on the grill!
Maybe you are familiar with the Southern propensity to fry everything. Some things are better off not fried (is there really any need to fry an oreo?) but a whole fried chicken really is wonderful. I knew that we would need to inject those chickens with something. I was very hesitant to inject them store bought injections because sometimes those big, over-the-top flavors cause my taste buds to reject the fried chicken completely.
So, I made my own injections. It was a very simple recipe. 1 stick of butter, 1 cup of chicken broth and 1/4-1/2 cup of sauce. Then I used a recycled injector needle to deliver the juice!
In my case, I used 1/4 cup of sriracha in one and 1/2 cup of BBQ sauce in the other. I thought we would have one spicy hot one and one not so spicy but in truth, the sriracha one was not really spicy hot at all!
That chicken was near-about perfect! The skin was just the slightest bit burnt (which I love!!!) and the meat was not even a little bit dry nor was the injection flavor overpowering. So, my injections were a success.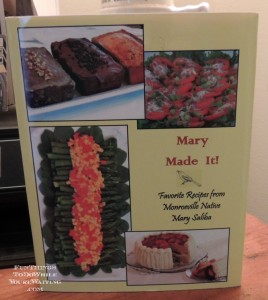 And then I also made a Spinach/ Broccoli/ Mandarin Orange salad out of my Moma's cookbook. Not only was the salad pretty, it was healthy and delicious too. Basically, you just layer the ingredients one on top of the other. Spinach, broccoli florets, mandarin oranges (the recipe calls for mangos, but I'm not a fan of mangos), red pepper rings, red onion rings (I did red onion half rings), walnut pieces (I used pecans), bacon bits, parmesan cheese. It was just that simple and it turned out really pretty.
Moma suggests serving with buttermilk (ranch) salad dressing. And I want to talk about that for just a second. First of all, in her cookbook she just calls it buttermilk dressing and I asked her what that was and she just kind of said, you know! Buttermilk dressing. So, I thought ok: buttermilk dressing. I hit the salad dressing aisle and what do you know, it was the buttermilk formula ranch dressing. I went with the buttermilk packet and made it at home myself. Hot damn! That was the best ranch I have ever made. Honestly, I hardly ever make ranch dressing but, from here on out- I will make this kind!
All that being said, this salad would also be good with a vinaigrette too.
I also made Sweet Potato casserole– it wouldn't be a Thanksgiving celebration to me without it! My sister-in-law made Green Bean Casserole- yes, yum! And our friends brought homemade Mac n' Cheese and a Cold Rice Salad- both were awesome.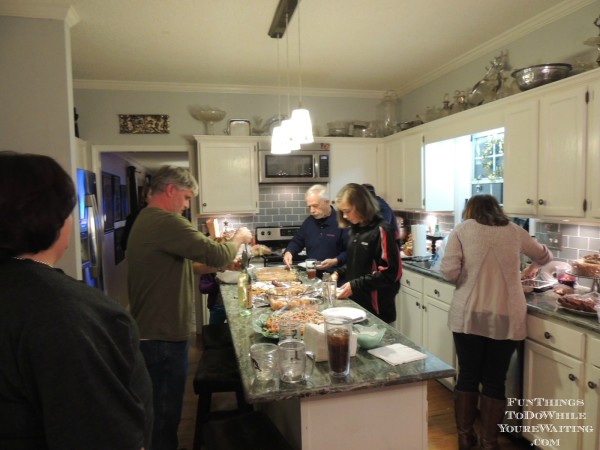 So, as you can see- we had a veritable feast! Actually, it was a was feast on many levels- the food just being the most basic of them.
On Monday, I will finish this recap with the sweets. I have to say, I made my first cheesecake and it was awesome!
Chargrilled Oysters
The amounts the ingredients will directly depend on how many oysters you plan to grill.
Ingredients
Oysters, shucked
Butter
Red Bell Pepper
Red Onion
Garlic
Bacon
Parmesan Cheese, grated & powder
Instructions
Shuck oysters and lay them on a cookie sheet.
Soften to melt butter and place in food processor.
Loosely chop red pepper, red onion, garlic and bacon and place in food processor and blend.
Place a dollop of butter and a sprinkling of cheese on each oyster.
Set each oyster on the grill and let cook until the butter bubbles and/ or the cheese melts.
ok, well… the app that does that beautiful job of organizing and adding recipes is only allowing me to add one recipe- so, I am just going to add the other two old school style.
Injection for Whole-Fried Chicken:
(per Chicken)
1 stick of butter
1 cup of stock/broth
1/4-1/2 cup of sauce
Melt butter and mix with other ingredients.
Inject into chicken and cook it as you would normally.
Spinach/ Broccoli/ Mandarin Orange Salad:
1 bag of Spinach, washed and de-stemmed
2 cups of fresh broccoli florets
1 can of mandarin oranges, drained
1 red bell pepper, cut into rings
1 red onion, sliced into thin rings
1/2 cup of nuts (walnuts or pecans)
1/2 cup crumbled bacon
1/3 cup shredded parmesan cheese
1. Place spinach on the bottom of a large serving dish.
2. Layer all other ingredients in the order listed on top of spinach.
3. If preparing ahead of time, leave off the dressing and cheese and keep refrigerated. Add dressing and cheese when ready to serve. I served the dressing on the side.
Does anybody have Holiday parties on the books for December? What's on your menu?