[spotify track="spotify:local:Hank+Williams%2c+Jr.:Hank+Williams%2c+Jr.%27s+Greatest+Hits%2c+Vol.+1:Family+Tradition:240″]
I had such grand plans for the blog for this holiday season. I wanted to write many thoughtful posts about all the things that make the season special to me and mine. Fortunately (or unfortunately for the readers) my family is just way too entertaining and fun for me to tear myself away for even a moment to write out a long post. I fly back to Cali on Wednesday where I will hopefully return to my regularly scheduled programming (blog-wise)… but until then, I wanted to get at least this one sentiment published before the holiday season is officially over.
I love meeting my friend's parents/families. I love getting to know from where they come… how they have their mom's nose or how they got their height from their great-uncle. Before Christmas, I was able to scan a great trove of family photos (some from the early 1800's!) from my grandfathers side of the family and it really amazed me to see all these people with whom I shared genetics. It really made me reflect on the nature of family and how fleeting all of this really is. All of those people in the pictures had their lifetimes and memories… they all had their problems and their hopes; they had friends and pets and birthdays and argued and loved.
Family and genetics constantly amaze me… but, for me, along with the physical characteristics, the thing that also really makes up a family are their traditions and the rituals they pass down through their generations. Before I left Burbank for Georgia, Jojo and I were discussing family Christmases- specifically the Christmas dinner. We always have turkey and ham over at my Grandmother's house… and I (naively) just kind of always assumed everyone else's families did too. I know… I'm ridiculous. In talking with Josh, he shared with me that HIS family always does Cornish Game Hens for Christmas dinner. It kind of blew my mind… again, I know… ridiculous. My families traditions are so deeply ingrained/entrenched in my memories and my life that even contemplating any deviation makes me sad. I am all for change and celebrating differences, but when it comes to some things (like Christmas), I am a staunch traditionalist.
I am also kind of a traditionalist when it comes to New Years Day. I am all about doing crazy, new things on New Years Eve, but when it comes to New Years Day, a strict, superstitious menu must be followed. I'm not sure if the eating of these things are strictly a Southern thing (a brief history can be found here) as it seems like many cultures have similar rituals, but (for me) my New Year cannot be started unless I have the following things on my plate on Jan. 1: black-eyed peas (for luck- with a nickel thrown in for super-luck!), collard greens (for financial luck), and ham (which symbolizes prosperity and progress). This year, after Christmas (and a subsequent stomach virus), my family traveled down to the Georgia coast for New Years. The trip got cut short due to some unforeseen circumstances– which means I didn't get a chance to see all the people I wanted to see– but I was able to spend New Years Day with some of my all-time favorite people in one of my all-time favorite locations.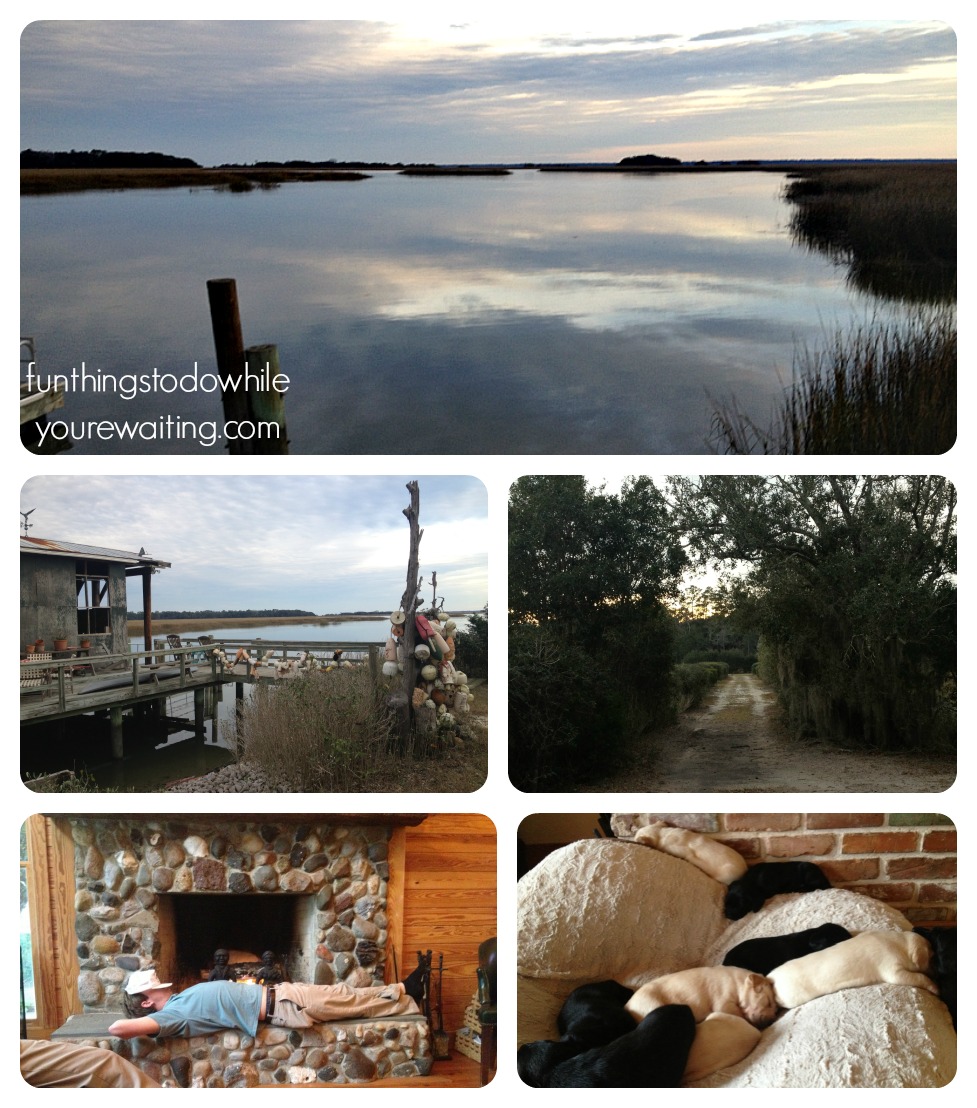 My father's first cousin Judy (or Juju as she is known) is one of my heroes. She lives on the Georgia coast. I strive to be even half as awesome as she is and she and her super-cool husband Kenny opened up their home to us this past Wednesday. They never cease to be the hosts with the most… ever… and this celebration did not disappoint. Not only were there black eyed peas, two types of greens, homemade-smoked chicken wings/boston butt/ribs, squash, homemade Boursin spread, an insurance casserole*, Copper Pennies (an amazing carrot recipe I can't wait to share), and Sister Schubert rolls, but she also made her mother's famous banana pudding recipe (note the 14!).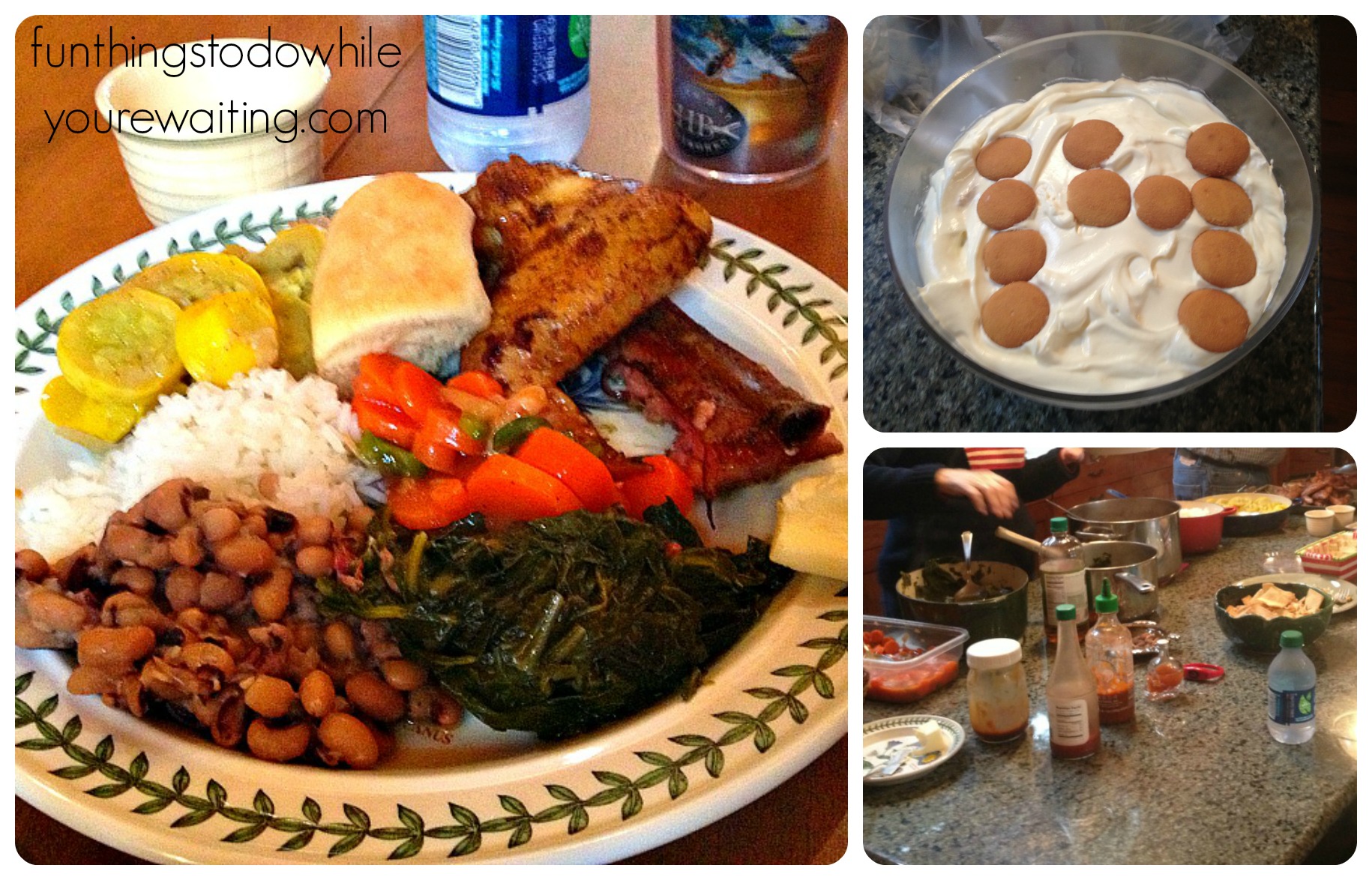 They say (again, not sure who they is…) that the way you spend your New Years Day should reflect the tone you want the upcoming year to take. Happy? Full? Loved? Grateful? Check and check!!! Also, (did you catch the above picture) I got puppy kisses from 10 adorable Labrador puppies. That is always a good sign for the New Year! Happy 2014, yall!
What are YOUR family holiday traditions?
*an insurance casserole is actual a great recipe called Hoppin' John Squares which is basically square bites of rice, cheese, black-eyed peas, ham, and greens- getting everything you technically need in one bite! I can't wait to share the recipe with you… next New Years!