I have fallen head over heels in love with personalized digital photo books! I mean for reals! It began as a crush at the end of 2012 but by the end of 2013 it was full-on love.
As I have explained before- I have kept scrap books since I was in elementary school. I have had a camera in my purse for well over a decade now. I rarely leave home without my camera. I mean, you never know when a Kodak moment might happen!
With all the new baby stuff I got when Baby Bub was born, I got gift certificates for Shutterfly. I combined them and added a little extra and designed the cutest 8 x 8 book. And I was so pleased. Upon receiving it I immediately decided I would do one every year from then on out- except I would do a bigger one. So, my trusty Nikon and I labored all year long with that in the back of our mind.
And then a dear friend sent me an urgent text: Snapfish is having a sale- everything is 65% off! I had 5 books I was planning on making for Christmas gifts- 65% off was too good and offer to pass up! Since all 5 books were going in different directions, I designed one book and ordered 5 copies. I got five 20 page 8×11 hardback books shipped for less than $93! That was a deal!
I was super excited to get started on our 2013 book. For this year's book I decided to go big or go big. I set up a 12×12 format and got busy laying it out.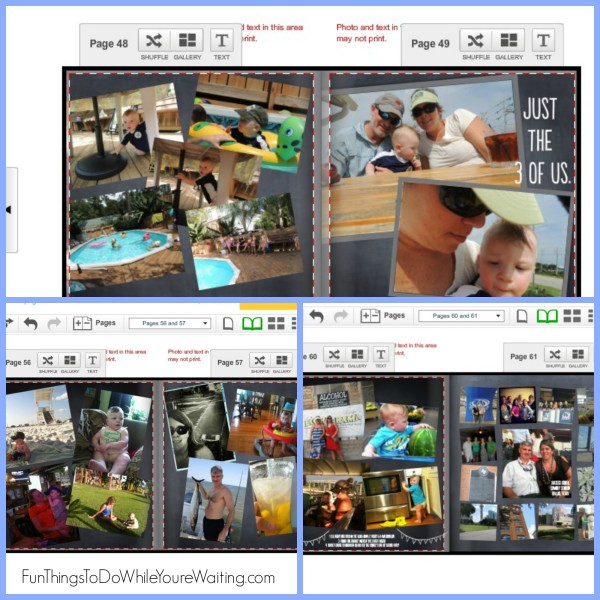 The reason these photo books ring my bell is because I feel like my pictures won't live and die in my computer. These books are as much for myself as for my great grandchildren. I love going back through them. These books are filled cover to cover with wonderful memories. And then, I want future generations to see me with dark hair and Bub with salt and pepper hair and Henry as a baby.
After I got all my photos plugged in and placed just how I wanted them- I had over 70 pages! It was kind of unbelievable but, not really. What was slightly unbelievable was how much it costs!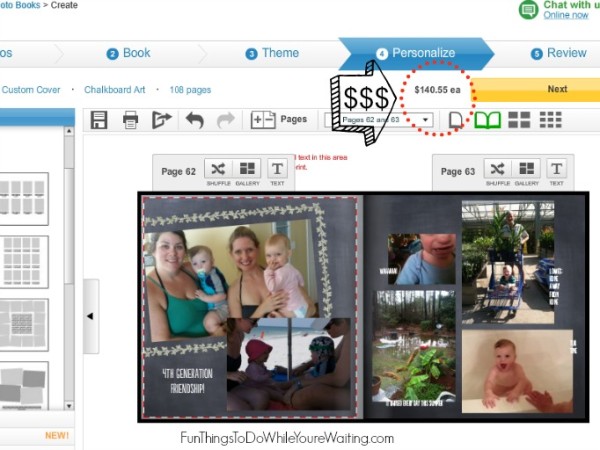 And then I checked my email inbox and there waiting for me was a $10 off voucher and a few emails later a 50% off code! SCORE! So, $60 for a 70 page 12×12 hardcover personalized (kickass) photo book- perfect!
Both services that I have used to create digital photo books have been very easy to use. Both uploaded pictures quickly and both offered lots of ways in which to personalize the books or as Snapfish calls them- embellishments. I might would say that Shutterfly offers more background options- but, it is hard to argue with deals like 65 and 50% off!
I really, really, really encourage you to create your own personalized digital photo book. Seriously. Get all those pictures off your phone- get all those pictures you took but still haven't put on your computer yet. You do not have to go as big as I did. But, preserve a hard copy- one day you and your posterity will be glad you did!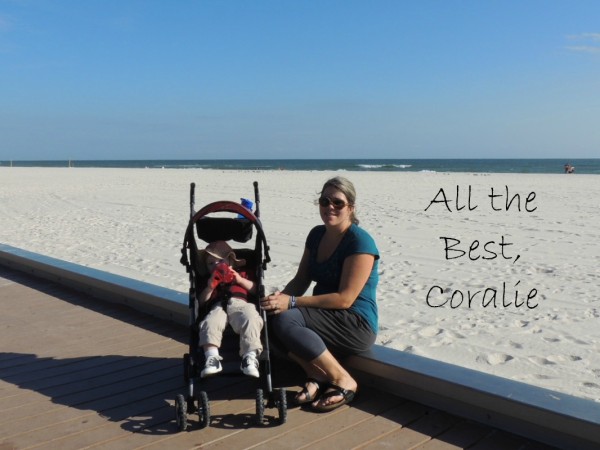 found on the following Linky Parties
http://thebrambleberrycottage.blogspot.com/2014/02/time-travel-thursday-187-talented-time.html