I am always looking for some new something to add to our culinary home life. I mentioned briefly in my goals that constantly trying out new recipes has killed my menu planning goals in my past. That is not to say that I haven't found some really wonderful dishes in my test kitchen. Quinoa salad is my latest find and it is a keeper! Bub, Baby Bub and I all like this one.
You'll never believe where I found the recipe! Yes, Pinterest. The picture was so pretty it caught my eye. Chelsea titled it Detox Quinoa and Veggie Salad. I read over her recipe and thought, as much quinoa as we eat, I had never thought of adding t it what was in her recipe. And actually, her recipe really, really reminded me of my Black Bean and Corn Salsa only with quinoa.
So, this is how this wonderful new-to-us dish came to be. First I cooked a cup of red quinoa in chicken stock with about a half cup of chopped onions and a quarter cup of green bell pepper.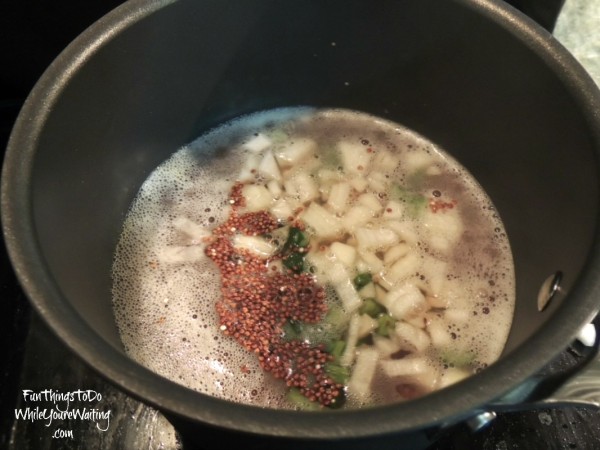 While that was cooking I cooked an ear of corn that I had frozen from the co-op bounty from this past summer. And while all that was cooking, I mixed together a can of black beans that I rinsed and drained, some cilantro and some cherry tomatoes that I halved. Bub and I love cilantro, so I was somewhat heavy handed with it. Like the black bean and corn salsa, if there is an ingredient that you do not care for, leave it out.
By the time I got all this mixed together and the corn cooked and cut off the cob, the quinoa was ready. I mixed it all together and BAM! It was sooo good. I think Bub was surprised at how good it tasted!
Quinoa Salad
Ingredients
I cup of uncooked quinoa
2 cups of chicken broth
1/2 cup chopped onion
1/4 cup chopped green bell pepper
1 ear of corn
1 can of black beans, drained and rinsed
1 cup of cherry or grape tomatoes, halved
1/4 cup chopped cilantro (more or less to taste)
salt to taste
Instructions
Cook the quinoa in the chicken broth with the onion and green bell pepper.
Cook the ear of corn.
Once the quinoa and corn are cooked combine all ingredients.
Serve hot or cold.
I hope you give this quinoa salad recipe a whirl! Have you found any recipes on Pinterest lately that you're adding to your all-star list?