I was cruising the information super-highway looking for some menu planning inspiration when I came across a clean recipe for lasagna. The recipe had my full attention. With all this cold weather, hearty meals have been right up our alley. I could have sworn I pinned it to my Pinterest page… no. I didn't. But, I did write down the ingredients on my grocery list… not the directions. So, it came time to get to cooking and I had no directions. So, I had to adlib. And I am so proud of how this lasagna turned out! It was awesome! We, all 3, loved it! It will absolutely turn up on our menu again in the future. I started by browning Italian sausage and a bag of fake meat. Yes, you read that right, fake meat. I had to take the sausage meat out of the casing but, I only had to cut open the bad of fake meat crumbles.
A quick back story on the fake meat. Bub was incredibly anti-fake meat for our entire relationship. He wouldn't even think about considering it as an option- under no circumstance. Well, my dear, dear friend TJ who we stayed with in Atlanta is a vegetarian. His husband, Topher, was kind gracious enough to prepare chili for us one night with the fake meat. Bub just gobbled it up! TJ and I later came clean about the fake meat situation. So, fast forward to the week after we got home from vacation. The local grocery store didn't have the 93/7 ground meat that I use- so, I went on over the vegetarian section and grabbed some crumbles. I proceeded that night to make spaghetti and after Bub told me it was some of the best spaghetti I had ever made— I told him it was the fake meat. So, we have embraced fake meat especially in recipes that are not completely dependent on meaty meat flavor. Where was I? Oh yeah, I browned the meat and then added two cans of diced tomatoes and two cans of tomato sauce and 2 tablespoons of my Italian seasoning (equal parts basil, oregano and parsley) and let it simmer for 30 minutes. While that was simmering I mixed together one 15 ounce package of skim ricotta cheese, 2 eggs, 1 tablespoon of parsley flakes, 1/4 cup of mozzarella cheese and 1/4 cup of parmesan cheese. Oh, and I cooked 10 whole wheat lasagna noodles according to the package directions.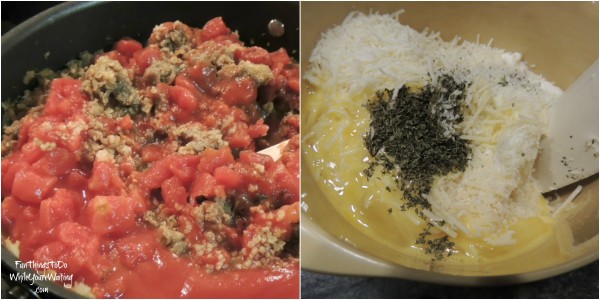 As the sauce was finishing simmering for 30 minutes the noodles were ready as well. To put it all together was just a matter of layering the 3 big components starting with the sauce on the bottom of a 3 quart Pyrex followed by noodles then the cheese mixture and then repeat- ending with a layer of the sauce. Finally topping it with about 3/4 cup of mozzarella cheese.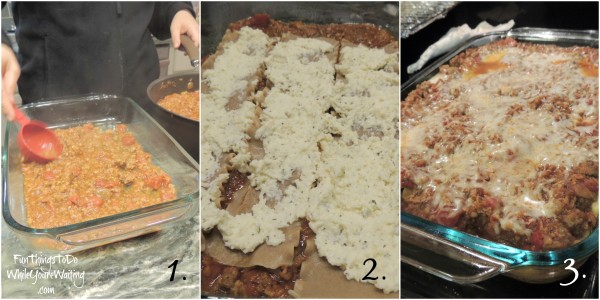 Finally cook the lasagna covered on 350 F for 30 minutes. The third photo is the lasagna fresh out of the oven! Yum! There was enough of everything for me to make another 9×9 Pyrex of lasagna to freeze for a later day. So. Especially considering I was just shooting from the hip on this- it was fantastic and clean!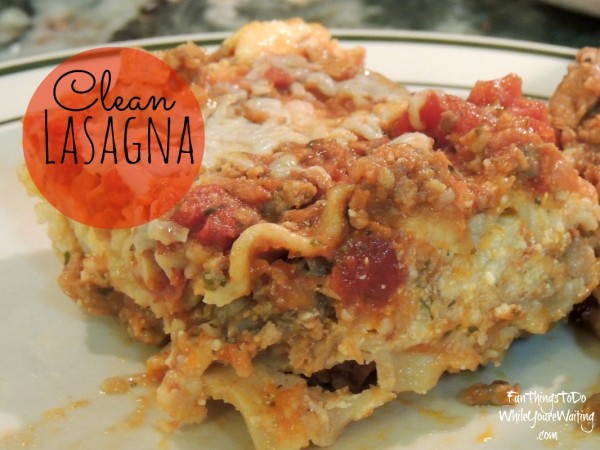 Clean Lasagna
Ingredients
1 lb of Italian sausage (about 5 links)
1 lb of ground meat (turkey, 93/7 beef or fake meat are all perfectly fine)
2 cans of diced organic tomatoes
2 cans of organic tomato sauce (or one can of pureed organic tomatoes)
10(ish) whole wheat lasagna noodles
15 ounces of ricotta cheese
1 cup of mozzarella cheese, divided
1/4 cup of parmesan cheese
2 eggs
1 tablespoon of parsley flakes
2 tablespoons of Italian seasoning
salt and pepper to taste
Instructions
Brown sausage and ground meat and then add tomatoes, tomato sauce and Italian seasoning and simmer for 30 minutes.
Combine eggs, 1/4 cup of mozzarella, ricotta, parmesan and parsley.
Cook noodles according to package directions
Layer sauce, noodles and cheese (in this order) ending with the sauce on top.
Sprinkle remaining mozzarella on top.
Cook covered on 350 F for 30 minutes.
Do you have any recipes that you just put together off the hip? Do you follow recipes (I do) or do you just throw stuff together trusting that everything will come together fine (Bub's technique)?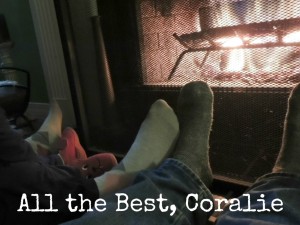 found at the following Linky Parties
http://thebrambleberrycottage.blogspot.com/2014/02/time-travel-thursday-187-talented-time.html