It is hard to believe that the first two months of 2014 have come and gone and that it is time for me to check in on these goals I set for the year. I am so glad that not only did I set this long list, but that I committed to giving a progress report to you every two months. Knowing that I would have to report back kept me motivated on more than one point over the last two months! So, Gentle Reader, thank you for keeping me accountable.
Without further ado, here are the updates as they relate to the goals I set for the year.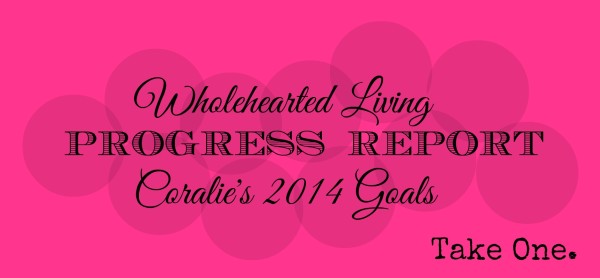 1. Drink More Water. Considering I was starting from a very small consumption amount, I have done well in my endeavor to drink more water. I drink roughly 40 oz a day. Now, this is no where near a gallon- but, it is consistently more than I have ever drank before.
2. Exercise 3-4/wk. For the first time ever- I have been consistently exercising 3-4 times a week and sticking to a healthy meal plan! I have been so surprised at how good I feel after I have done my exercise! How good I feel in my head in particular! I feel so awesomely productive after I have done some exercise! For the most part, my excise has consisted of doing the Can you 24 workout DVD. The best, best part of this work out DVD is that each workout is only 24 minutes long- not even 30 minutes. And yes, it packs a punch! This is just the level one but there are 2 discs. The first disc, I just worked it out. And then, I began the 2nd disc and it got taken up a notch! It's amazing what you can get done, workout wise, in 24 minutes! I feel muscles that I never knew I had! I am pleased as punch thus far on the exercise front.
3. Meal Plan. I have successfully done meal plans for every week this year (except the one when we were on vacation). Meal planning consequently leads to lots of cooking at home- which leads to not spending tons of money eating out. All the way around, it's a win-win situation.
Generally, I plan 4 or 5 dinners for the week consisting of a meat plus 2 or 3 vegetables. We eat those in any which order and if a vegetable or two gets shifted around, that's cool. I also try to plan several lunches and several snacks. I do better with a plan in life and eating is no exception. And going to the grocery store is no exception. So far so good on!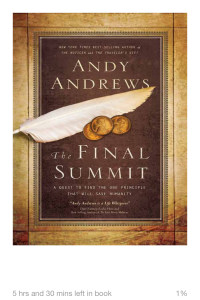 4. 2 Books a Month. Well, I have read 2 complete books in the last 2 months. I started another that I abandoned partially through it because, frankly as my dear friend Dana says- there are too many other great books out there to waste time reading a crappy one. And I am now in the middle of two others… So, I am lagging a bit on reading 2 books a month. I need to pick up the paces!
I read The Traveler's Gift and The Final Summit– both by Andy Andrews. I am in a leadership building and personal-growth book group and these were the last 2 books. I really enjoyed both of these books- maybe the later more than the first although the Final Summit is the sequel to The Traveler's Gift. Andy Andrews is a very talented story teller. Bub and I saw him speak at the AdvoCare conference in Atlanta at the first of the year- he doesn't necessarily like to be called a motivational speaker- but, that's pretty much what he specializes in- motivation. His brand of motivation is very easy to swallow and I totally recommend these books.
The book I put down forever is actually on the best seller's list- The Goldfinch by Donna Tartt. I am in a newly founded book club on facebook and this was the book we picked… but then we pretty much collectively decided not to finish it. We have already moved on to the next pick but, I will save that for the next check-in.
I am currently reading Bringing up Bebe by Pamela Druckerman upon the recommendation of another dear friend, Laura. It is an exploration of the French style of parenting. I am only about 55 pages in, but- it is very eye-opening. I wish I had read it instead of the crap I read while I was pregnant! And actually, I am re-reading EntreLeadership by Dave Ramsey. I enjoyed it the first time, but I really love it this time because it is even more relate-able the second go-round.
5. Pin 3 Star Gold. This is my overall goal for the year in relation to AdvoCare and the business that Bub and I are building. To get there, there were three steps that Bub and I have to make. We have made the first step by becoming Silver Leaders. It's a big deal and we are pretty pumped about it!
6. Increase habitual readership. Well, Leigh and I are working on this. Leigh and I have some tricks up our sleeve for next week and I was looking back at our old posts, more specifically looking to see how many visits some old posts had had- and was totally blown away by the numbers of visits on some of the old posts! It is mind blowing that even one person more than us has read these post so to see lots and lots of people besides us have reads lot of our posts is just awesomely crazy. We are so forever grateful for our readers. I believe my goal was to average 175-200 reads per post- I might have to adjust that in 2 months.
7. Plan posts and plot on calendar. Okay. Check! I have posts planned and plotted on the calendar through the rest of the month and into April. Again, it is awesome to have a plan even when it comes to what I am going to post when. The key to my post plotting plan (ppp?) is to be flexible and to be okay with moving things around when something comes up that I want to share on the blog ASAP.
8. Join FB blogging group. Okay, no progress on this one. I am still working on getting this one off the ground.
9. $1000 in Henry's saving account. Bub and I started him a savings account with his Christmas money and have added to it but, we have a ways to go to get to $1000. But, it is just the first of March.
10. Support local charities. Baby Bub and I took a box of canned and dry food and a box of diapers to the local food pantry. They were very appreciative but explained that they could buy groceries for pennies on the dollar at the Mobile food bank- so, donating cash would take them much further than donating food. Now, I know- gonna have to put away those couponing for charity dreams. We have also donated to the local school system at our niece's request. Jump Rope a-thon! A fund raiser that has been around since my elementary school days!
11. New Music. So, I have been listening to a couple new albums thus far this year. One that is good, one that is real good and one that I really love. The good one is Beyonce's new self titled album. There are some good songs on there and some that I skip every time. The real good album is Day is Gone by HAIM. Some dear friends of mine, TJ and Michelle, found them at Austin City Limits and turned me onto them over our January vacation. I am telling you that "The Wire" and "If I Can Change your Mind" run circles through my head! And the album that I love is Lady Gaga's Artpop.
No, I am not a Lady Gaga fan. I saw her on Ellen in the first of the year and she just kinda caught my attention. She was talking about her creative process and her addiction- it is generally always interesting hearing about an artist's creative process whatever their medium. And she was specifically talking about her addiction as it pertains to her song "Dope." The chorus line is "I need you more than dope." It just struck me. She's clean and has been for a while now- but, for a (recovering) addict to say she needs you more than dope- it's powerful because addiction is powerful. So, that song drew me to the album but, on the whole- it's a solid album. I do love "Do What you Want with my Body" too. It's a great song. As is the title-track, "Artpop". The album is def worth you checking out.
So. Overall, I think I have made some traction on my overall goal to live wholeheartedly. I have made some forward motion on all of my goals with the exception of one… I have 2 more months to make some progress with that. How about you? Have you stuck with your goals for the year? Have you done a progress check for yourself yet this year? Or has your due diligence toward your goals slipped out the back door?