I remember my stepmother making stuffed bell peppers when I was young. If I remember correctly she would make a goolosh of sorts complete with ground beef and noodles. After stuffing the bell peppers she would put them in a boiler and add water and boil them… All that sounds great in theory but me and water bath cooking do not generally mix. I have to have help with getting the zucchini taco boats out of the oven. So, I was not overly anxious to try my stepmother's method of cooking stuffed bell peppers.
But, I came across another method of cooking stuffed bell peppers. Actually, a friend of my mine re-shared the recipe on facebook but the link was bunk in that all the details of the recipe were in the status update without a link to the actual blog post. But, it caused a light bulb to go off in my head as far as making stuffed bell peppers. And in the end, they were delicious.
So. The first step of the process is cut in half 3 or 4 red bell pepper and de-seed them. Brush them, inside and out, with olive oil and roast them on 400 F for 20-25 minutes.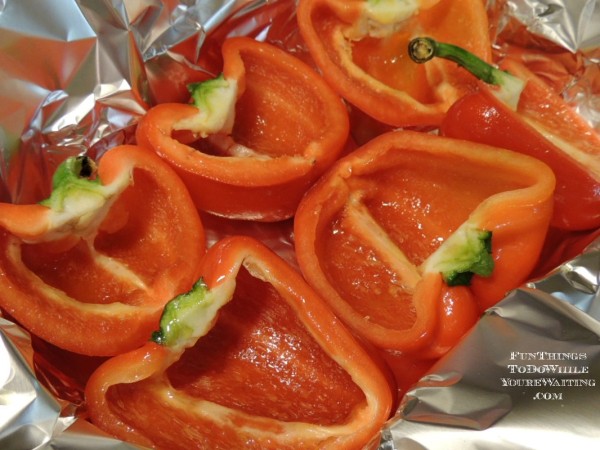 While you have that going on, brown 1/2 pound of lean ground meat along with 1 cup of chopped onion. And also, cook 1/2 cup of quinoa. Once the meat and quinoa are cooked, combine them and add a can of rotel tomatoes, a can a black beans (drained and rinsed), a heaping tablespoon of homemade taco seasoning, and an ear of corn cut off the cob.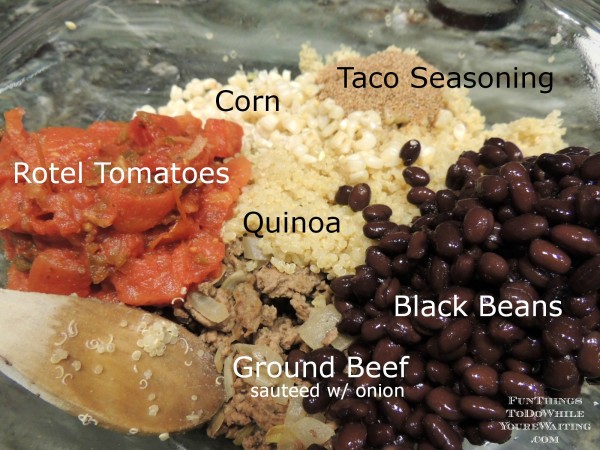 After your red bell pepper halves have roasted for 20-25 minutes, remove them from the oven and carefully stuff them with black bean-quinoa-meat mixture and put them back in the oven for another 15-20 minutes. Sprinkle them with shredded cheese (I used mozzarella) and let melt before finally removing from oven.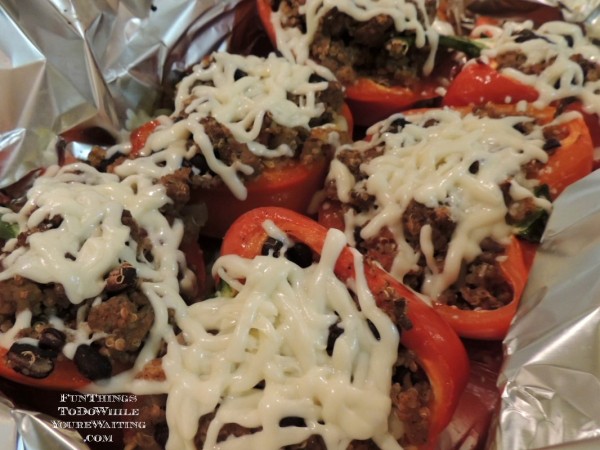 Garnish those lovelies with cilantro and plain greek yogurt (an excellent sour cream substitute) and call it a day! The bell peppers were soft but not mushy- Bub and I both agreed it was the perfect texture. `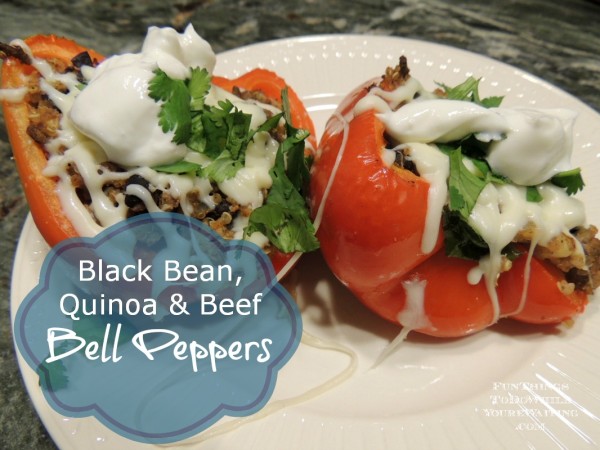 Stuffed Bell Peppers- a new Fam Favorite
Ingredients
3-4 Red Bell Peppers, halved and seeded
1/2 pound of ground meat
1 cup of chopped onion
1 heaping TBsp of homemade Taco Seasoning or a packet
1 can of Rotel tomatoes
1 can of black beans, drained and rinsed
1/2 cup of uncooked quinoa (and 1 cup of chicken broth to cook it in)
1 ear of corn, cut off the cob
plain greek yogurt
cilantro
olive oil
salt and pepper, to taste
Instructions
Brush each bell pepper half, inside and out, with olive oil and roast on 400 F for 20-25 minutes
Brown ground meat with onion and cook quinoa
Combine cooked meat and quinoa with taco seasoning, black beans, corn and Rotel tomatoes
Remove bell peppers from oven and carefully stuff them with meat mixture and return to oven for an additional 15-20 minutes
In the last 5 minutes remove from the oven and sprinkle with shredded cheese and return to oven to melt.
Garnish with cilantro and greek yogurt
Enjoy
I do hope that I have inspired you to add stuffed bell peppers to your menu! They were so good! Do you have any new recipes? Please share.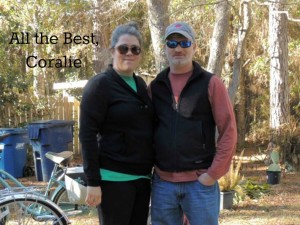 This post can be found partying at Coastal Charm's Nifty Thrifty Tuesday No. 205 Linky Party