I was talking with Leigh the other day- we try to have a state of the blog meeting every couple weeks in an effort to make sure we are and continue to be on the same page as far as the FTTDWYW is concerned (and as far as life is concerned too). For these meetings, we try to go back and look and take stock of what we have been posting and so forth. There is no doubt that I have posted predominately from my kitchen this year- that's gonna shift in the weeks to come. But, here's the thing- Bub and I have been doing a bunch of cooking- so, that is naturally reflected in my posts.
With that being said I want to share this recipe for chicken cacciatore. I was doing some menu planning and asked Bub if he had any requests for the next week and he was like, yeah- how about chicken cacciatore? And I was like, what is chicken cacciatore? And he said- no joke- whole fried chicken in marinara. Well, let me just whip that up Honey Bun! But, I diligently put it on the next week's menu and start looking for recipes. I figured out that is not exactly a whole fried chicken in marinara but kinda in that neighborhood and decently healthy too!
The first step is to sprinkle your (bone-in) chicken with salt and pepper (to taste) and then lightly coat in whole wheat flour and place in a warm skillet with 2-3 tablespoons of olive oil. The object is not to fully cook the chicken but to just brown it.
So, while you have all that chicken browning going on- dice an onion and a red bell pepper and 3 garlic cloves. Once the chicken has browned, remove it from the pan and add the diced onion, bell pepper and garlic and sauté it over medium heat until the onions are tender.
Next add 3/4 cup of white wine and let all that business cook until the wine has reduced by half. Then add a 28 ounce can of tomatoes and their juice plus 3/4 cup of chicken broth, 3 tablespoons of drained capers and 1 1/2 teaspoon of dried parsley and then return the chicken back to the sauce and let it simmer for 20-30 minutes until the chicken is cooked through.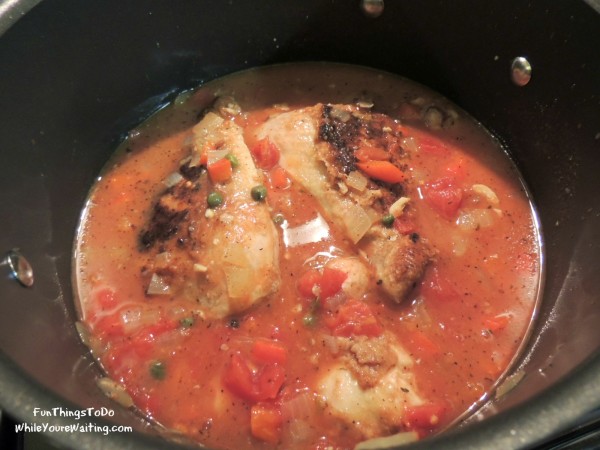 I have to say, for my first time cooking a dish I did not even know what it was until the week prior- it was off the chain! Chicken cacciatore will absolutely make appearances on our menu throughout the year! And not only did Bub and Baby Bub agree on the delightfulness of my debut of chicken cacciatore but Big Daddy did too! I served it over brown rice pasta- the boys were none the wiser that it was any different than normal.
(Coincidentally, this was the night that Big Daddy taught Baby Bub how awesome it is to sit at the bar and now of course, Baby Bub want to sit there all the time!)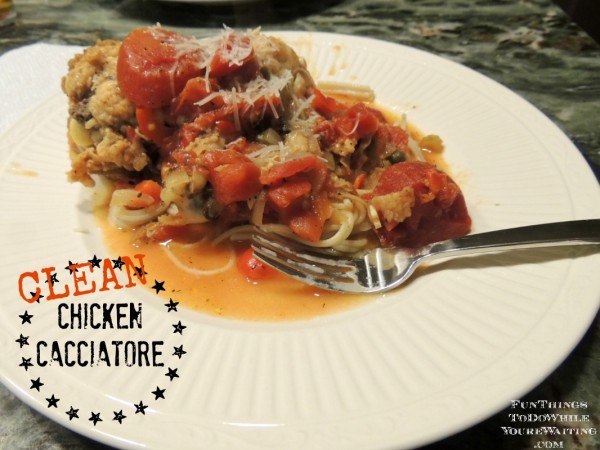 Chicken Cacciatore
Ingredients
4-6 pieces of bone-in chicken
2 teaspoons salt
1 teaspoon freshly ground black pepper
1/2 cup all purpose whole wheat (or almond) flour, for dredging
2-3 tablespoons olive oil
1 red bell pepper, diced
1 onion, diced
3 garlic cloves
3/4 cup white wine
1 ( 28-ounce) can diced tomatoes with juice
3/4 cup reduced-sodium chicken broth
3 tablespoons drained capers
Instructions
Add olive oil to large pan over medium-high heat. Sprinkle chicken with salt and pepper and dredge in flour and place into pan
After the chicken is just brown, remove it from the pan and set it aside
Dice onion, red bell pepper and garlic and add to pan where the chicken was cooked and all to cook over medium heat until the onions are tender
Add wine and let cook until reduced by half
Add tomatoes with juice plus broth, capers and parsley. Return chicken to sauce and allow to simmer for 20-30 minutes until chicken is fully cooked.
Has your lovie dovie ever requested a meal you've never heard of? What did you do? Did you go to bat? Or did you tell them they had lost their mind?