Okay. So, I found this pin on Pinterest a while ago that caught my eye about how to make a River Rock mat. I know you are shocked I found this on Pinterest. But. I even bought River Rocks months ago with the intention of knocking this project out. Somehow they got shoved in a drawer and the project forgotten. But, I was digging through that chest recently and found them! So, they made it back on the radar.
It was about the time that I refound the river rocks that I noticed our back door mat was in need of replacing. Do you see where this is going? I did not even bother to go back and look at the pin. The pinner had glued the rocks to drawer liner- which, I am using a different base. I also knew that I needed some heavy-duty glue. So, I have heard my both my Moma and Daddy, separately, talk about the wonders of Gorilla glue. Both swear the stuff will bind anything to anything for forever. Check. Check. Check.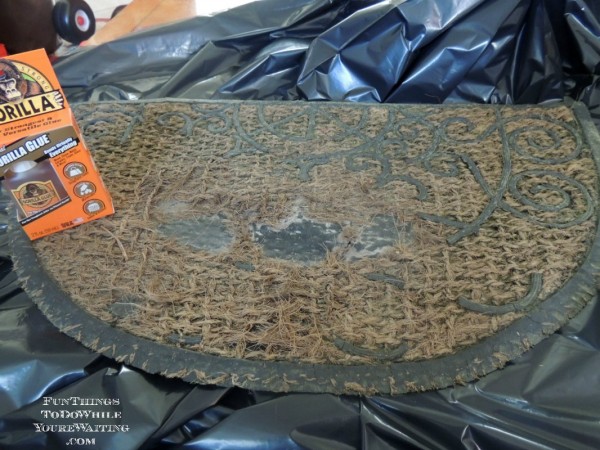 I got busy gluing. I read the instructions on the Gorilla glue and it said that one surface needed to be wet. Well, the doormat had been outside during the last downpour before last, so I figured I was good.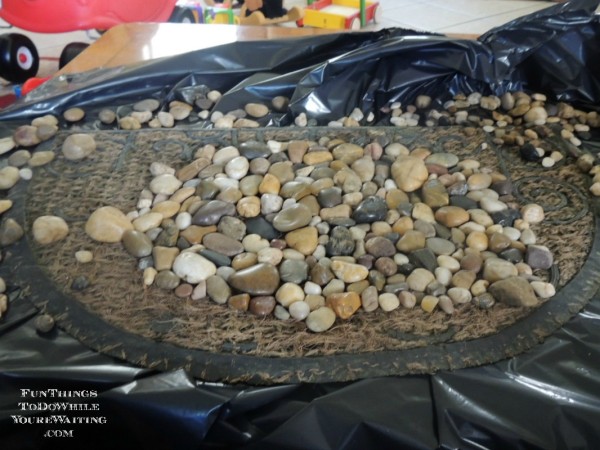 It took me about two and half hours of gluing to get the entire surface covered. And I am not going to lie- I loved it! I was a little concerned that Bub would not like it so much or have some technical issues with it- like it having a rocky surface. Yes, seriously. But! He went for it! the final Check!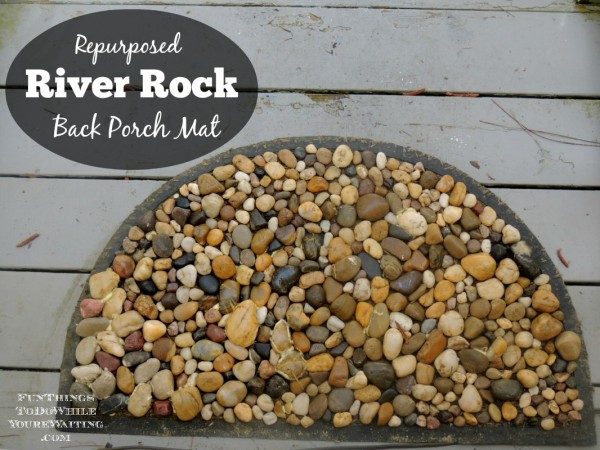 Don't you agree? It's pretty awesome. Baby Bub was a little hesitant to step on it. But then he got over that- quickly.
The weather has been so awesome lately. We have been spending a ton of time outside messing with plants. Baby Bub loves running around the yard. Childlike wonder is really something to behold. The whole while Bub and I do our thing while Baby Bub runs amuck.
So, this is what happened… Baby Bub got loose with a gardening spade and used it in a hammer like fashion on my freshly completed River Rock back porch mat. Yep. He sure did. When he was doing it I wasn't overly concerned because I had total faith in Gorilla glue. I still have faith in Gorilla glue but, I now have a keen understanding in my failed interpretation of the instructions on the glue!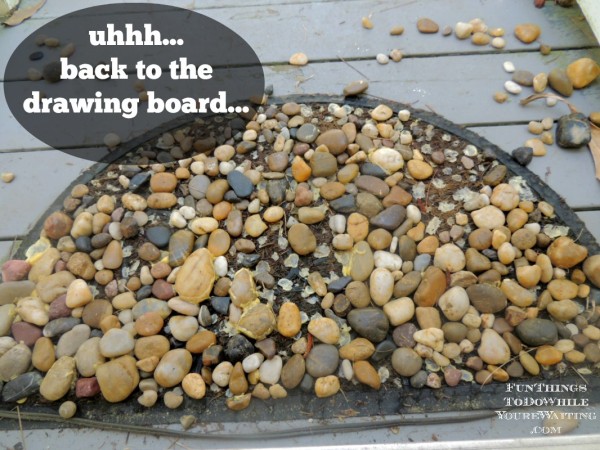 So… as awesome as the River Rock mat was- it was not crafted with enough durability to withstand an 18 month old with a gardening spade. Wah. Wah. Wah.
Have you crafted something that you adored but that didn't stand the test of time? Let us know.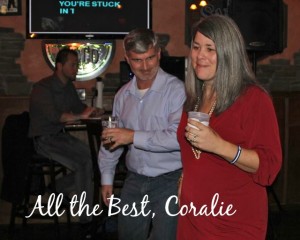 This post can be found at the linky parties below:
http://diyshowoff.com/category/other/that-diy-party/