I have a crock pot recipe for you that you need to make sure and make a note of- this one is goooood. You will never guess where I found it- yep, Pinterest! I tweaked it only a little simply because I did not have one of the ingredients.
I started out by putting 2 frozen chicken breasts in the bottom of the crock pot. Yes, frozen chicken. Until this recipe, I thought all meat had to be thawed before it could go in the crock pot- but, not the case! Next I added a can of rinsed and drained black beans, a can of Rotel tomatoes- complete with the juices and a can of whole kernel corn- also complete with the juices.
Next I added 2-3 tablespoons of my homemade ranch seasoning, 1 teaspoon of cumin and onion powder each. I omitted the tablespoon of chili powder because I was thinking it called for the cayenne and that would have been way too much heat for us. And the original pin called for an 8 ounce block of cream cheese but when I pulled out the cream cheese that I had, it was green! So, I put about a cup of plain Greek yogurt on top. I let this cook in the crock pot for about 7-8 hours- and the end result was so delicious!
You are never going to believe what I served this over! Never! But, just in case you can't guess- I served it over quinoa and topped it with a little shredded mozzarella. And dear reader, this one is a keeper! It will make it on our menus all summer!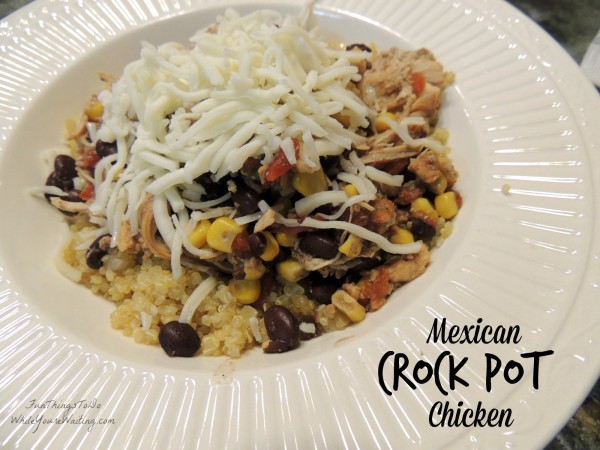 With the leftovers, I made burritos- that were also awesome for lunch and for taking to work. This one really surprised me AND the fact that it started with frozen chicken kind of blew my mind in a great way!
Mexican Crockpot Chicken- just do it!
Ingredients
2 frozen chicken breasts (or 5-6 tenders)
1 can of black beans, rinsed and drained
1 can of Rotel tomatoes, with the juice
1 can of corn, with the juice
2-3 Tbls of ranch seasoning
1 tsp cumin
1 tsp onion powder
1 Tbls chili powder, optional
1 cup plain Greek yogurt
Instructions
Put everything in crock pot and cook for 8 hours
Serve over quinoa or as the filler in burritos or quesadillas
I am always looking for the next crock pot star- please share if you have one that shouldn't be missed!