I don't know about the rest of the world, but out here in California non-reusable grocery bags are going the way of the dodo bird… and I couldn't be happier. Grocery stores still have bags to use, but you will be charged for them. The going rate out here is $0.10 a bag, but knowing what we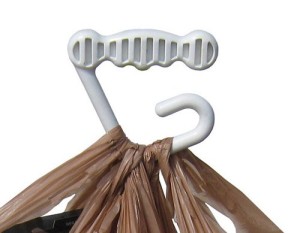 know about how plastic decomposes in the landfills, everyone should be adopting the reusable bag lifestyle. I love reusable bags. I've cultivated a collection of ones with fun prints and even developed a folding/storage method for maximum space efficiency. I carry two in my purse. I am all about the reusable bag lifestyle. But that is not what this post is about. This post is about one of my new favorite things that I wanted to share with you guys. May I present to you the Bag-Mate Handle Carrier.
Back in Chicago, Josh and I used an awesome grocery service called Peapod. You ordered online and they delivered it to your door. Not just your buildings door, but your apartment door. It was totally worth the nominal upcharge for the service. We became quite spoiled… and although there are similar services out in Los Angeles, since we now have a car and a grocery store and Trader Joes across the street, we decided that getting our own groceries like "normals" is now something we do. 🙂 Although the walk from the apartment garage to our abode isn't terrible, when you are carrying too many groceries it can seem interminable. Because I am one of those people. If cutting off my circulation is the price I pay for getting all of my groceries in in one trip, then that is what is going to happen.
Josh is NOT one of those people. The idea of a second and third trip, although inconvenient, is not inconceivable. For me, though… uggh… multiple trips are the worst.
I am always on the lookout for thoughtful gifts for Josh for celebratory occasions. As he is the primary bag-toter, it occurred to me the this past Christmas to look into better ways of carrying groceries. I did my due diligence and researched the best bag handles (for they are NOT all created equal) and after scouring Amazon reviews settled upon the Bag-Mate Handle Carrier. When everyone asked me what I got Josh for Christmas, I got a lot of flack for getting my love something so functional. The direct quote from my Dad was, "that is probably the least sexy gift I've ever heard of…" But, you know what? It has turned into one of the most used items in our household… which is why I wanted to share it with y'all.
Not only does it hold up to 70 pounds worth of groceries, but it is made in the U.S.A. which is
awesome. It also has a comfortable ergonomic handle. No longer will the bags twist around your fingers or wrist turning your fingers purple as you make your way from the car to the fridge. And, with the Bag-Mate, when you have to find your keys and unlock your door  all your grocery bag handles will stay together when you momentarily put them down…  instead of having to completely reload all your bags onto your hand/arm. I know this sounds silly and simple, but sometimes it is the little things that make all the difference. I ordered the four pack and never looked back. This is not a sponsored post. This is a legit recommendation. We at FTTDWYW never endorse things that we don't believe in and this product is something I stand behind 100%. We've been using it since December and not one of the handles have shown any signs of wavering.
Is it a "sexy" gift? No. Is it practical and something that will actually make your life better? Oh my, yes. You should pick some up! Don't be fooled by substitutions made of inferior plastic that will snap. The Bag-Mate Handle Carrier is the real deal. It can, of course, be found along with all our other favorite things at Fun Things To Do While You're Waiting: The Store!  Along with your groceries, you should pick some up! Your hands will thank you!
Are you a one-tripper? Do you consider it a life-fail if you have to take two trips? Are you cool with the multiple trip? As always, let us know!