Precious Reader, back in January Bub decided that for his 41st birthday- yes, 41st- he wanted to go to Jazz Fest in New Orleans. I went to Jazz Fest in 1999 and it was hot and crowded. I think the headliner was Dave Matthews Band and as an added bonus, we saw Steve Miller Band. So, I am not going to lie- I was not overly excited about returning to Jazz Fest.
However, I was absolutely excited about the prospect of going to New Orleans. And then. And then the Jazz Fest organizers nailed my coffin shut- they announced that Phish would be headlining the Saturday of the first weekend. There was no getting out of going! Have I mentioned that Bub is a devout Phish disciple? Yep. He is. He luuuuvs them. A. LOT. And since it is his birthday month and all- Jazz Fest, there we went.
We headed to New Orleans Friday mid-morning and arrived in time to get a wonderful tangerine and honey margarita from the El Gato Negro and wonder through the French Market and over to Jackson square.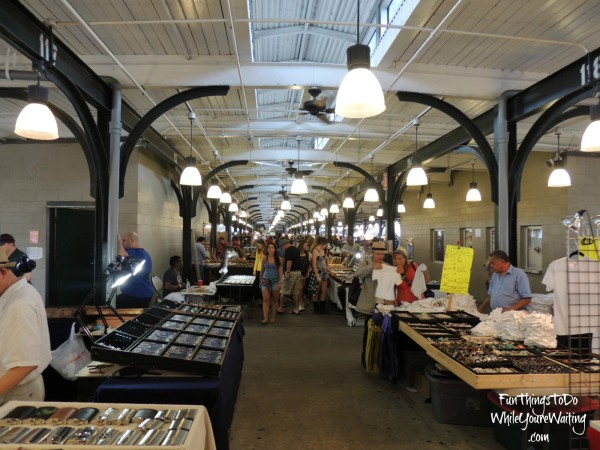 The French Market is an open air flea market of sorts. There is lots of junk in there but lots of treasures too. If you continue to walk along the river, you will walk right by Café de Monde, a New Orleans French Quarter institution, and then immediately by Jackson Square. Bub and I have found that to avoid a wait at Café du Monde, you can whip through there in the wee hours of the morning and get the beignets to go.
After our walk through the French Market and onto Jackson Square, Bub and I had worked up an appetite, so we stopped at Café Maspero to grab a snack. We opted for red beans and rice, creole jambalaya and gumbo. Dear Reader, the folks in Louisiana- for the most part- love spicy food. I have joked that they put jalapeño juice in their babies' bottles. And our snacks were HOT!
That brings me to something I feel obligated to tell you. When you tell people that you are going to New Orleans and they have been there themselves, they will start listing off restaurants that you have to check out. And here's the deal- New Orleans is jam-packed with restaurants that are knock your socks off amazing! I mean, to-die-for, unbelievable food. Listen to your friends and also, ask your bartender or server where else to eat. Local, food service people are going to know where to eat good food.
Bub and I have some wonderful friends, Trey and Jennifer, who live in New Orleans and were gracious enough to let us stay with them.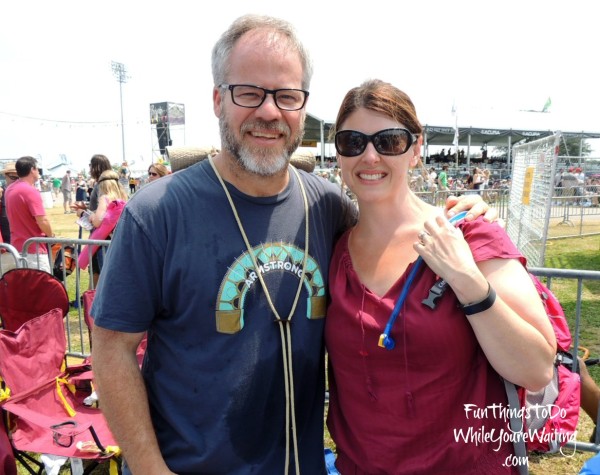 Trey and Jennifer were also our liaisons not only for Jazz Fest but for some killer food spots in New Orleans as well. Friday night the four of us ate at Ancora on Freret Street. Jennifer was explaining that the Freret Street area has experienced a wave of gentrification since Katrina and the result has been some great restaurants. Ancora, a rustic Italian restaurant, was divine! but, I do look forward to trying other restaurants on the street because both Trey and Jennifer had nothing but tasty things to say about many of them!
Saturday morning we got up decently early and headed to Jazz Fest via bicycle. And I have to say, that was awesome! Bub and I think it was somewhere around 4 miles on the bike paths one way. It was so much fun riding through the streets too! It really was. Bub and I also made the executive decision to do our best to never go to New Orleans without our bikes. Until this trip, I have never noticed how bike friendly New Orleans is- but, there were a ton of folks on bikes just whizzing in and out of traffic.
And then we got into Jazz Fest. It was so different than what I remember from 15 years ago. It was seemingly so different. Or maybe I am just older and have done other festivals and whatever, it was pretty cool. One of the people that was also staying with Trey and Jennifer went super early and saved us a spot with some of his Phish phamily friends. All those people had made special shirts for the occasion that were cool- especially if you are partial to LSU.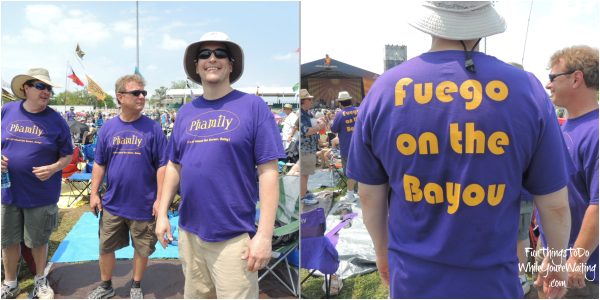 After biking to Jazz Fest, Bub and I were hungry! And I have to say that food inside Jazz Fest was some of the best festival foods I have ever encountered! As we were standing in front of all the options, I saw this dude with this pulled pork poboy looking thing- I asked what it was and where he got it. He said "Cochon de lait and if there wasn't a band I wanted to see, I'd still come here just to get one of these!" And then he pointed me to where he got it.
And that cochon du lait poboy was soooooo good! I understand why that dude would go to Jazz Fest just to get one!
And guess what! Phish played their first show in New Orleans in 18 years and they were great. If you are not a big Phish fan- start with a studio album and then give them a chance live because they are good. And I can't lie- I was once not a believer, but after seeing them live, I'm a believer.
And I was insistent about going to see this other musician. Some, including myself, might argue that this other musician is/was the lead singer of one of the greatest, if not the greatest rock n' roll bands of all time. Yes, Robert Plant was at Jazz Fest this past weekend too! I mean, I know it was not like seeing Led Zeppelin in 1974- but, Robert Plant is Robert Plant and there was no way I was going to get that close and not go hear him sing. Check that off on that life list of to dos!
Will I be willing to go back to Jazz Fest in the future? Yes, absolutely. I would like to go back when we didn't have a big, favorite- favorite band to see. I would like to go around and listen to all the not-headlining bands on the smaller stages.
I was a little taken back by what all the festival goers left behind— what was the malfunction? Not enough garbage cans? And then I wanted to ask who did they think was going to clean up after them? But, then- that's a rant for another day.
We left the festival and headed back to Trey and Jennifer's on our bikes. People were partying in the streets! There were block parties. How much fun would that have been to have a big block party after Jazz Fest! That would have been rocking! We returned home, took showers and headed out to Howlin' Wolf's to see Anders Osborne and Kung Fu.
It may not seem cool to you, but at the very end of Anders Osborne's set, Mike Gordon from Phish sat in. I have always heard of musicians slipping into other's bands for a few songs in the late night shows but never actually seen it happen. And since Mike Gordon is my favorite member of Phish- it was cool. And he was on the keys- he normally plays bass. That's him on the left.
We were there to see Kung Fu but as a side note, Anders Osborne was pretty cool too. And Bub failed to tell me that Kung Fu does not sing words… soooooo, while he was on the front row for that- I was on the sidewalk talking to their manager. He was a real nice guy. And it also put me in a great position to get Kung Fu to sign their show poster when they came off stage.
We really didn't stay out all night- but after all day at Jazz Fest and then getting down at Howlin' Wolf- you won't be surprised to hear that we slept in Sunday morning. After we got up and going, Trey gave us some advice for brunch. He sent us to Katie's in mid-city. Holy Moly! Stop right now. Shut the front door! Brunch was awesome!
We started with combination of cooked oysters that were to die for! I mean, wow. Maybe we should have stopped there… but, we didn't. We preceded to order, wait for it, a cochon beignet and some grillades and grits. Gosh. It was all mighty, mighty fine.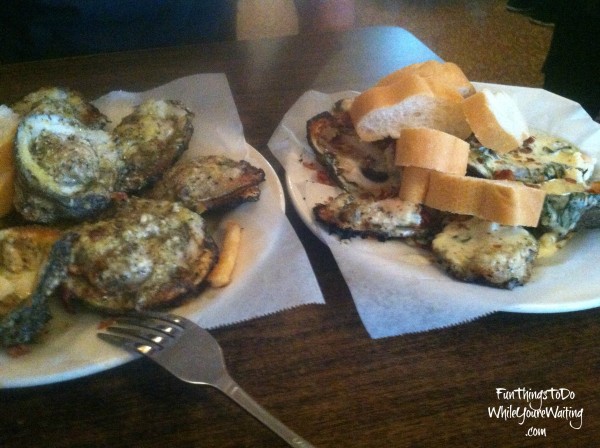 As I was getting the members of Kung Fu to sign the show poster, I was talking to the saxophone player, Rob. I knew from talking to their manager that they were headed back home the next morning. I asked Rob if he enjoyed ending their tour in New Orleans and he said he loved New Orleans- so much so that he named his daughter Nola so the 2 days they were there was not nearly enough. Then I asked him- what were his must dos when he comes to New Orleans. He said that whenever he gets to New Orleans and people start suggesting things to do- he always, always says "Sounds Good to Me" and then enjoys the adventure because chances are, it's going to be cool.
New Orleans is this magical city. I do not think I would want to live there. But. I LOVE visiting. And when it comes to anything in New Orleans- sounds good to me!