I am not going to lie, these pizza roll-ups are awesome! I found the idea on Pinterest and thought that this would be something easy for Baby Bub to eat and to eat left-overs. These were such a hit the first time, that I decided to make them again and to share them with you.
I took a major short-cut both times that I have made these in that I used a store bought dough. It works for me. I am sure that some day I will try my hand at making dough but, I am thinking that I will need a dough hook on a kitchen mixer to really do that project well. So, I used store bought dough.
First things first- roll the dough out into a nice rectangle. And spread the pizza sauce of your choice over the top. Be careful to not cover your dough all the way to the edge on one side because you will need that edge to seal your roll. Finally cover the sauce with whatever toppings that float your boat. Pepperoni floats our boat around here. And in addition to shredded mozzarella, I also did little clumps of cream cheese- adds a little extra ooey-gooey! (And if I am being completely honest, I used tofuti cream cheese substitute because it is an excellent sub!)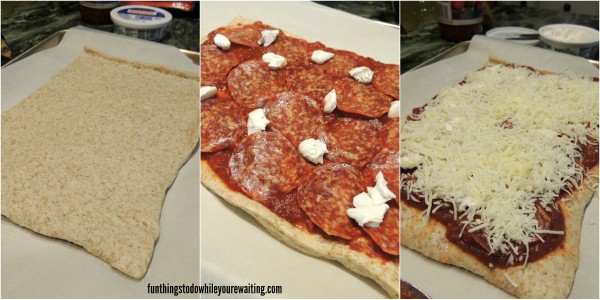 So, once you have your pizza topped, you just roll it up much like a jelly roll or a cinnamon roll. I put the entire roll in the refrigerator for 30 minutes to get it nice and cool and somewhat easier to slice. The pinner used dental floss but, cutting through pepperoni with dental floss would be pretty hard. I used a knife and it turned out fine.
I cooked them uncovered for about 20 minutes and then covered for another 20 minutes all the while on 350 F. The end result was fairly doughy but so tasty! And it is a wonderful dish for my sidekick!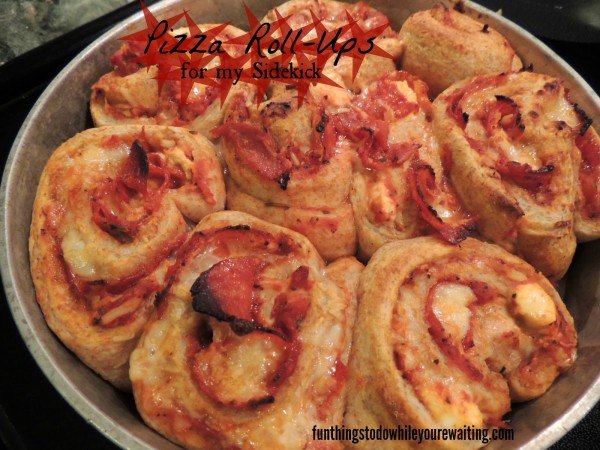 Pizza Roll-Ups
Ingredients
Pizza Dough
Pizza sauce
Pizza toppings of your choice… pepperoni, sausage, cheese, pineapple, peppers, onions, etc
Instructions
Roll (or spread) dough into a rectangle
Spread pizza sauce over the dough being careful to leave one edge uncovered
Cover with toppings of your choice
Roll up dough like a jelly roll using your fingers to seal the roll
Chill in the refrigerator for 30 minutes and preheat your oven to 350 F
Slice roll in 1″ segments and lay them on their sides in a greased dish
Cook covered for 20 minutes and uncovered for 20 minutes
Do you have a recipe that (either of) my sidekick(s) might enjoy? Please share!