When it comes to pork tenderloin, I have been stuck on cooking them in the crock pot because they absolutely fall apart and are so, so wonderful. But. I decided to shake it up a bit and leave my crockpot tucked safely in the cabinet.
I did not want to just throw it in a pan and shove it in the oven. I wanted to jazz it up a bit. I decided to stuff it with cream cheese and then douse it with Italian tomatoes. And- let me tell you, it was tasty!
I just made a deep slice in the tenderloin and laid about 2-3 ounces of cream cheese cut into strips in the V.
Then I used toothpicks and skewers to close the suture and I dumped the Italian tomatoes over the top and  into the oven set on 350 F.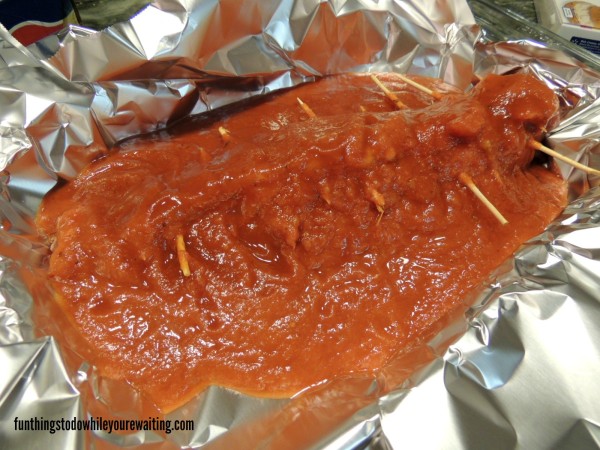 Have we talked about how I like my pork cooked? Well, I like my pork cooked- all. the. way. So, I cooked this pork tenderloin 55 minutes- if you like your pork prepared to a medium temp- go for it, more power to you- I like mine well done. The cream cheese and tomatoes kept the pork tenderloin from drying out. When it came out of the oven, this house smelled like a dream!
Now, this interpretation of a pork tenderloin is a viable contender to anything that comes out of my crockpot! It is super tasty and will make many more dinnertime appearances!
Stuffed Pork Tenderloin- Keep this one Close
Ingredients
1 pork tenderloin
2-3 ounces of cream cheese, cut into strips
1 can of Italian seasoned tomatoes
Instructions
Cut a V in the pork tenderloin
Lay strips of cream cheese end to end in the V
Use toothpicks or butcher's twine to close the tenderloin and dump tomatoes over the entire dish
Cook on 350 F for 45-60 minutes
I can't wait to cook this again! Next time I might try it with Rotel tomatoes. How do you do pork tenderloin? Let us know.
This post can found linked at the following linky parties:
http://sweethaute.blogspot.ca/