As I mentioned last week, Leigh and I had a state of the blog meeting the week before last. We decided that there are some old blog posts of ours individually that needed to be revisited. So, we decided that we would line up a week of nothing but revisions. She kicked us off yesterday revisiting her Scrubbing Doubles post.
Today, I am going back to my mom's breakfast casserole. I have to tell you the story behind why I decided to revisit it. Anytime I get loose in the kitchen, I have my camera on hand- pretty much always. I just take a slew of pictures in case I decide to blog about it. So, when we went camping back in the Spring, I made this breakfast casserole to eat cold the next morning. Yes, it is good enough to eat cold. It just slipped my mind that I shared this recipe in the early days of FTTDWYW. So, I wrote the post, edited the photos, scheduled it… and then it dawned on me- I have already done this recipe!
So, when Leigh and I decided to revisit some older posts, I knew I had one already ready to go! Now, I am serious. Pay close, careful attention to this one- it is a keeper. This is a sure way to impress any overnight guests or to take to a family that is welcoming a baby (breakfast is often forgotten) or to have on hand for holiday mornings and is def one that will impress any over-night guests. This is a good one. And without further ado,  my first revisit:
Here's the deal- having an easy, delicious breakfast casserole in your bag of tricks is a good thing. I am here today to ensure you have a breakfast casserole in your arsenal that is a tried and true crowd pleaser. This is one of my moma's recipes in her cookbook. She's probably made it about a thousand times and I have made it a time or two myself and it is truly wonderful.
The first thing you do is brown a pound of pork sausage and once that is down drain it on paper towels and set it aside. And while the sausage is browning, cube 8 slices of loaf bread with the crust removed. Spray of 9×13 pyrex with cooking spray and spread your bread cubes on the bottom. Cover the cubes with your browned sausage and cover the sausage with 2 cups of shredded cheese.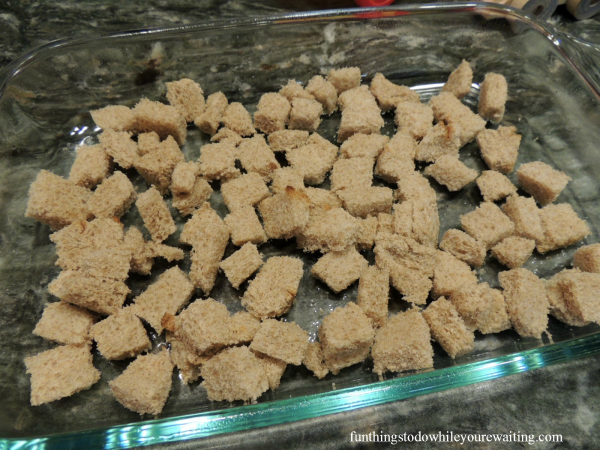 (Baby Bub was around to supervise and ensure quality control.)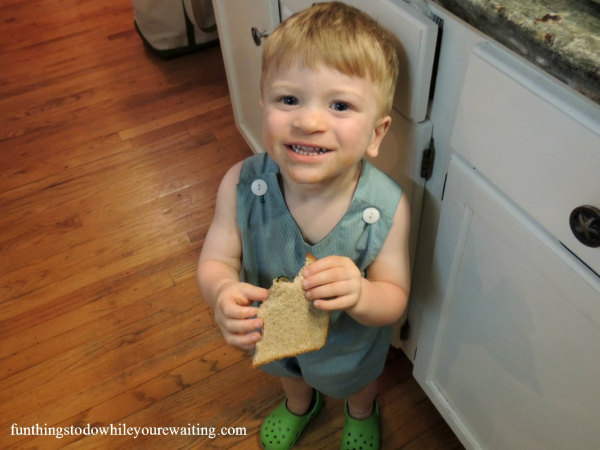 Next, you will need to combine 6 eggs with 2 cups of half and half cream. I suggest beating your eggs first and then stirring in the cream. Pour this over the entire dish. And then put it in the fridge overnight!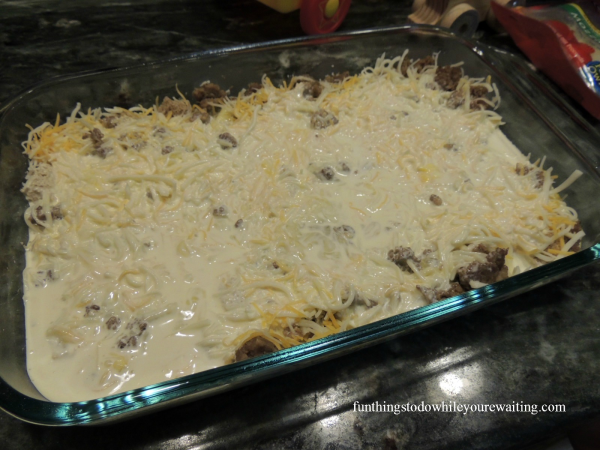 Yes! One of my favorite aspects of this casserole is that you make it the night before! Can we say hello overnight guests? Can we say hello Christmas morning? Can we say hello weekend mornings? I mean, this casserole is an overall 10!
The next morning, set this casserole out on the counter for 30 minutes before you put it in the oven on 350 F for 45-50 minutes. The casserole will puff in the center when it is ready.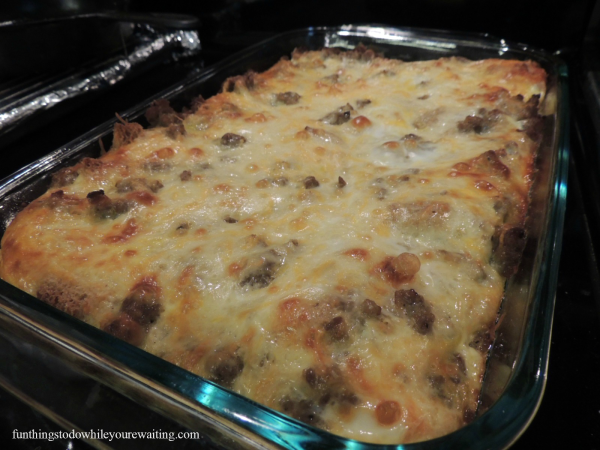 Serve this baby with some fresh cut fruit or even by itself and you have a real winner!
The Best Breakfast Casserole (in the World!)
Ingredients
1 lb pork sausage
8 slices of loaf bread, crust removed and cubed
2 cups of shredded cheese
6 eggs, beaten
2 cups of half and half cream
Instructions
Brown sausage and drain on paper towels
Place cubed bread in a greased 9×13 pyrex
Scatter sausage over the bread cubes
Sprinkle cheese over sausage
Beat eggs and combine with half and half
Refrigerate overnight
Remove from refrigerator 30 minutes before baking
Bake on 350 F for 45-50 minutes (casserole will puff when ready)
This casserole is not only silly simple to make but also silly delicious to eat! If you missed it the first time, this is now your chance to hit it up. As always, check it out and let us know what you think.
Here is a of where we like to party.