Y'all. There is this dish called West Indies Salad that I had never heard of until I met Bub. If I had ever heard of it, I did not know what it was. Maybe it was put in front of me as a child but, yeah, I ate peanut butter and jellys and fried chicken and would not have touched any kind of crab with a ten foot pole. So- I give Bub full credit for introducing me to West Indies Salad and also for introducing me to the art of picking crabs.
Have you ever wondered why crab meat is sooooo expensive? It's because picking crabs is a VERY TEDIOUS chore! Around here you can find claw meat for $18-20/pound and $25/pound for lump crab meat. I am here to tell you- crab meat that you do not have to pick, is worth every penny! And here's the deal, to even think about making West Indies, you need a pound of lump crab meat.
Bub is from (the) Dauphin Island Parkway in Mobile, Alabama. Both his parents are from the DIP. His maternal grandmother still lives off the DIP so we bebop through there fairly regularly. His mom and step-dad live on Dauphin Island- to get on to their home from Gulf Shores, if not on the ferry- we pass right by Mr. Bayley's old restaurant. It never fails, every time we pass Bub gives me the story. "That's Mr. Bayley's old restaurant- he's the one who invented West Indies Salad. Old Man Wintzell worked for him before he started Wintzell's." (Wintzell's is a Mobile institution in its own right but, a story for another day.)
I wanted you to know why we use Mr. Bayley's West Indies Salad recipe because there are lots of adaptations of West Indies and not that I have tried a bunch, but I have not met one that I did not like! Now, let me tell you the story of how we even came to picking a cooler full of crab and making West Indies
Everybody in Bub's immediate family minus our brother-in-laws managed to get off on one of our off days so we loaded up the bags, babies and boat headed to Sand Island, a little strip of land that once was an island but is now connected to Dauphin Island. Bub's stepdad has a couple crab traps planted around Dauphin Island, so the plan was to hang out on the beach and then in the afternoon go collect the crab and then boil them and eat them on the beach.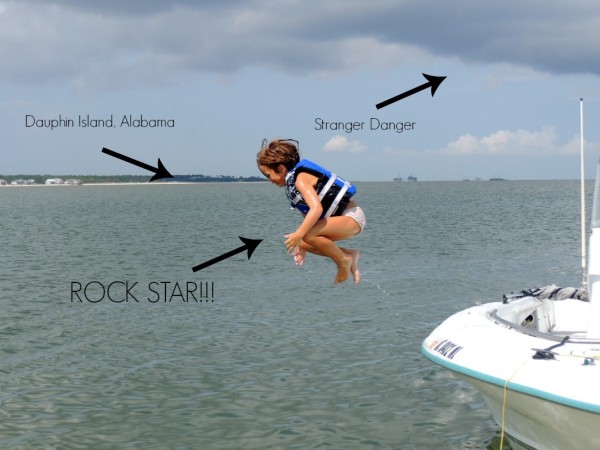 It was a fun day! And sure enough, the crab traps were full!
Baby Bub was mildly interested in the crabs…
So, Bub's mom and stepdad got the crabs all boiled and throughout this whole process, everybody was watching the sky and the radar… and typical of the weather down here a big storm blew in from nowhere! Bub's stepdad poured all the crab in a cooler and put them on our boat and we hauled ass back across the bay to get out of the water.
Bub, my Daddy and I probably picked somewhere around 3 pounds of crab meat- which meant a big bowl of West Indies Salad and crab meat to freeze to make gumbo later. (Another yum for another time.) However, West Indies with crackers is to die for!
Mr. Bayley's West Indies Salad
Ingredients
1 medium onion, chopped fine
1 pound fresh, lump crab meat
4 ounces cooking oil
3 ounces apple cider vinegar
4 ounces of ice water, as cold as you can get it
salt and pepper
Instructions
Follow these instructions exactly!
Spread half the onion in the bottom of a bowl
Spread the crab meat over the onion
Spread the rest of the onion over the crab
Salt and Pepper to taste
Pour the oil, vinegar and water over the layers
Let marinate at least 2 hours but, overnight is better
The rest of this story is that the week before we made this, I came soooo close to buying crab meat to make West Indies. I love it enough to pay $25 for a pound of crab! Is there a recipe in your arsenal that calls for a pricey ingredient?