You have heard me talk about my neighbor, Alece. She's more than my neighbor- she's a great friend of mine. Our friendship began about 2 years ago when she redesigned my wedding & engagement ring- she's a very skilled jeweler. She is also the one that introduced me to AdvoCare and the rest is history!
As (bad) luck, or the universe, would have it- she and her husband's house flooded back during the Spring flooding and they moved in next door. Her husband is my & Bub 's boss at the restaurant- his off days have begun to overlap with ours more and more in the last year. And now that we are neighbors- there's no looking back.
Also, now that we are neighbors, we try to grill out once a week. They also subscribed to the CSA box so there was a time when we were getting a bunch of yellow squash, zucchini & corn. One night when we were grilling at their house, Alece whipped up these delicious veggies & I want to pass this recipe on to you because it is a for sure keeper! I have already made it twice since we had it that night.
First things first, roughly chop an onion and throw it in a skillet with a small pat of butter on medium-low heat and get it on its way to caramelizing. While that is happening cut the corn off 1-2 ears of corn and chop the squash and zucchini into circles.
During all this chopping you need keep your eye on the onion stirring it occasionally. Add about 1-2 tablespoons of olive oil and about 1/8th cup of Splenda- give all that a good stir and then add your veggies.
This is a kind of a slow and low stir-fry. Just let it cook stirring it as often as it needs it. Once they are pretty much cooked add a French Onion Soup packet and give it another good stir.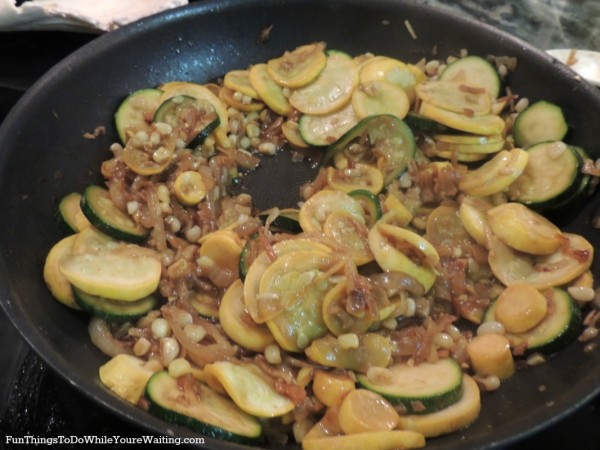 And stand back for some goodness!
Alece's Skillet (Summer) Veggies
Ingredients
1 onion, roughly chopped
1-2 ears of corn, cut off the cob
2-3 yellow squash cut in circles
2-3 zucchini cut in circles
1 packet of onion soup mix
1/8 cup of Splenda
1-2 tbsp. olive oil
Instructions
Heat skillet on medium heat and add olive oil and allow to get hot
Add onions and let cook. While they are sautéing, cut squash and zucchini into rounds and cut corn off the cob
Once the onion is well on its way to caramelizing, add Splenda and stir well
Add then add the rest of the veggies and let cook stirring every so often
Add the Onion Soup Mix and stir
When the squash and zucchini are limp? the dish is ready!
Now, I did make some slight changes to Alece's original recipe- she added snap peas, I did not have any so they got omitted. And she peeled her squash and zucchini- I didn't. I tell you this so you will know this recipe is open to interpretation. And any leftovers are tossed back in the skillet in the morning, warmed up and then 2-3 eggs are cracked over the top- bam! reinvented for breakfast and just as tasty! Do you have any recipes you got from your neighbor? What do you do with your summer veggies?