The original recipe is super silly simple. If you can make an egg wash complete with cinnamon and dip slices of bread in it and then lay them out on greased cookie sheet and sprinkle blueberries on top of them… if you can do all that and then bake them on 350F for 25-30 minutes- you can do this. Your reward will be something so spectacular but, I am getting a little ahead of myself.
I followed the original pin's recipe to a T.. except for one thing. But, here's the deal- make an egg wash with some cinnamon. Her recipe was for 8 pieces, I decided to make only 4. She used 5 eggs, 1/4 cup of milk, 1/4 teaspoon of salt and 1/2 teaspoon of cinnamon and 1/4 cup of pure maple syrup. Well, I did all that except I left the maple syrup out.
And I threw them all one a greased pan, sprinkled blueberries on top and baked them on 350 F for 25ish minutes. They started to smell sooooo good at about 15 minutes. By the time they came out of the oven the natives were circling the kitchen and by natives I mean Bub.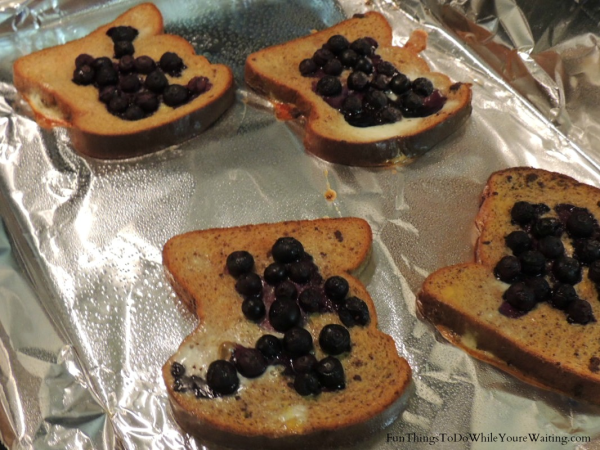 Yum! This is an awesome way to step up your French toast game! Yes, we have had it since the first time and it was again met with wild anticipation that delivered the goodness! A little butter and a little syrup and a side of bacon makes this a helluva delicious way to start the day!
Blueberry French Toast
Ingredients
4 pieces of loaf bread
3 eggs
1/4 cup milk
dash of salt
1/2 teaspoon cinnamon
1 cup of blueberries, thawed if frozen
butter, optional
syrup, optional
powdered sugar, optional
Instructions
Preheat oven to 350 F and spray a cookie sheet with cooking spray
Combine eggs, milk, salt and cinnamon and beat well
Thoroughly dip bread in egg wash and place on cookie sheet
Sprinkle blueberries evenly over soaked bread
Bake for 25-30 minutes until bread is browned
Serve with any combination of optional toppings
Well, I guess I might know what is for breakfast in the morning! Do you have any new version of old classics that take them to the next level? As always, we want to hear about them!