I mentioned before how awesome the thrift stores are in my neighborhood. As someone who has donated a ton of clothes in the past, I feel like whenever I find an awesome piece at a thrift store, it is just good karma coming back. I am always amazed at what people donate… and not just in the bizarre items way… but in the, "seriously… did you not know how to sew on a button and that's why you donated it?" way. I can't complain though because people not knowing/or not caring enough to learn/do some simple wardrobe maintenance tips means that I get to reap the rewards. For example, I found an amazing maxi dress at my local thrift store. I haven't found many maxi dresses that I liked (or that fit right) so finding this one was a coup! Especially since the price tag was $7 and (after researching the brand) I found that these dresses normally START at the $175 mark. The fit was great… the look was right… the only reason I could figure that someone would donate this dress was because (as jersey does) there were some fuzzies (or pilling) on the fabric. Pilling normally indicates that it had been washed (and dried) carelessly, I guess. Which is why I wanted to share this super cheap, super effective tip in wardrobe maintenance.
It really is simple. Buy a cheap, disposable razor. You probably already have some around your house. Hold the fabric taught (this is mucho importante) and shave your fabric. That's it. I am always surprised at how few people know this trick though. It makes such a difference and shaving your fabric can make it look brand new again. Take a look at this before and after of the brown band around my maxi dress: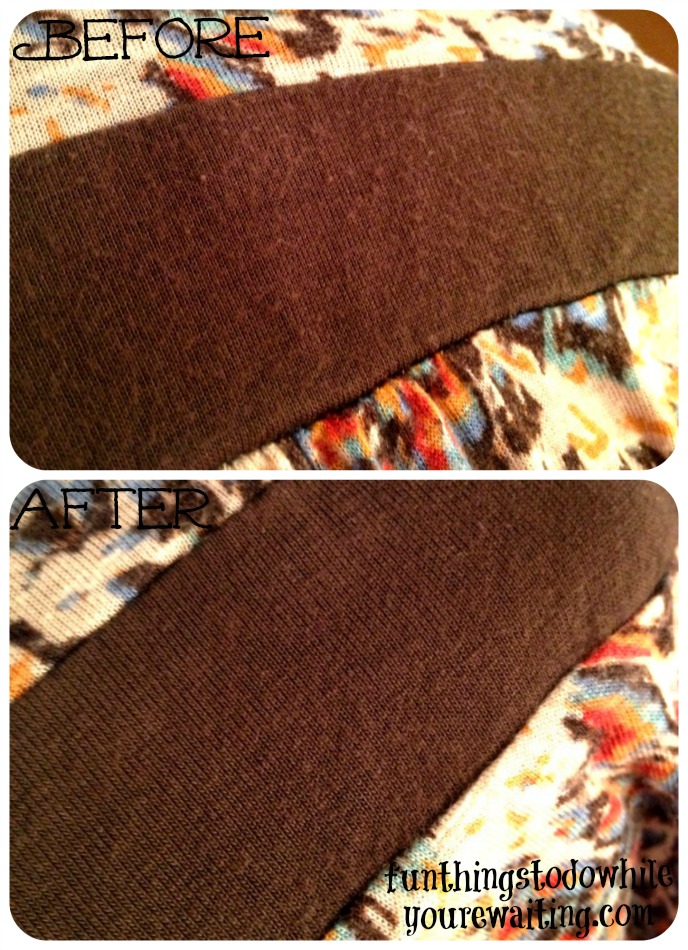 I think the difference is pretty noticeable. Check it out in action!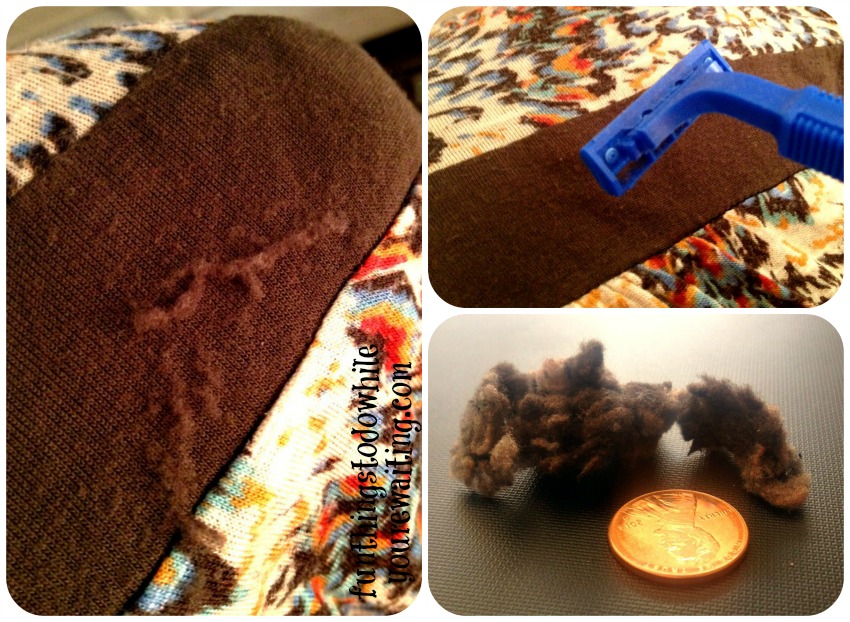 The fuzz in the last picture is just from that little section. Imagine how much I shaved off from doing the entire dress. By shaving the dress, the colors were more vibrant and less muddled. The fabric lost its look of wear. It became a new dress for me. It took maybe 45 minutes to get the parts of the dress I was concerned about, but still. Wardrobe maintenance takes a little time and a little effort, but the dividends are huge and, obviously, end up saving you money in the end.
Check out me rocking this dress with my sweet family at one of our annual reunions:
Hey, LOOK! It's my cousin Elizabeth (top picture, with my arm around her)! You may remember her from the awesome article she did about fun things to do while you are waiting with kids!
I will, once again, note that when shaving your fabric, hold it taught and be careful not to nick the fabric with the razor. Fabric, like skin, can be easily nicked if you aren't careful or don't have a feel for it. If you are new to this technique, I suggest practicing on a less obvious part of the fabric.
That's it! Have you ever tried this technique? Are you a thrift store shopper? As always, let us know!