Do you ever get on a flavor kick? Where a certain flavor haunts your taste buds all day? I've been on a HUGE vinegar kick lately. When your body craves something, it is often because there is a nutrient deficiency. A cursory internet search suggests that I may need acetic acid so I can process potassium. Or, maybe chasing the vinegar dragon may just mean that I adore the brightness that vinegar adds to dishes. Vinegar wakes up all kinds of reactions in my face sensory areas.
In addition to the vinegar, I've also been on a grape/cherry tomato kick. Unless it is homegrown, sliced on white bread, with mayo, salt and pepper, with Vidalia onions, I am generally not a raw tomato fan. But, while I was at Trader Joe's recently, there was something so beautiful and delicious looking about their mixed-medley of cherry tomatoes.  I took 'em home. Tried them in my salad and loved the sweetness and density of tomatoes smaller counterparts. I've been rolling with them ever since.
In order to monopolize on both my tomato and vinegar cravings, I decided to replicate a salad I had eaten while last in Georgia. And you guys know my thoughts on salad. It is a standard, southern salad of which I have always been aware: chopped veggies, crumbly cheese, and Italian dressing. But there was something about this particular salad at that particular time that just hit all right flavor markers, for me. The hostess shared with me that she had used Good Seasons Italian Salad Dressing mix. I'd never heard of (nor consciously tried) this mix though she intimated that it was super old school and pretty ubiquitous. *Later research shows that Good Seasons is a Kraft brand with many DIY iterations that look promising.* I tucked my hostess's secret in the back of my mind until I returned to California.
To pay for my summer of leisure, I am really trying to up my veg quotient right now. Having a ready-made, healthy, vegetable option on deck makes it easier to make smarter choices when reaching for a snack or side dish, for me, at least. As I had also recently discovered an amazing source for fresh basil, I knew it was time to bust out that salad recipe. Come! Follow me on my SupaFresh Salad journey!
The salad couldn't be simpler. Chop desired veggies (for me: one cucumber, one onion, fresh basil, and cherry tomatoes). Make dressing. Mix veggies with crumbly cheese of choice (feta, blue, goat, mozzarella) and dressing. Substitute out or in any veggies of your choice.
But, wait! Didn't the title of this post mention something about a baby tomato lifehack? Individually cutting baby tomatoes is tedious business. Wrangling them for chopping? Also tedious. I had seen this lifehack floating around Pinterest but witnessed it firsthand in action this summer. I found myself sous chef-ing for dinner with my amazing sister-in-law, Donna. She was prepping an amazing, Italian version of this salad, with Buffalo mozzarella globes. She grabbed two small salad plates, with low rims, poured 20 (or so) baby tomatoes on one plate and then sandwiched the other plate on top of the tomatoes. She very carefully ran a serrated knife gently, yet firmly through the opening between the two plates. I have replicated the process below in pictures! You have to hold the plates firmly, but not too tight. You also have to make sure the plate is flat enough to be able to hold the tomatoes. A balancing act to be sure.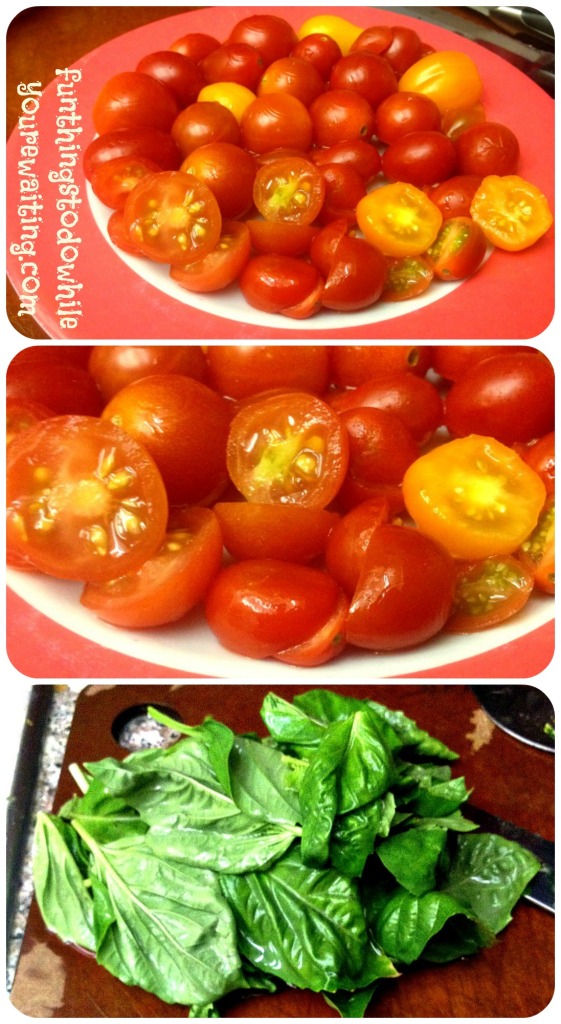 See! All cut in half! Look how beautiful those babies are! Also, a big shout for that luscious basil. Sorry for not warning you about the possibly NSFW pics of ingredient porn. Fresh ingredients, amirite?!
So, yeah! Ingredients! Dressing! Mix! The vinegar sharpness, next to the creamy feta is divine. The crunch of the onions and cucumbers (who lend their own brightness) really round out the texture. There are cherry tomatoes explosions across the fresh, sweet basil top note. The dressing is equal parts light, tangy, bright and crisp. And, hey, is that a re-purposed spaghetti sauce jar serving as a dressing mixer? You know it. Super win.
Upon subsequent makings of this salad, I have amped up the vinegar and toned down the oil for some calorie stat juking. Modify to taste, but put this salad in your arsenal!
A SupaFresh Italian Salad
Ingredients
1 onion
1 cucumber
1 carton of baby tomatoes
1 handful (or to taste) fresh basil
1 package of crumbly cheese (feta, mozzarella, goat, etc.)
1 package Good Seasons Italian Dressing
Oil to taste
Vinegar to taste
Instructions
Chop fresh vegetables. Make dressing. Toss dressing and cheese with chopped veggies. Enjoy!
What do you think? Is this salad a southern staple? Is this something you might try? As always, let us know!