Y'all. I am excited to share that since Bub and I refocused ourselves on healthier lifestyle choices I have lost 10 pounds. It always amazes me what my body will do when I make changes in what I eat, how much I eat and if I exercise. I give you this mini-update so to tell you that I have tried to not only keep salad fixings in the fridge but to keep a salad fixed in the fridge. I do not feel bad about chowing down on a big ole salad.
In an effort to not let salads get boring I thought I would mix it up with a broccoli salad. This brings me to Paula Deen. Nope- not gonna talk about her public relations train wreck(s) but I do have 2 things to say slash share. 1. Generally, 95% of the time, Paula's recipes are divine. 2. Kristin Wiig on Weekend Update did a hilarious job of poking fun at Paula- so much so that I am including that clip here.
But anyway, Paula's broccoli salad is super fine and tasty but not exactly healthy- it's the mayo based dressing that ix-nays it from the healthy column. Seeing as how I am really trying to stay in the healthy column- the mayo dressing would not work for me. But, there is a dressing on a salad in my Momma's cookbook that would be easily adaptable to suit me.
First things first, I chopped up a couple heads of broccoli and then chopped up half a purple onion. I could have used Leigh's life hack for cutting some cherry tomatoes but I decided to leave them whole. And lastly I sprinkled the undressed salad with bacon bits.
As for the dressing I used 1/4 cup of white wine vinegar, 2 tablespoons of water, 1 pack of (Wish Bone) Italian dressing mix, 2 tablespoons of Dijon mustard, 3 tablespoons of lemon juice, 5 Splenda packets and 1/2 cup of EVOO. I combined all this in a blender bottle and shook it like hell.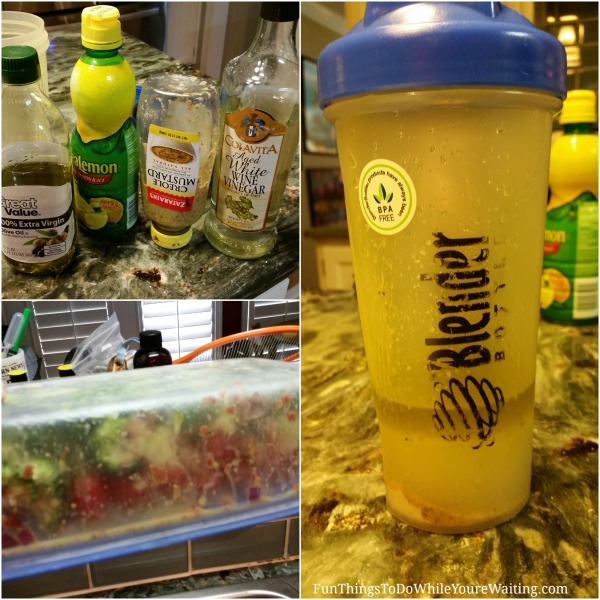 Next I drizzled this dressing over the broccoli salad, covered it and shook it to give everything a nice coat. And then popped it in the fridge and it was ready every time Bub or I were ready for a salad! Easy peasy!
Broccoli Salad with Momma's Dressing
Ingredients
2-3 heads of broccoli, chopped
1/2 red onion, chopped
bacon bits
cherry tomatoes
for the dressing:
1/4 cup vinegar
2 Tbsp water
1 pack (Wish Bone) Italian dressing mix
5 packets of Splenda
2 tsp Dijon mustard
3 Tbsp lemon juice
1/2 cup extra virgin olive oi
Instructions
Combine first four ingredients and set aside
Combine dressing ingredients and mix together well
Drizzle dressing over salad and shake or stir well to completely coat
Store in fridge until ready to eat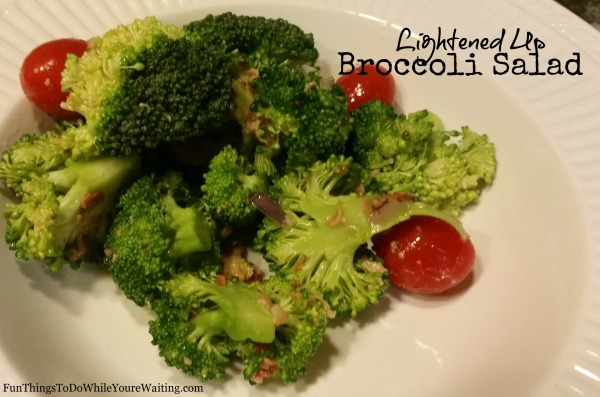 Anybody got any good ideas to lighten up some old classics- you know we want the scoop.