Again, you may have noticed that Friday came and went without post from me. The downtime I thought I would have has yet to materialize… but (thankfully) sweet Sheila has stepped up to the plate BIG time with this guest post. My thanks for lyfe! Today, she shares with us her experience with the craft lesson hub site Craftsy– which is something that I have ZERO experience with but have been tempted to try on several occasions. From her results though, it sounds totally worth it! She's so cool. If anything, this post (much like her awesome others) make me woefully aware of what a bad knitter I am. So, knitting aficionados, take note of this brave new frontier! ~Leigh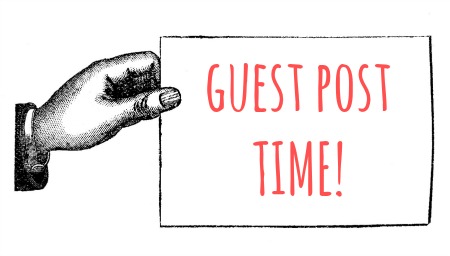 Craftsy is an online video instruction platform that features classes in all kinds of crafts, from sewing to cooking to cake decorating to what have you. Prices for individual classes are usually around $40, but they frequently go on sale, and over the summer I finally took the plunge on knitwear designer Gwen Bortner's Entrelac Knitting course.
Though I usually learn pretty well from books, entrelac is a technique I had tried and failed to master using written instructions. I did find a YouTube video from which I learned the basics well enough to make a dishcloth, but it looked on the rough side to me, and I wanted to refine my skills well enough to make wearable garments etc. with entrelac. So, during a recent half-off sale, I signed up for Bortner's course.
I loved using the platform! The videos are very easy to navigate. The course was broken up into a series of videos with a detailed table of contents, and the progress bar along the bottom of the videos is marked to show beginning and endings of segments. You may add your own notes to mark certain points in the videos as well, and there is a nifty "30-second" repeat feature that can actually be adjusted to any length of time to infinitely repeat any segment of the video, a super-handy tool when learning a new knitting technique. Also, if you do not have the fastest computer in the world, you can turn off the high-def version of the video for a smoother feed (just click on the HD sign, which took me forever to notice for some reason, along the bottom of the screen).
Gwen Bortner was an extremely knowledgeable teacher who covered everything I wanted to learn about entrelac, and, as advertised, she was available to answer both of the questions I submitted, within 24 hours in both cases. I was surprised at how much I enjoyed knitting along on the same projects she was using to demonstrate the techniques. The lessons progressed very organically, covering a few new aspects of the technique with each new project. I made the first two projects, but elected not to make the third; it was still easy to get the gist of what was being taught by just watching the lessons for the third, and I'm confident I'll be able to use those techniques if they come up in a pattern I'd like to make in the future.
Talking of the future, what of Craftsy's claim that you will have "lifetime" access to the classes you purchase? I work in an academic library, and just a few weeks ago met the person in charge of recovering the work of deceased faculty members from floppy discs (it turns out that most files from the 3.5" ones can still be recovered, but she's still working on finding a machine that can read the 6" ones), so, I have a few questions about how this actually works in practice. Will Craftsy continually update the video library to be playable on evolving media, even when all the projects are out of fashion 20 years from now, or will they just retire older classes once people stop buying them? Will Gwen Bortner really still be responding to questions about her entrelac video in 2050, or will she have been replaced by "Gwen Bortner" by then?
On the other hand, I can't think why I would go back to the class having gone through it once and pretty much learned what it was teaching, so I think the lesson is to watch your classes within a couple of years of having purchased them (which is something to keep in mind when loading up your cart during sale periods, not that I would know anything about that). Actually, you should at least look through any Craftsy class that you purchase right away to make sure it's what you expected, since they are returnable within 30 days. It's also a pretty good idea to print out any course materials or patterns you think you will want to use again.
I still think that for most purposes, books are a better value than online classes, if only because they will still be available to you until the paper falls to dust, and obviously they contain way more patterns (for example the patterns to all of the beautiful entrelac sweaters Bortner wore to shoot her class videos are available in her book but not through the online class), but I think Craftsy is better understood as a replacement for live instruction rather than books. Technique classes with famous designers at knitting shows cost around $80-100 these days; similar classes at your local yarn store are in the $40-80 range here in Chicago, and for those you only go through them once, in real time, and with the teacher's attention divided between you and however many other students there are. Craftsy classes are a great value compared to that, especially if you manage to snag the class you want on sale. (And Craftsy classes go on sale a lot; you can keep track of sales by following Knitting Club on Facebook, or Craftsy on Twitter).
Up next in my Craftsy queue: Double knitting! This is another technique I've mastered, but kind of sloppily, from written instructions. I'll let you know how it goes!