Y'all. I shared last Friday about the holiday traditions of my childhood- one of my absolute favorites was riding around looking at lights. I have always just loved houses that were decorated with lights. So much so that when Bub and I moved into this house, that first Christmas- we put up so many lights that you could have done surgery in our front yard at 10 PM! Seriously. It was wonderful.
And the next couple years we continued to put up gobs of lights but, this year… I was thinking we would change it up a bit. Last year I was really taken with the lit garland swoops of some of our neighbors. I like a shallow swoop- but, that's neither here not there. Here's the problem with my new found garland appreciation- I gave all my garlands away. oops!
So, I thought no problem- I will whip up some deco-mesh garlands but then, I realized that I wasn't too hip to spend a bunch of money on deco-mesh and etc. to make garlands. I went back to the drawing boards. I started cruising Pinterest and came across a pine cone garland tutorial. A light bulb went off! But, of the tutorials that I found, none of them were lit. And I absolutely wanted mine to be lit!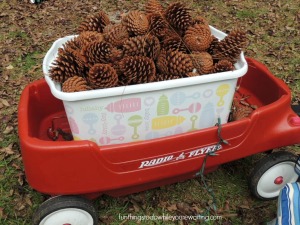 This garland is pretty easy to make – gather your pine cones. We have about 15 pine trees in our yard so we had an abundance of pine cones. Some of the tutorials used twine and tied each pine cone individually or they hot glued a bead and then strung them on a string. And then one tutorial suggested putting eye hooks in them and then stinging them together. I decided to scrap all those ideas. I decided I would use floral wire to attach the pine cones directed to a string of lights. Bada-bing-bada-boom.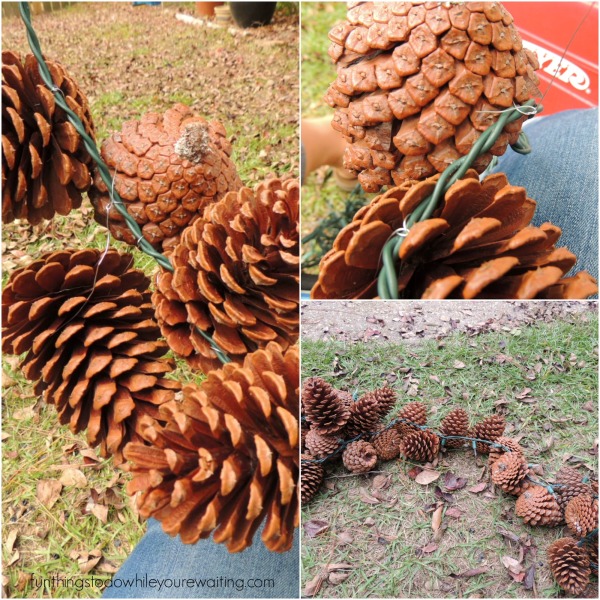 But, here's the deal on that bada-bing-bada-boom… it was not a quick process. It took a couple different sittings over several days to get all the garland I wanted done. But, when they were all done and hung— I am just in love!
I just love them. I think they look so good. As my mom and aunt would say, they are right effective!
Yes, our lights are up. Yes. We have already been riding around looking at lights. Yes, I am anxious for everyone to get their lights up. Yes, Bub was the one that said we could go ahead and get the lights up before Thanksgiving.
Yes, I want to hear all about your holiday decorations and if you have ever had to rethink them due to budget constraints.