Y'all. So, I mentioned last week with the Bourbon Bacon Jam that my mom and I were getting together baskets of goodies for Christmas for our friends- mostly my friends. One group of people that I like to give to is the group of managers that Bub works with- just a little something yummy. Earlier in December when I was cruising through Pinterest I came across a recipe for homemade Kahlua. A light bulb went off in my head!
I remember my Dad and Step-mother making Kahlua when I was a little girl- and I remember it being pretty easy to do- coffee, vodka, sugar and vanilla… so, I opened the pin and this recipe was made with rum. Stop the presses! Rum- well, it turns out that Kahlua is a rum based coffee liqueur. In a matter of seconds, it hit me that Kahlua would be awesome if I made it with Sailor Jerry.
It is here that I must let all the world know that I looooooooove Sailor Jerry Spiced Rum. I love it. I love it. I love it. I mix it with diet root beer. Yep. That's my jam. Sailor Jerry is 92 proof spiced rum and roughly the same price as Captain Morgan. So, I found it wildly appropriate to make homemade Kahlua with Sailor Jerry to give to a bunch of restaurant managers and chefs. And I did make a little extra for Bub and I to have too- and we have been slurping up Colorado Bulldogs for the past week! (Colorado Bulldogs are White Russians with a splash of Coke.)
Now, on with the show- here's the recipe: 4 cups of sugar, 2 1/4 cups of Sailor Jerry, 2 1/2 cups of fresh coffee and 3 tablespoons of vanilla extract.
I made strong coffee and while it was still hot, I mixed it with the sugar and then I let it cool down to room temperature. It did not take too long- 30 minutes maybe. And then I added the Sailor Jerry and vanilla. I want you to brace yourself- this is delicious!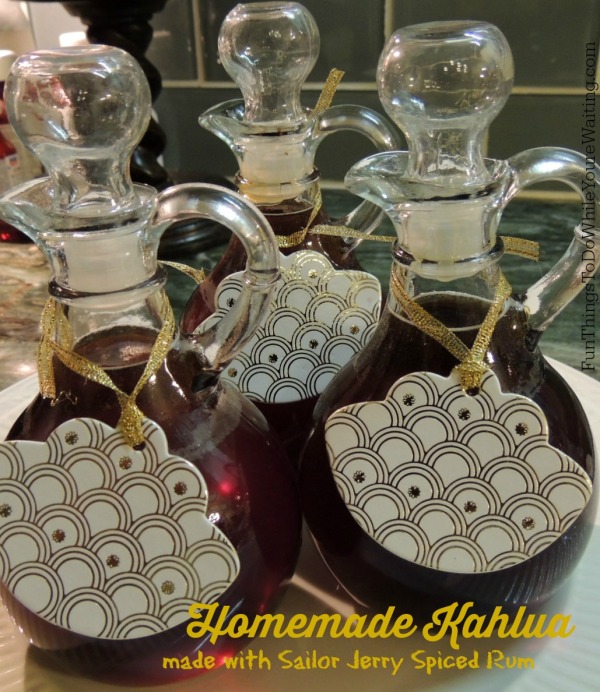 Homemade Kahlua made with Sailor Jerry Spiced Rum
Ingredients
4 cups of sugar
2 1/2 cups of coffee
2 1/4 cup of Sailor Jerry
3 Tablespoons of Vanilla extract
Instructions
Brew coffee, mix with sugar and let come to room temperature
Add Sailor Jerry and Vanilla
If you are looking for something special to give your friends, family or neighbors- think about this homemade Kahlua made with Sailor Jerry because it is so good- not only in White Russians but also over ice cream or cake or just over ice! Yummy.