Okay, a quick question- do you have a Pinterest account? Probably. Have you pinned recipes that looked delicious and then for whatever reason, you never got back to testing it? Uh-huh, me too. Do you have 100s of pins but become a deer in a headlight when you try to think of what's for dinner? Story of my life… but, I am working on putting those hours and hours I spend pinning recipes to good use. So, when I sat down to do my last round of menu planning I went back to those old pins. And among them was a pin for a chicken recipe titled "OMG Chicken."
I would gladly and happily give you the link to that recipe except for whatever reason, the link attached to the pin was MIA. And for the record, I am meticulous about checking to make sure that there is always a link attached to the pin so, I don't know what happened there. However, in the pin description was the recipe! So, all was not lost!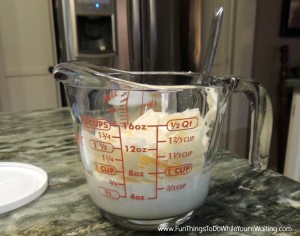 The title was OMG Chicken- I was thinking something along the lines of knocking my socks off— and honestly, my socks were not knocked off. However, this is an easy and good recipe and will most certainly make its way back on the menu in the future. But. I am downgrading it from OMG! to Oh My Goodness Chicken.
To begin, you lay your chicken out in a baking dish and mix 1/2 cup of Greek yogurt and a 1/4 cup of Parmesan cheese. You can use sour cream and as you can see I used more than 1/4 cup of Parmesan- it was a big pinch. Salt and pepper your chicken to taste and put a big dollop of the yogurt-cheese mixture on each piece of chicken. Next you sprinkle with Italian bread crumbs. In my case I sent 2 pieces of whole wheat bread through the food processor. I sprinkled this over the chicken and then sprinkled with an Italian seasoning Mrs. Dash.
Bake this uncovered for 20-30 minutes on 350F until the chicken is cooked through— And what emerges from your oven is an easy and delicious week night chicken dish!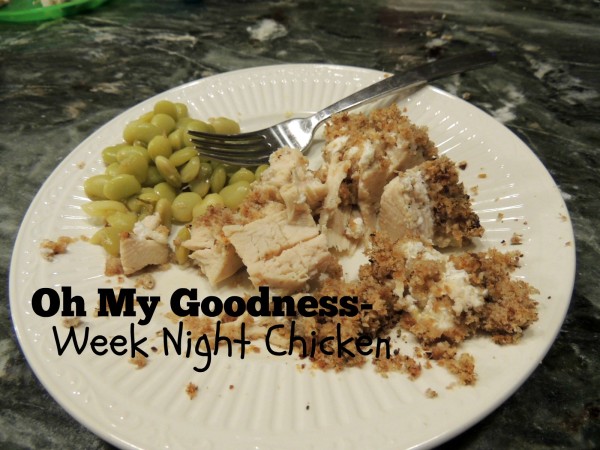 Oh My Goodness! Week Night Chicken-
Ingredients
1/2 cup Greek yogurt or sour cream
1/4 cup Parmesan cheese
1/-2 to 3/4 cup Italian bread crumbs
4 boneless, skinless chicken breasts
salt and pepper to taste
Instructions
Place the chicken in baking dish and salt and pepper to taste
Mix yogurt and cheese and spread over chicken
Sprinkle with bread crumbs
Bake on 350 F for 20-30 minutes or until chicken is cooked through
Do you have any quick and easy week night recipes? Do you get caught in week night dinner ruts? Do share how you beat the rut!