Okay. You have some options- you can quickly jot this recipe down or you can scroll down and take a screen shot of the recipe. Either way, you need this recipe and I am giving it to you in plenty of time for you to make sure you have all the ingredients on hand and ready to make for Valentine's Day. Yes. Yes. You have got to trust me on this- this pie is the bomb dot com! I mean for realz and for realz.
It is in my mom's cookbook but I had never had it until she made it this past Christmas. Yes. I am 35 years old and it would seem that I would have had every recipe in a cookbook written by my mother especially the sweet ones… but somehow, I had missed this one. The story goes that when she was working at the hospital a salesman gave her the recipe. And my grandmother made it and my grandfather became obsessed with it. So much so that my grandmother used to make 2 of these chocolate chess pies every weekend for a year!
Good Lord!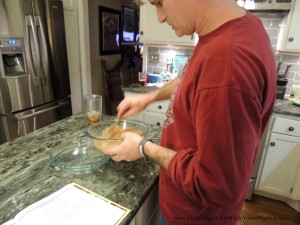 So- it is totally worth your time and effort in making this pie. And in all honesty, it was really easy. The problem that Bub and I ran into was that we did not have a crust so we had to improvise- but, just pick up a frozen pie crust. This recipe is so easy, I am just going to plug it into the chart and you can take it from there. All you do it mix all the ingredients together, pour them into an uncooked pie crust and bake for 40-45 minutes and BAM! Your life will never be the same.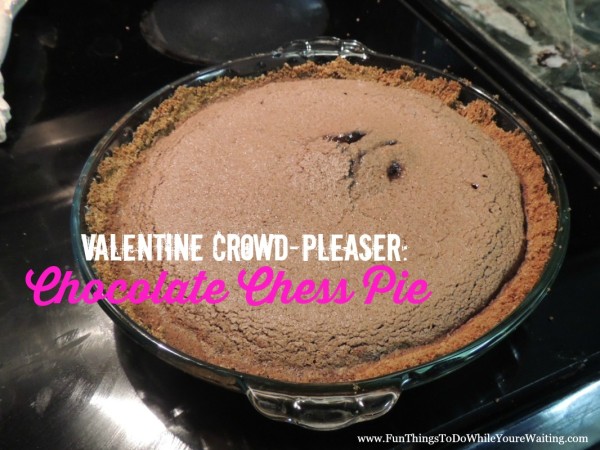 Chocolate Chess Pie
Ingredients
1/2 stick of butter melted
1 1/2 cup sugar
4 Tbs cocoa
2 eggs, beaten
1 (5 1/3 oz) can evaporated milk
2 teaspoons vanilla
1 (9inch) frozen pie shell, thawed- (not deep dish)
Instructions
Mix the first 6 ingredients and pour into pie shell
Cook on 350 F for 40-45 minutes
This pie is nothing special to look at- but, oh my! It is sooooooo good! Have you discovered any of your loved ones' old recipes that are life changing? As always, we want to hear about them!