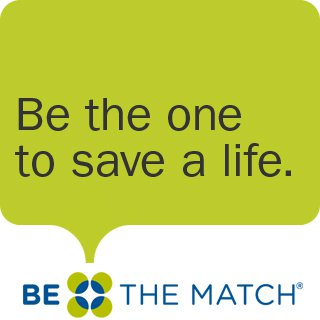 Every four minutes, someone is diagnosed with blood cancer. Every. Four. Minutes. As many of you know, my brother (Russell) was diagnosed with Acute Lymphoblastic Leukemia this past September. He has valiantly completed the eight, five-day, hospitalized chemotherapy treatments that were the prescribed course for his treatment. Due to an abnormal chromosome in his DNA, however, there is a chance that the disease could return in the future. In order to eliminate the cancer for good, he needs to receive a bone marrow transplant. I was the most likely candidate for donation, was tested, and found not to be a match. Our search for an outside donor within the international database also, sadly, yielded no suitable genetic matches. Hope is not lost, though. Far from it, in fact. The last ten years have seen huge advancements in the treatment of blood cancer. The next step in Russell's treatment is to receive a stem cell transplant from donated umbilical blood. We are truly living in the future, folks, for which I am eternally grateful.
So many people have generously asked what they could do for Russell during this time. I can't begin to express the gratitude my family and I have for those of you who have reached out. I wanted to use this humble platform, however, to ask you, dear reader, one more favor. Although many of you are already members of the international bone marrow registry (Be The Match), this is to those of you who aren't familiar with the organization. Be The Match is the "largest and most diverse marrow registry in the world." By registering with this organization, and taking a self-administered, periphery test, you are signing up to potentially save someone's life. And although Russell was unable to find a match through the registry, hopefully his story can bring awareness to the organization and help someone else.
If you are between the age of 18 and 44, you should and need to be on the registration list. Like, yesterday. It is free and takes 10 minutes (tops) to complete all the online form work (though have your address book handy) and the subsequent mailed, cheek-swab test. Seriously. It is that easy. Fill out a few online forms, in a few weeks, they will send you a pre-paid, pre-stamped return envelope with a three-swab testing kit. Simply swab the interior of your cheek thrice-ly and send it back in. Most everyone can join the registry, although there are some medical requirements for donors, the list is pretty broad. If mailing in pre-stamped envelopes is too taxing, or not your thing, then check the website's calendar for a local registration event. In large metro areas, or around college campuses, there are also tons of registration events.
The odds of you actually being called to donate are only 1 in 500. If, one day, you actually ARE found to be a match, then there is no cost to you while you undergo one of two possible collection methods– both of which are relatively painless and simple (with negligible adverse effects for the donor) and neither comparable to what blood cancer patients have had to endure on just one day of their treatment. Although the likelihood of ever being found a match are slim, at least you are increasing the odds.
If you are above the age of 44 and still want to help, please consider donating either your time or a donation to either Be The Match or to the Leukemia & Lymphoma Society— both worthy, worthy tax write-offs.
A side note to expectant parents (or anyone in their child-bearing years): in addition to joining the registry yourself, please consider also donating your child's umbilical cord. Your health care provider should discuss it with you (when the time arises) but in case they don't, please inquire about the donation process. Not only could it save someone else's life, but it is a way to store your child's cord blood in case of their own (knock on wood) future health emergency.
The Be The Match website really does an amazing, and comprehensive job of answering any questions you might have. I encourage you to spend some time there, informing yourself.
Until Russell's diagnosis, I was relatively unaware of how prevalent this disease was. In the months following his diagnosis, so many people approached us with their story of their experience with blood cancer. Join the fight. Fulfill your potential. Become a possibility. If you are unable to join the registry, or unable to help in the above suggested ways, then, please, please share this missive with someone who can help. Someday is today. What are you waiting for?!
Once again: to join the bone marrow database organization Be The Match CLICK HERE.
My sincere thanks, in advance, for your help and consideration.