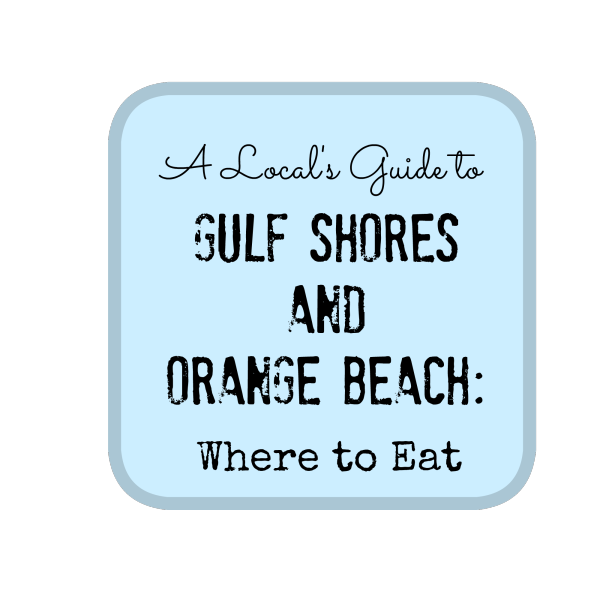 Y'all. I do believe I have just experienced a 5 month time warp! This has been the fastest winter of my life! I am sure that those that live further North than me would not agree- particularly those who have gotten record amounts of snow. Regardless of the temp and precipitation- Spring Break has commenced and Summer will be here before we know it!
One of the best things about living at the beach is that one way or another lots and lots of friends filter through here. Seriously- it's awesome. At times it feels like the whole United States filters through here! And I generally love talking to the visitors that sit at the bar (and I love the locals too). I give out lists of where else to eat and what to do year-round.
To get us in the right frame of mind, I have a song for you-
This is going to be a two part series- where to eat and followed next week by what to do in Gulf Shores and Orange Beach, Alabama. This is really for my convenience more than anything because people are always asking me where they should eat and what they should do and these posts will provide an awesome spring board to answer those questions.
There are a couple things I want to tell you before I get started with my list of restaurants. The first is that this is a tourist town and as such- going out to eat is generally not going to be cheap. And if you go during prime dinner time (6-9 PM) you can expect at least an hour (or more) wait at most places and if there is not a wait- that should be a clear indication of whether or not the place is worth a damn.
The Second thing I want to tell you is that the average dinner plate is going to cost you $20-30- and that is whether you eat somewhere that knocks your socks off or if you eat at a place that serves food that arrived on a massive wholesaler truck from outside a 100 mile radius of here. This is just me- but, if I am going to pay that much for a plate of food- I want it to be good and preferably fresh.
Now. Let's get down to business.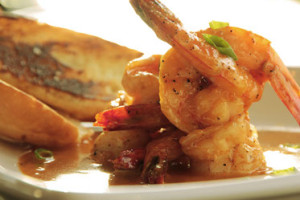 First on my list, the restaurant where I work: Cobalt. Cobalt sits nestled underneath the Alabama Pass Bridge and during the season serves breakfast (buffet), lunch and dinner and a brunch on Sunday. The view is spectacular- the sunsets are just amazing. Weather permitting there is indoor and outdoor seating and live music 7 nights a week during the season. The food is real good. The portions are generous. The Happy Hour is banging! My most perfect meal would be the BBQ Shrimp, 1/2 doz Grilled Oysters, Tournadoes with a Wedge Salad and a Bushwhacker for dessert. And by the way, you would have to roll me out to the car because that is a lot of food- enough for 2, maybe 3 people! However, if you find yourself vacationing in Gulf Shores or Orange Beach- make sure you plan to eat at Cobalt at least once.
Number 2 on my list- Cobalt's sister restaurant and where I used to work, Cosmo's. Cosmo's is this quirky, intimate, little restaurant off the beaten path. It's beachy but not. Just like at Cobalt, the food is real good and the portions are generous. Weather and season permitting, there is indoor and outdoor seating and live music 7 nights a week. And also, Cosmo's has a great Happy Hour too. My perfect meal there would be the Savory Cheesecake, the Pecan Encrusted Redfish and a slice of the Key Lime Pie. Cosmo's is like Orange Beach's best kept secret that is no longer a secret! Do yourself a favor and check out Cosmo's.
Third on my list- Nolan's. Yes, I love Nolan's and I will be honest- I have never eaten in the dining room there- I have only and will probably ever only eat in the bar area. The bar area is dark and they have live music every night they are open- it's just kind of real awesome. And not to mention- the food is great. I have ordered off their full menu in the bar area and I have ordered off their bar menu- I mean, bar food at a white table cloth restaurant- come on! Plus, they serve their bar menu until midnight- which is an anomaly in this neck of the woods. Their steaks are fantastic. And Bub gives his seal of approval on their wings- and I love their grouper fingers and their hamburger- oh, and their fried veggies are delish too! Nolan's is in Gulf Shores, right on 59.
#4. Fisher's. Fisher's is a two-fer because it is two levels with separate concepts. Down stairs, or Dockside, is very family friendly and like the nickname suggests sits right on the dock next to the water. Bub and I have arrived here via boat- you kind of have to weave through the marina- but, it is possible. The food Dockside is good. And then maybe with older children or no children, you want to eat upstairs. The food is also good. The last time I was there, it is my understanding the menu rotates seasonally according to what is in season. Anyway, if there happens to be pork cheeks on the menu when you are there- just go ahead and do yourself a favor and order them. Fisher's- up or down stairs is a great place to eat in Orange Beach and by the way the decor is to die for.
So, for #5 on my list I have a story. I love Cobalt and Cosmo's and the food will knock your socks off- but, because Bub and I both work there- sometimes we prefer to eat somewhere else. Mainly so that we can be treated like everybody else. When we eat where we work or worked, lots of our friends and coworkers come by the table to chat it up- which is nice but- sometimes, we just want to be incognito. With that being said, Shipp's Harbor and Grill was one of the first restaurants we went to incognito after we moved down here. I have never been disappointed there and no trip there is complete without their drunk brownie!
#6. Fisherman's Corner. Bub and I ate there last summer with some very dear and special friends because that is where they wanted to go— the restaurant itself is very unassuming- seriously. But, the food will make you roll in the floor it is so good! I had their Creole Shrimp and Grits and Bub had a Rib-eye and I have to say both dishes made such a lasting impression that we still unabashedly recommend Fisherman's Corner to anybody that will listen.
#7. Wolf Bay Lodge– there are two locations- one on the beach road in Orange Beach and one in Foley. Wolf Bay Lodge has been around since back before 'Nam. And it's good. My daddy and his number one girlfriend took Bub and I there for the first time when I was pregnant. We have eaten there lots of times since and I have even taken my mom and she loves Wolf Bay Lodge too. So- it's Momma and Daddy approved. And I cannot go any further without talking about the salad bar in this joint. It's a 5 star salad bar. My mom usually gets grilled Grouper and the rest of us usually gets something fried and we all get the salad bar!
I am going to bundle #8,9,10 together- because they are breakfast places. Kitty's Kafe, in Gulf Shores next to Target, serves breakfast and lunch- and it's 100% soul food and so good! I cannot even begin to tell you what to get there because whatever you order is going to be delicious. I have eaten at Kitty's tons and tons of times and I have never been disappointed. Brick and Spoon is a kick-ass breakfast joint- it is this creole inspired breakfast/brunch restaurant. And the magnitude of Bloody Mary that you can get there is unreal! I always get some sort of delicious omelette. If you are going to eat out just once for breakfast- pick Brick and Spoon. My third breakfast place is Another Broken Egg– oh my gosh, their cinnamon bun has Bub and my name all over it! You can't go wrong here. (***I have to mention Gulf Shores Diner on 59- we ended up there one morning because the line was out the door and around the corner at Kitty's- it turned out to be an excellent plan b!)
And I am going to group the next two, #11 and #12, together too because— it's BBQ. I have a little confession- I could probably eat BBQ every day for the rest of my life- and I think my Momma probably could too. It is not uncommon for one of us to stop at either one of these BBQ restaurants and bring home a couple plates. The first is Down South BBQ. The location we frequent is closest to Gulf Shores and it is truly a shack- no indoor seating. My favorite thing there is the BBQ salad- literally pulled pork on top of a big ass salad. And our other favorite BBQ is Moe's. Moe's is on the Beach Road in Orange Beach- I mean, I understand that you probably did not come to the beach to eat BBQ—- but. Sometimes you need something quick and good and either of these two would be a good choice. Moe's meats are great as are their side items. (**** Moe's has opened a new location on County Road 20 behind Wolf Bay.)
Lucky #13. Villaggio at The Wharf in Orange Beach. Bub and I eat here a couple times a year- the food's good. I usually get a couple appetizers (always included are the Devils on Horseback)  and Bub usually always get the Filet. As a matter of fact, Baby Bub had his first morsels of filet here.
Now, #14 is the Flying Harpoon– it has two locations as well. The first is right in the middle of Gulf Shores and then they just opened their second location on the beach road. This is what sets this bar apart: 2 big reasons that go hand in hand- the food is good and they serve the full menu until 1AM- not many places serve food here that late especially good food. Bub always, always gets their wings. And let me tell you- I am in love with the debris sliders but, it is always a toss up between them and the Conecuh Sausage Poboy. Now look- you may of never heard of Conecuh sausage and one day I promise to do a full post on it alone- but, until then- please take my word- it is the best sausage ever and the poboy at the Flying Harpoon is so good.
And finally, #15 is kind of an honorable mention— Lulu's. I want to tell you this- this is not a restaurant that Bub and I would ever pick to go on a date- ever. But, it is a great place to take your kids. Lulu's is the epitome of kid-friendly. I mean- there is a ton of kid entertainment- and there are a ton of kids running around so if your child happens to be having a wild banshee kind of day- they will not stick out here like a sore thumb. What am I trying to say here? Pretty much all of Bub's friends have children and when we get together there is a gaggle of kids ages 2-12. This is a restaurant where we would go with all the kids.
So, there you have it- my list of where to eat in Gulf Shores and Orange Beach. These are the places I go, these are the places I send my friends and these are the places I always recommend to the guests at my bar. This area of the world is a great place to visit and an even better place to live and work.